Government 'preparing move to delay phase' of coronavirus outbreak says Boris Johnson
9 March 2020, 17:14 | Updated: 9 March 2020, 18:01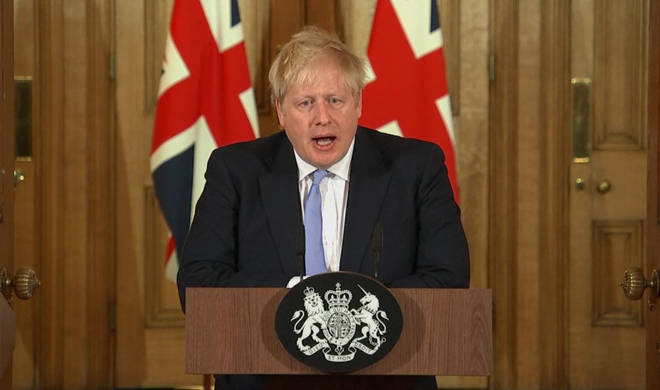 The Prime Minister said the government is "making preparations to move to the delay phase" of the coronavirus outbreak.
Boris Johnson told a press conference that the UK remained in the "contain" phase of the response to coronavirus "but watching what is happening around the world, our scientists think containment is extremely unlikely to work on its own".
He said: "There have now been four deaths in the UK. Our deepest sympathies are with their friends and family.
"We remain in the contain phase of the outbreak but watching around the world, scientists do not think we can remain in the delay phase."
READ OUR LIVE CORONAVIRUS UPDATES HERE
"We are making preparations to move to the delay phase."
The statement came shortly before it was confirmed that a fifth patient has died from the virus.
It also emerged today that 46 more cases had been identified in the UK, with a total of 319 people in the country confirmed to have the disease.
Mr Johnson added: "I want to stress the following things. First, we are doing everything we can to combat this outbreak based on the latest scientific and medical advice.
"Second, we have a truly brilliant NHS where staff have responded with all the determination, compassion and skill that makes their service so revered across the world and they will continue to have this Government's full support, my support, in tackling this virus on the front line.
"Third, we will set out further steps in the days and weeks ahead to help people protect themselves, their family and in particularly the elderly and vulnerable.
"Finally, while it is absolutely critical in managing the spread of this virus that we take the right decisions at the right time based on the latest and the best evidence, so we mustn't do things which have no or limited medical benefit, nor things which could turn out actually to be counter productive, there is no hiding from the fact that the coronavirus outbreak will present significant challenges for the UK just as it does in other countries.
"But if we continue to look out for one another, to pull together in a united and national effort, I have no doubt that we can and will rise to that challenge."
Chief medical officer for England Professor Chris Whitty said that "probably within the next 10-14 days" there will be "a situation where we say everybody who has even minor respiratory tract infections or a fever should be self isolating for seven days afterwards".
Sir Patrick Vallance, the chief scientific adviser to the Government, said: "In terms of the things that could be done to try and suppress the number of people that get this at the peak, push the peak into the summer, and also to protect those... the most vulnerable in society, we need to understand where we are in the epidemic and make sure that we take the actions that need to be taken at the right time."
Professor Chris Whitty said: "What we are moving now to is a phase when we will be having to ask members of the general public to do different things than they would normally do."
But he stressed the importance of timing because "anything we do, we have got to be able to sustain" throughout the peak of the outbreak.
"There is a risk if we go too early people will understandably get fatigued and it will be difficult to sustain this over time," he said.
"So getting the timing right is absolutely critical to making this work."
Sir Patrick Vallance said: "Numbers are increasing, and they are increasing across Europe and the UK, and that increase in numbers is consistent with the fact that there is transmission of this within the community."
He added: "We know that there is community transmission."
Prof Whitty told reporters: "We are expecting the numbers to increase initially slowly but really quite fast after a while and we have to catch it before the upswing begins."
He said: "We are now very close to the time, probably within the next 10 to 14 days, when the modelling would imply we should move to a situation where we say everybody who has even minor respiratory tract infections or a fever should be self-isolating for seven days afterwards."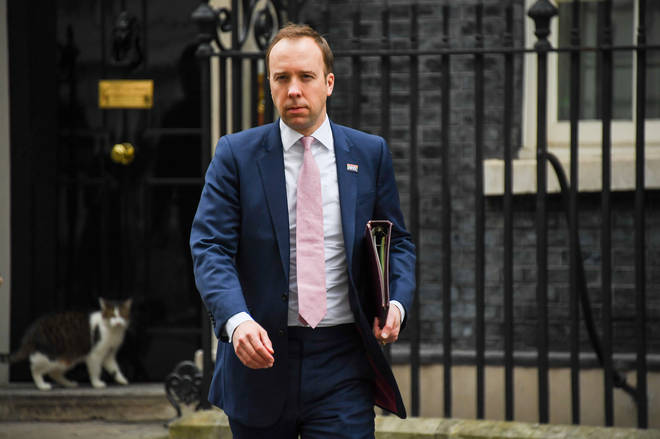 It comes as the Health Secretary has insisted he will "do all that I can" to keep Parliament open during the coronavirus outbreak.
Matt Hancock stressed the importance of giving parliamentary scrutiny to the decisions being taken by the Government in response to the spread of Covid-19.
Reports had suggested the Palace of Westminster could be suspended for up to five months, which were later played down by Speaker Sir Lindsay Hoyle and Commons Leader Jacob Rees-Mogg.
Mr Hancock, in reply to an urgent question from Labour, told MPs: "I think that parliamentary scrutiny of decisions of the magnitude that we are having to take in response to coronavirus and the novel nature of them - that parliamentary scrutiny is incredibly important.
"And I will do all that I can to ensure that Parliament remains open."
Chief medical officer for England Professor Chris Whitty last week said Parliament was no more risky than any other environment.
Tory MPs have also questioned why those flying into UK airports from areas with large outbreaks of Covid-19 are not being tested or quarantined.
Kensington and Chelsea MP Felicity Buchan said: "We have a lot of international visitors. My constituents are very concerned that people are continuing to arrive from North Italy and they are only being told to isolate if they have symptoms."
Her colleague Philip Hollobone added: "My constituents in Kettering are struggling to understand why we're not banning flights from quarantined areas of North Italy."
Mr Hancock replied: "The evidence from other countries that have tried temperature testing at the airport show that it is not effective and because it leads to lots of false positives it can actually be counterproductive."
He added: "There are many UK citizens in that area who may want to come home and also crucially, and this is very important, the evidence shows that banning flights from affected areas does very little to protect you.
"Indeed Italy was the only country in Europe that banned flights from China earlier in the progress of this disease and it didn't work and now Italy is the epicentre of the European outbreak."
A Royal Wolverhampton NHS Trust spokesperson said: "The Trust can confirm that a patient in their 70s being treated for underlying health conditions has died. The patient had tested positive for Covid-19.
"The family has been informed and our condolences and our thoughts are with them at this difficult time.
"We will not be commenting further and ask that everybody respects the family's privacy."