Greta Thunberg arrested and dragged into van by police after giving speech to eco protesters in London demo
17 October 2023, 13:51 | Updated: 17 October 2023, 14:39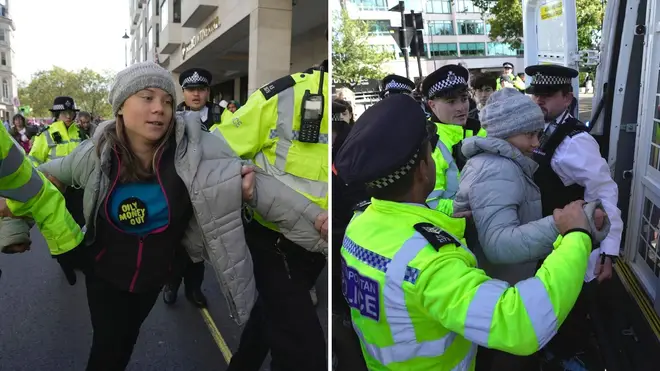 Greta Thunberg has been arrested by police after speaking at a demonstration against oil and gas companies in London.
The Swedish activist, who made her name striking from school to raise awareness about climate change, was seen being hauled by her arms by officers and being put into a van.
LBC contacted the Met for details.
Earlier, Thunberg had watched on as eco-activists disrupted a meeting of energy firms at a five star hotel between Mayfair and Knightsbridge, with one scaling the side of it.
Read more: Greta Thunberg joins eco-protest outside energy conference as activists scale five-star London hotel
Business representatives were meeting for the "Energy Intelligence Forum" which "brings together decision-makers, thought-leaders and innovators from the worlds of energy, finance, politics and business to debate, discuss and develop sustainable solutions to the world's energy challenges".
Shell, Total and Equinor are among those visiting.
Footage taken by LBC shows a protesters scaling the building as chants ring out from below.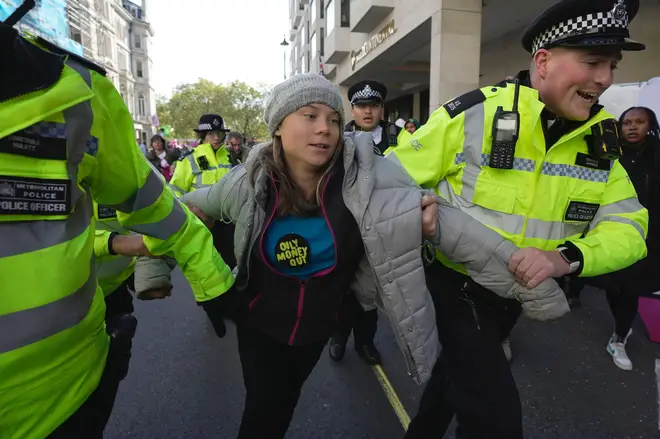 The identity of the protester that scaled the building is unknown.
More than 300 activists have gathered at the protest near Hyde Park, with some setting off flares and others chanting as they sit in the middle of the road.
Police arrested six people for obstruction of the highway and imposed a section 14 order under the Public Order Act to "prevent serious disruption" to the hotel, guests and the community.
Demonstrators were asked to move to the pavement to continue their protests but a number failed to so police made 14 more arrests.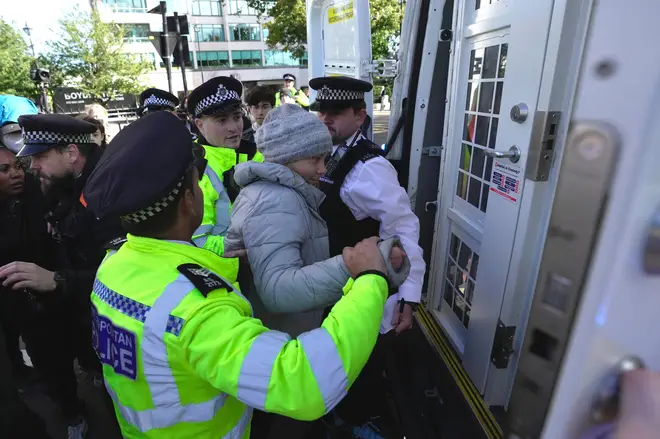 Another person was detained for criminal damage.
Thunberg had railed against the meeting earlier this week.
"Behind these closed doors at the oil and money conference, spineless politicians are making deals [with fossil fuel executives]," she said.
"The elite of the oil and money conference - they have no intention of transition. Their plan is to continue this destructive search for profits. That is why we have to take direct action to stop this and kick Oily Money Out of politics."