Humza Yousaf freezes council tax as he makes spending pledges of more than £1bn
17 October 2023, 17:50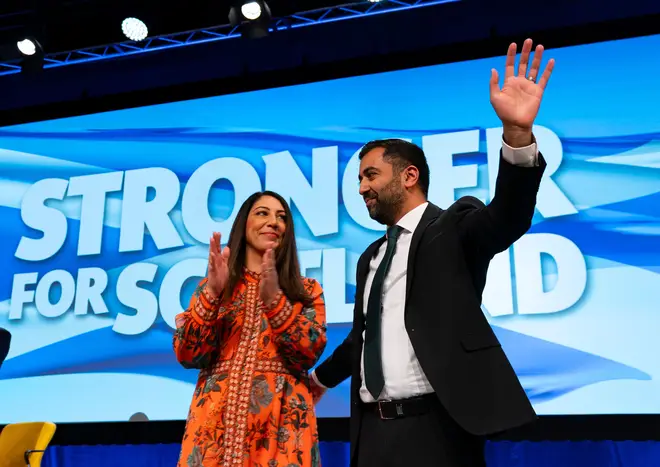 Humza Yousaf has pulled the rug on plans to hike council tax in Scotland, promising it would be frozen for a year to tackle the cost of living crisis, as part of spending commitments of more than £1bn over the next few years.
The Scottish Government had been consulting on changing council tax bands and previously suggested they could rise by as much as 22.5% for homes in higher bands.
But in his first speech as leader to SNP conference, Humza Yousaf pledged they will remain at the current levels when councils set their budgets for 2024-25 next April.
He described the proposed freeze as evidence of "the SNP delivering for people when they need it most."
It is expected to cost at least £100m over the next year and was part of a raft of spending pledges which amount to more than £1bn.
He also promised:
- £300m over the next three years to tackle NHS waiting lists
- £500m over five years to support the offshore wind supply chain
- a doubling of spending on the arts sector which would see it be £100m higher than it is today at the end of a five year period
- £500,000 for a Fund to Leave to support women fleeing domestic violence
- and £400,000 specifically for Union Street in Aberdeen, the city where the conference was being held
However his council tax announcement came as a surprise to the body which represents Scotland's 32 councils who said it had no advance warning.
Council tax generates about 13% of local government funding, and has either been either frozen or capped at 3% since the SNP came to power in 2007, with the Scottish government providing extra funding in return.
Over the last two years though councils have been allowed to use new powers to set their own rates with most areas seeing rises of between 4% and 7% this year.
The proposed rise was used as an attack line by Scottish Labour in the recent Rutherglen and Hamilton West by-election which saw a 20.3% swing to Labour from the SNP.
LBC understands that the Scottish Government is committed to funding the freeze though it does not yet know the full costs. If rates were hiked by three per cent that could cost it between £90 and £100m.
A spokesperson for CoSLA - the Convention of Scottish Local Authorities - said: "We have just heard the announcement made at the SNP Conference in relation to freezing council tax. 
"We were unaware of it in advance. This has longer term implications for all councils right across the country, at a time when we know there are acute financial pressures, and where we are jointly looking at all local revenue raising options.
"We will need to consider the implications for COSLA and Local Government with our members when we get more of the detail.  This will also need to be examined against the principles of the recently signed Verity House Agreement."
The decision was also taken without consultation with the Scottish Greens, the party in government with the SNP - its MSPs were only told a few hours in advance of Humza Yousaf's speech.
Scottish Greens finance spokesperson Ross Greer MSP said: "We are concerned about the effect this freeze could have on already-strained frontline public services if it is not properly funded.
"Our local councils and people who rely on services like social care, schools and early years centres must not lose out as a result of this announcement.
"Green MSPs will now work with our government colleagues in the SNP to work through the details, ensure that their decision is sustainably financed and that the most vulnerable people in our communities do not see the services they rely on being underfunded as a result.
"The First Minister is right to want to support those who are struggling the most through the cost of living crisis, but the way to do that is to completely replace the deeply unfair Council Tax with a more progressive system."
Humza Yousaf's speech also saw him reveal the government would issue bonds for the first time to fund infrastructure projects, including housing. The government has had the power to issue bonds since the Scotland Act was redrawn in 2016.
Bonds are the standard form of borrowing for governments and support spending including on major infrastructure projects, with buyers owed the value of the bond plus interest over a specific period of time.
The Scottish Government's capital borrowing limits will increase with inflation from their current levels of £450 million per annum and £3 billion cumulatively.
He said the Scottish Government would go directly to the international bond market in its own right by the end of the current Scottish Parliament term, which would "raise Scotland's profile" and attract investors, as well as proving "credibility to international markets" after independence.
Mr Yousaf said: "Scotland has a wealth of investment opportunities. Issuing a bond will help raise Scotland's profile and engagement with international investors to attract investment.
"This will be a first for the Scottish Government and is a significant undertaking. The next steps will involve the commissioning of detailed analysis and due diligence. Subject to successful completion, the first bond will issue by the end of this parliamentary session.
"This is an exciting opportunity to use the powers we already have to invest in infrastructure for Scotland's future.
"Investment in infrastructure is key to supporting the three priorities I have outlined for the Scottish Government over the next three years - delivering high quality public services, boosting a green and thriving economy, and ensuring equality of opportunity for everyone."
Responding to his speech, Shadow Scottish Secretary Ian Murray accused the SNP leader of a lack of direction which he said was "laid bare in this jumble of screeching u-turns and tired old pitches for independence."
He added: "Fresh out of ideas for 2023, Humza Yousaf seems to have reached for the SNP's 2007 manifesto for inspiration – but after 16 years of broken promises Scots aren't buying it anymore.
"Humza Yousaf has told his party to focus on the 'why' rather than the 'how' of independence, but the truth is he's not got a real plan for either."
And Scottish Conservative leader Douglas Ross said: "This speech to a slimmed-down nationalist faithful confirms that Humza Yousaf's number one priority will always be independence above all else.
"Other announcements, such as on the NHS backlog and council tax, aimed at attempting to clean up the SNP's previous mistakes were all sidelined by Humza Yousaf's nationalist obsession. It is clear that no other issue will get a look in during the SNP's campaign at the next year's General Election.
"Humza Yousaf is all too happy to waste more taxpayers' money on promoting independence despite Scots struggling with a global cost-of-living crisis. It is completely the wrong priority for Scotland at this time."
On the plans to freeze council tax, Scottish Liberal Democrat economy spokesperson Willie Rennie added: "People trust Humza Yousaf's SNP on tax as much as they trust Liz Truss.
"One day the SNP are the evangelists for tax hikes, the next the stout defenders of a real terms tax cut.
"Just like Liz Truss this is an unfunded tax cut. There is no explanation as to how already broken public services will be funded.
"The government is split too with the Greens opposing the measures. This government is divided, volatile and incompetent just like Liz Truss' was."