Britain is heading for long recession, Bank of England warns as it imposes biggest interest rate rise in 27 years
4 August 2022, 12:02 | Updated: 4 August 2022, 16:50
Bank of England inflation rates increase by 0.5% to 1.75%
Experts predict 15-month recession with GDP seeing 2.1% decline
Interest rates will be raised further if bank doesn't act now to curb inflation, governor Andrew Bailey warns
Cost of living crisis is 'top priority' for government, Chancellor Nadhim Zahawi insists as interest soars
Tory leadership rivals Rishi Sunak and Liz Truss vow to get crisis under control if they become PM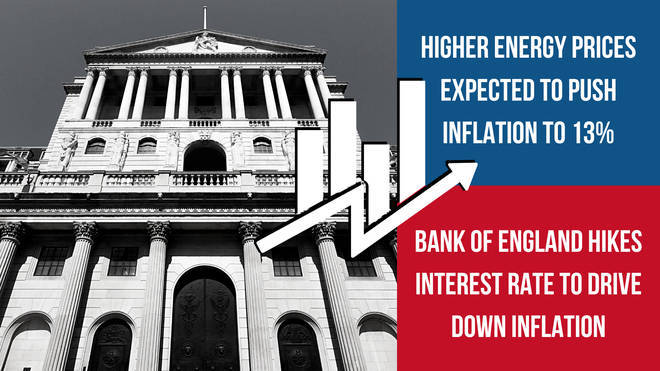 The Bank of England has hiked interest rates by 0.5% to 1.75% - the highest level since January 2009.
The bank is trying to tackle soaring inflation as Brits are left out of pocket, with the cost of living crisis hitting families hard.
In a chilling forecast, experts at the bank are predicting five consecutive quarters of recession.
It is the latest hit for Brits already facing spiralling energy and food bills as well as fuel costs taking their toll.
Inflation levels have been pushed up for several reasons, particularly as a result the fallout from the Covid pandemic as well as Russia's invasion of Ukraine putting pressure on gas supplies.
They are expected to reach 13% by the end of 2022.
The bank said: "Inflationary pressures in the United Kingdom and the rest of Europe have intensified significantly since the May Monetary Policy Report and the Monetary Policy Committee's (MPC) previous meeting.
"That largely reflects a near-doubling in wholesale gas prices since May, owing to Russia's restriction of gas supplies to Europe and the risk of further curbs.
"As this feeds through to retail energy prices, it will exacerbate the fall in real incomes for UK households and further increase UK CPI inflation in the near term.
"CPI inflation is expected to rise more than forecast in the May Report, from 9.4% in June to just over 13% in 2022 Q4, and to remain at very elevated levels throughout much of 2023, before falling to the 2% target two years ahead."
Read more: Cost of living crisis: Britain warned 15% inflation 'plausible' scenario next year
Read more: Petrol companies 'keeping prices high despite falling wholesale costs', warns RAC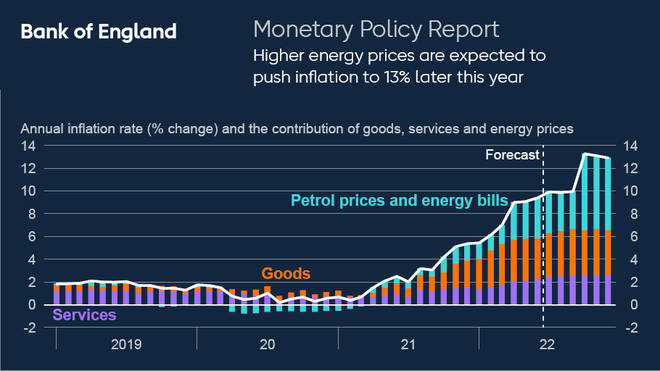 Governor Andrew Bailey said "there are no ifs or buts in our commitment to the 2% inflation target".
He told a press conference: "Let me reiterate that our job is to hit the inflation target; under the current circumstances to return inflation to target.
"To be clear, there are no ifs or buts in our commitment to the 2% inflation target. That's our job and that's what we will do."
He later warned: "If we don't act now - and I realise how difficult this is... particularly for those on lower incomes, particularly those with higher borrowing costs - but if we don't act, inflation will become more embedded.
"It will get worse and we will have to raise interest rates by more.
"We have to act to prevent... to stop that."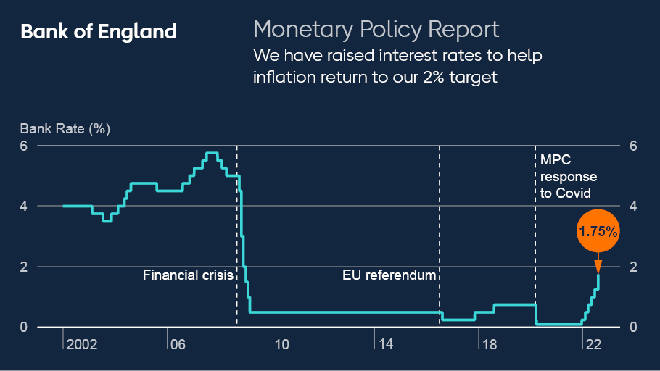 The five quarters of recession will mean 15 months of turmoil for Brits, lasting the same amount of time as the 2008 recession.
As a result, GDP is expected to see a decline of 2.1%.
The bank explained: "The United Kingdom is now projected to enter recession from the fourth quarter of this year.
"Real household post-tax income is projected to fall sharply in 2022 and 2023, while consumption growth turns negative."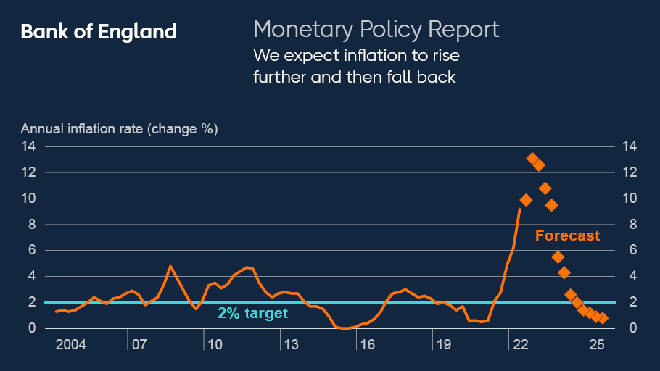 Current chancellor Nadhim Zahawi said: "Along with many other countries the UK is facing global economic challenges and I know that these forecasts will be concerning for many people.
"Addressing the cost of living is a top priority and we have been taking action to support people through these tough times with our £37 billion package of help for households, which includes direct payments of £1,200 to the most vulnerable families and a £400 discount on energy bills for everyone.
"We are also taking important steps to get inflation under control through strong, independent monetary policy, responsible tax and spending decisions, and reforms to boost our productivity and growth.
"The economy recovered strongly from the pandemic, with the fastest growth in the G7 last year, and I'm confident that the action we are taking means we can also overcome these global challenges."
Shadow Chancellor Rachel Reeves said: "This is further proof that the Conservatives have lost control of the economy, with skyrocketing inflation set to continue, while mortgage and borrowing rates continue to rise.
"As families and pensioners worry about how they're going to pay their bills, the Tory leadership candidates are touring the country announcing unworkable policies that will do nothing to help people get through this crisis."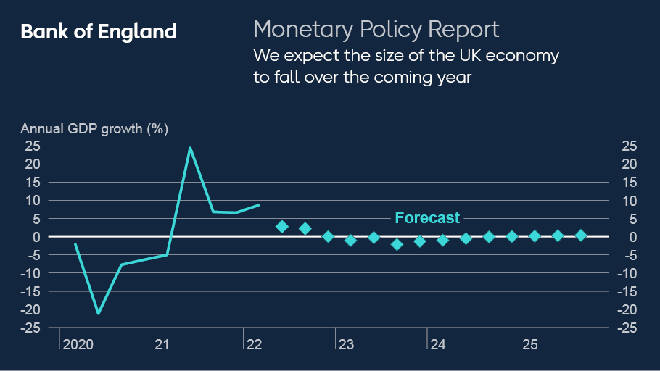 Former Chancellor and Tory leadership candidate Rishi Sunak said: "One of the most urgent challenges we face as a country is getting inflation under control as quickly as possible.
"The Bank has acted today and it is imperative that any future government grips inflation, not exacerbates it.
"Increasing borrowing will put upward pressure on interest rates, which will mean increased payments on people's mortgages.
"It will also make high inflation and high prices last for longer, making everyone poorer.
"As Prime Minister, I would prioritise gripping inflation, growing the economy and then cutting taxes."
His rival, Liz Truss, said she would look at the Bank of England's mandate to make sure it has a "tight enough focus on the money supply and on inflation".