Is This The Most Patriotic Block Of Flats In England?
3 July 2018, 14:16
LBC visited what must be the most patriotic block of flats in England ahead of the big World Cup clash with Colombia.
The Three Lions play their Second Round match in Moscow this evening, with a quarter-final place up for grabs.
Senior Reporter Matthew Thompson went to the Kirby Estate in Bermondsey, where almost every flat has a St George's Cross flag hanging from their balcony.
There are 222 England flags on the building, not including the bunting.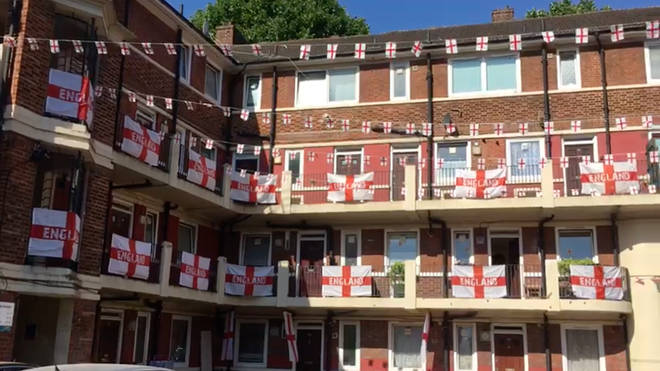 Almost, but not all. Because there is a Colombian family living in one of the flats and they've hung their own flag from the block.
Chris, one of the organisers, said: "Initially, one flat put a flag up, then the other side, then the first side went back to put a couple more up.
"And it didn't look finished, so we decided to finish it off.
"Tonight, we've got a big screen up on the estate and we'll watch it with our Colombian neighbours. Win, lose or draw, we'll party together."