'We will continue the war after ceasefire', Netanyahu vows, as Hamas hostage deal nears
21 November 2023, 18:31 | Updated: 22 November 2023, 00:20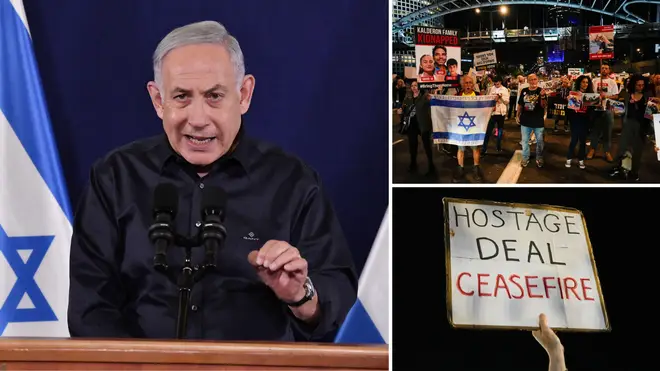 Israel and Hamas appear close to reaching a deal, which would result in a temporary ceasefire and the release of dozens of hostages held captive in the Gaza Strip.
The Israeli Prime Minister Benjamin Netanyahu said he had called a series of government meetings on Tuesday night "in light of developments on the issue of the release of our hostages".
"We are advancing," Mr Netanyahu told troops during a visit to a training base. "I hope there will be good news soon."
The special three-member war cabinet met on Tuesday and would be followed by meetings of his Security Cabinet, a forum of senior security officials, and the full Cabinet.
Even if a deal is approved, however, "the war will continue", Mr Netanyahu vowed.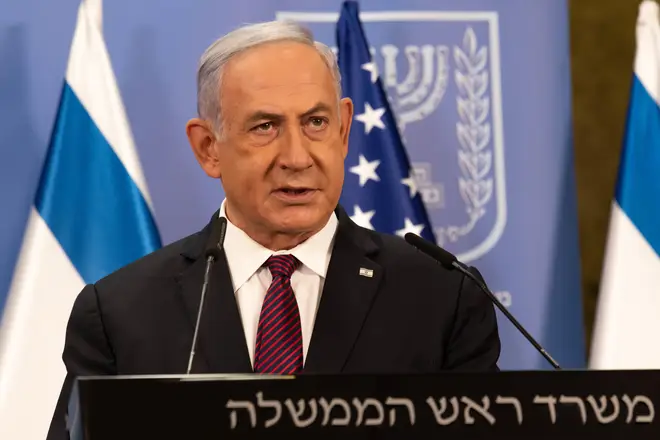 Israeli media reports have suggested that a hostage deal would lead to a five-day ceasefire between Israel and Hamas, and the release of 50 hostages held by Hamas in exchange for some 150 Palestinian prisoners held by Israel.
The first release would be expected to take place on Thursday or Friday, according to Israel's Channel 12.
Read More: South African leader accuses Israel and Hamas of acts 'tantamount to genocide'
Read More: Lewisham war memorial defaced with graffiti that labels Israel 'fascist state'
Former Israeli Justice Minister Yossei Beilin has told LBC an agreement to release Israeli hostages is a 'victory' for Hamas.
Speaking on Tonight with Andrew Marr he says the group is dictating the conditions and could push for Israel forces to pull back.
Yossi Beilin speaks to LBC's Andrew Marr
"This is a very, very difficult moment," Mr Beilin told LBC.
"Almost like a victory for Hamas, although I may believe it may end up being a pirates victory for them.
"But they are dictating, of course, the conditions, and it makes it difficult for Israel to swallow...but of course there is a big majority for it."