'I got lucky in lots of ways': 'Toughest Avenger' Jeremy Renner reveals how snowplough accident just missed vital organs
11 April 2023, 09:21 | Updated: 11 April 2023, 10:00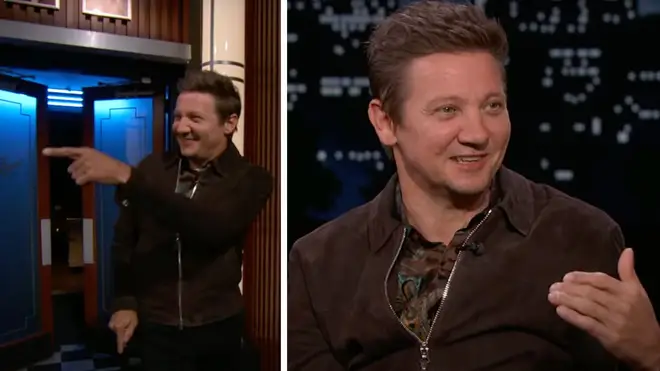 The Marvel hero said despite crushing injuries from snowplough accident "he'd do it again", in first interviews since his nearly fatal accident.
The Marvel star, 52, said he "got lucky in lots of ways" during the recovery period, as he made his first late-night TV appearance since an accident that left him with over 30 broken bones and just missed his vital organs.
Mr Renner limped onto stage with his cane as he received a standing ovation from the crowd and embraced the talk show host in a hug.
Since returning to the public spotlight last week, Mr Renner insisted in an interview with American journalist Diane Sawyer that he had "no regrets" about how he acted.
The Hawkeye actor said "he'd do it again", despite his long road to recovery, as the machine was going after his nephew and he wanted to protect him.
Throughout the interview, Mr Renner was in positive spirits and joked about the ICU which he was "kicked out" of, likening it to a "haunted house".
He also revealed the full details of his accident, where he broke more than 30 bones after being crushed by his own six-tonne snowploughing machine.
Read more: ABBA pay tribute to long-term guitarist Lasse Wellander after his death aged 70
Read more: Inside Paul Cattermole's final days: S Club 7 star said he was 'buzzing' for reunion the day before being found dead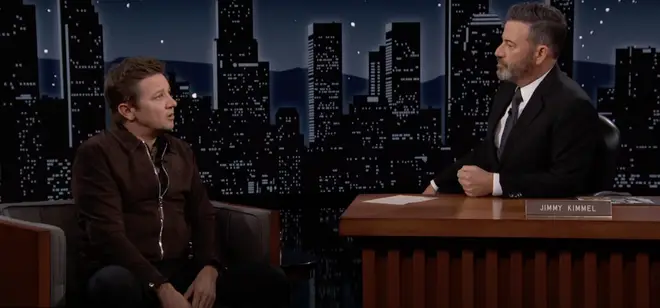 After the accident, Mr Renner was air-lifted to a hospital in Nevada with serious injuries.
Jimmy Kimmel applauded the Marvel actor in his appearance, describing him as "indestructible" and arguing there is no "question as to who the toughest Avenger is".
Despite the lingering effects of his injuries, the actor seemed in good spirits during his interview, making jokes and laughing throughout.
The Hawkeye star said during his time in hospital, his co-star Paul Rudd made multiple trips to see him and even provided entertainment with a fake Cameo video.
Cameo is a video service where people can pay celebrities to provide personalised messages to members of the public.
Jeremy said: "So Rudd, who I love so much, he happened to be in town promoting his movie … he came by a couple of times to the hospital, always just making my day – because he's one of the funniest guys around.
"And he sent me a video message…he made a fake one like I paid him money for a Cameo."
The star showed the audience the video, wherein Mr Rudd jested that next time "Jerry" should "maybe just let the snow melt".
Mr Renner was honest about his time in hospital, where he revealed he was kicked out of the Intensive Care Unit after constantly trying to escape, as he described it as "creepy".
But he also added he plans to return to the hospital to apologise to the nurses who were attending to him at the time.
The star said he was "so grateful and forever in debt" to those who supported him through the aftermath of the accident and recovery, and has said he feels lucky to be alive.