All Jet2 flights to Spain cancelled immediately due to coronavirus
14 March 2020, 10:40 | Updated: 14 March 2020, 11:54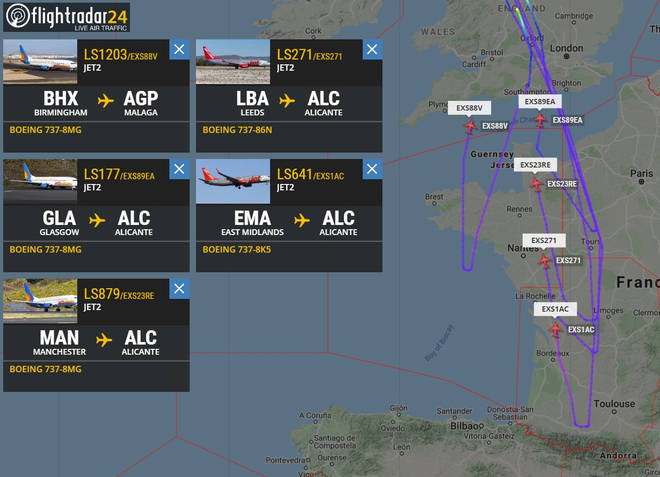 British airliner Jet2 has cancelled all flights to Spain with some planes being turned around mid-journey.
Journeys to the Spanish mainland, the Balearic Islands and the Canary Islands have all been halted due to fears over the coronavirus pandemic.
The British firm is based at nine UK airports including London Stansted, Manchester, Birmingham and Edinburgh. It flies to destinations including Alicante, Malaga and Lanzarote.
New infections in Spain have risen sharply, with the government putting 60,000 people in four towns into mandatory lockdown on Friday.
Prime minister Pedro Sanchez said a two-week state of emergency will come into force as the death toll reached 120.
A Jet2 spokesperson said: "In response to local measures introduced throughout Spain to prevent the spread of COVID-19, including the closure of bars, restaurants, shops and activities including any water sports, we have taken the decision to cancel all flights to Mainland Spain, the Balearic Islands and the Canary Islands with immediate effect.
"We know these local measures will have a significant impact on our customers' holidays, which is why we have taken this decision.
"We are contacting our customers who are currently in these destinations, and who are due to travel, to advise them of their options, so we urge customers not to call us.
"This is a fast-moving and complex situation and we are reviewing our programme as a matter of urgency, so that we can fly customers back to the UK.
"The health and safety of our customers is our number one priority, and we would like to thank our customers for their understanding."
One stranded passenger spoke to LBC News at Glasgow Airport, saying his flight had been turned around as it was "about to land."
Lewis Aroca said: "This morning we were supposed to be getting a flight at 7am to Alicante and we got on the plane with everything as normal.
"We were about to land when they told us that the Spanish government has said that only Spanish people can land, so only people with Spanish passports.
"So instead of landing in Alicante and letting the Spanish passengers off and then returning to Glasgow, they just decided to return everyone to Glasgow so they could empty the plane and then the plane could travel empty to Alicante and bring the passengers that are waiting there back."
Meanwhile, LOT Polish Airlines, which flies to UK airports including Heathrow, Edinburgh and Nottingham, has suspended all connections from both Poland and Hungary for a period of 10 days from 15 March.