NHS 'can't guarantee patient safety' in doctors' strike, says health leaders' chief, with 350k appointments axed
10 April 2023, 08:33 | Updated: 10 April 2023, 12:27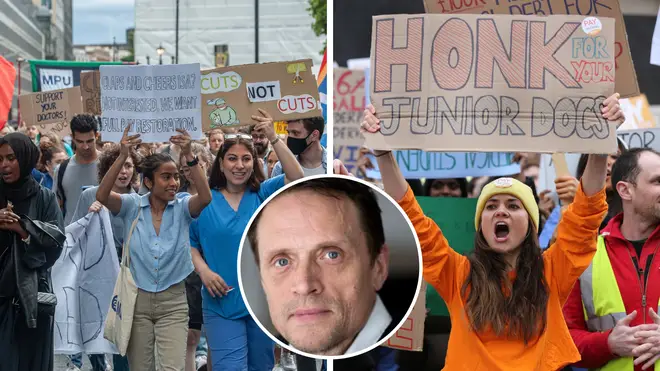 The NHS cannot guarantee patient safety during the junior doctors' strike this week, the head of the NHS Confederation has told LBC.
As many as 350,000 appointments could be cancelled this week, as tens of thousands of junior doctors walk out for four days from 7am on Tuesday over a pay and conditions dispute with the government.
Speaking to LBC's Andrew Castle on Monday, Matthew Taylor, whose organisation represents the various NHS bodies, said remaining staff would do their best to replace the striking junior doctors, who have demanded a 35% pay rise.
But he warned: "I don't think we can guarantee that. Managers in the health service will do everything they can to try to reorganise things. Consultants, we hope, will step up and take the place of junior doctors.
"So we'll do everything we can, as we always do in these strike situations. And of course, we've been having strikes for months in the health service. We'll do everything we can to maintain those urgent emergency services.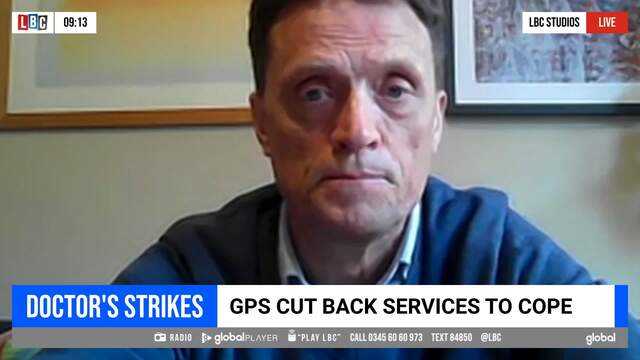 NHS Confederation CEO admits the NHS 'can't guarantee' patient safety ahead of mass strike action.
"But if you're saying to me, is there a risk to patient safety? Yes, there is. If you're saying to me, is there a risk to patient dignity in terms of us being able to provide the level of care, yes, there is."
Mr Taylor said the strikes were "deeply frustrating" as he called for both the BMA - the doctors' union - and the government to begin negotiating.
"I think what's happened over the last few days is very worrying in terms of the fact that both sides seem to be becoming more entrenched...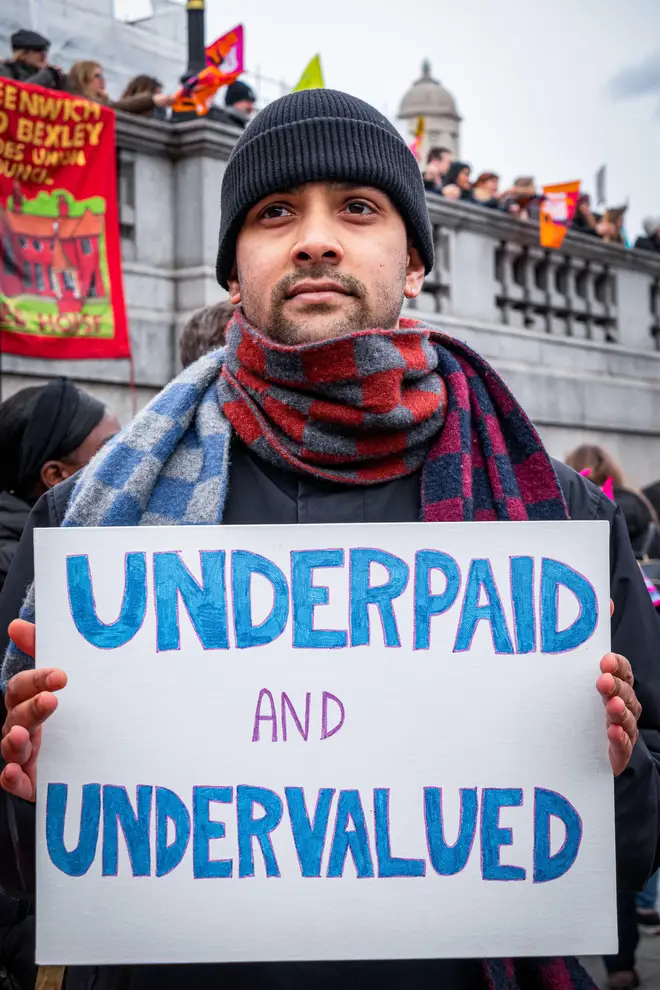 "There's no question that junior doctors' pay has fallen in real terms and there's no question that there are genuine issues about recruiting and retaining those staff. Nobody goes on strike in the health service unless they feel it's a last resort.
"But today we are calling for the government and the BMA to call in ACAS, the conciliation service - because at the moment, we're not even talking.
"The government said yesterday that they wouldn't even talk unless the strikes are called off, and the 35% demand is abandoned, the BMA have said 'well look 35% is a starting point for negotiation. That's how negotiation works.'
Mr Taylor added that the NHS had already been through recent waves of strikes by nurses and ambulance workers, when the government said they wouldn't negotiate, only to come to the table later.
He said: "Why do we have to go through this again? Eventually these two sides are going to negotiate.
"This is what's deeply frustrating - negotiation involves a process in which both sides start from a position which is unacceptable to the other side, and they talk. And then they get to a position where they are able to resolve things.
"Unfortunately we have two sides now who are unwilling to enter into that process.
"And that means not only do we face arguably the worst concerted strike action the NHS has ever seen over the next few days, but we face the possibility of that happening again, and even further escalation."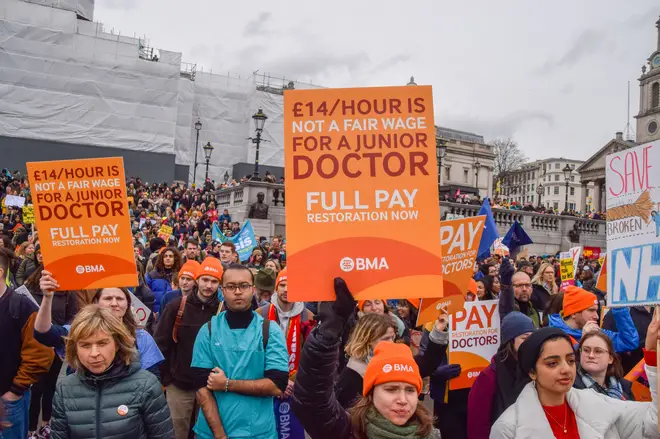 Read More: Emergency care to be prioritised during junior doctors' strike, says NHS England
Read More: Warning of Easter getaway chaos amid millions of road trips, fears of Dover delays and strikes in France
The latest strike comes four weeks after the BMA began a controversial campaign which claimed that the new medics earned less than baristas at Pret A Manger.
Doctors previously went on strike for 72 hours in February in a row over pay - saying new medics have seen a 26% real terms pay cut since 2008.
The union previously said: "Pret a Manger has announced it will pay up to £14.10 per hour. A junior doctor makes just £14.09.
"Thanks to this government you can make more serving coffee than saving patients. This week junior doctors will take strike action so they are paid what they are worth."
The junior doctors have joined teachers, nurses, rail workers and other public servants as part Britain's biggest strike wave since the 1980s.