Just Stop Oil shut down Whitehall: 100 arrested as police drag protesters to the Cenotaph 'for their own safety'
6 November 2023, 12:39 | Updated: 6 November 2023, 18:09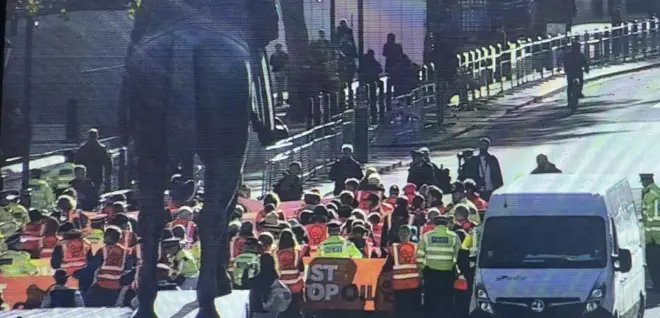 At least 100 eco protesters have been arrested by police after a group targeted Whitehall and the Cenotaph war memorial.
A group of activists from Just Stop Oil staged a slow march down Whitehall towards the Cenotaph.
Police said at least 40 protesters had been arrested.
The group posted online: "BREAKING: Over 100 Just Stop Oil Supporters Shut Down Whitehall."
They obstructed traffic near Downing Street, and were arrested and placed on and around the Cenotaph by police, according to protesters and an officer.
A mother-of-one lying cuffed on the base of the war memorial said: "They arrested us in the road and we were dragged to the pavement and then back over here."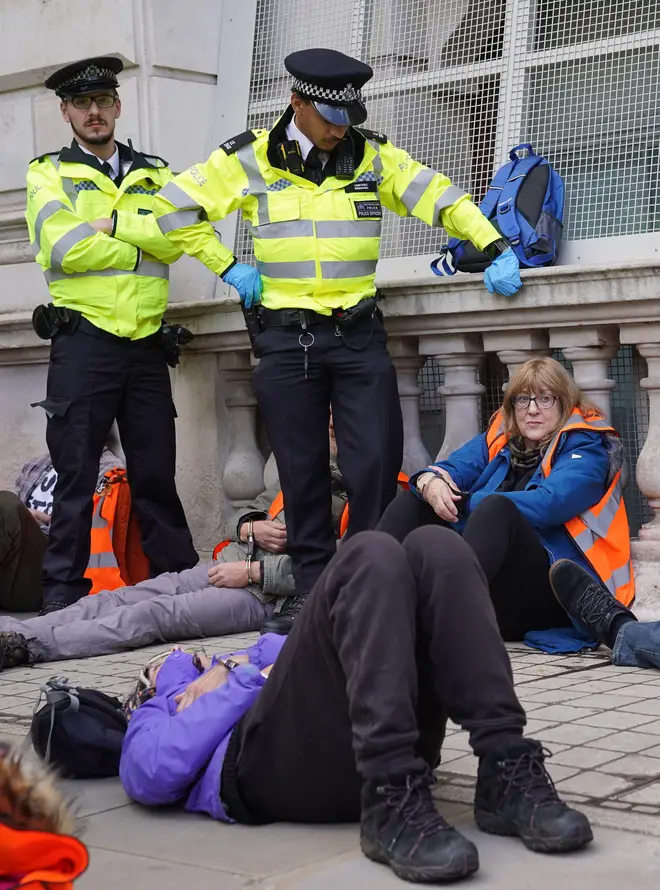 One officer said the protesters had been moved to the site "to get them off the road", adding: "It was for their own safety, obviously it's quite a busy road."
Shadow Home Secretary Yvette Cooper posted online that 'targeting the Cenotaph is totally unacceptable.
"Full support for the police in taking necessary enforcement action."
A major pro-Palestine protest is planned for Armistice Day this weekend.
Rishi Sunak said that Metropolitan Police have ministers' "absolute and total backing" to tackle criminality, ahead of the pro-Palestinian march on Saturday.
It comes amid concerns by some that the pro-Palestinian march in London will go ahead on Armistice Day.
Speaking to broadcasters on Monday, the Prime Minister said: "Remembrance Day is a time for national reflection. It is a time when I know the whole country will come together to pay tribute to those who have paid the ultimate sacrifice to keep us safe. I want to make sure police have our absolute and total backing to clamp down on any acts of criminality, but also to ensure public order."
He said that Home Secretary Suella Braverman would be holding a meeting to discuss the issue on Monday.
Fears have already been growing that pro-Palestine protests will clash with the Remembrance Day parade, wreath laying ceremony and two-minute silence being held in London on Saturday.
Earlier this morning, two Just Stop Oil protesters smashed the glass covering a painting at The National Gallery in Central London.
Two protesters shattered the glass covering The Rokeby Venus, a painting by Diego Velázquez that was slashed seven times by suffragette Mary Richardson in 1914.
The Metropolitan Police said two activists had been arrested on suspicion of causing criminal damage.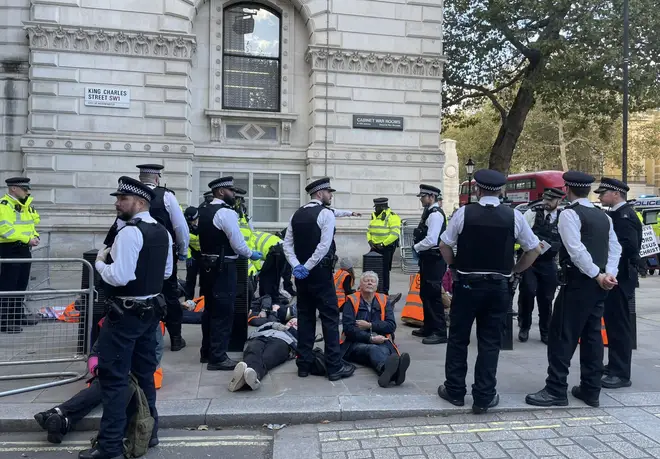 The artwork, which was painted by Diego Velazquez in the 1600s, was previously slashed by suffragette Mary Richardson in March 1914.
Just Stop Oil named the pair as Hanan, 22, and Harrison, 20, and said they used safety hammers to smash the glass.
Following the incident, they said: "Women did not get the vote by voting; it is time for deeds not words. It is time to Just Stop Oil.
"Politics is failing us. It failed women in 1914 and it is failing us now. New oil and gas will kill millions. If we love art, if we love life, if we love our families we must Just Stop Oil."