King Charles gives Princess Anne prestigious role as 'Gold-Stick-in-Waiting' for the King's Speech
7 November 2023, 09:11 | Updated: 7 November 2023, 11:58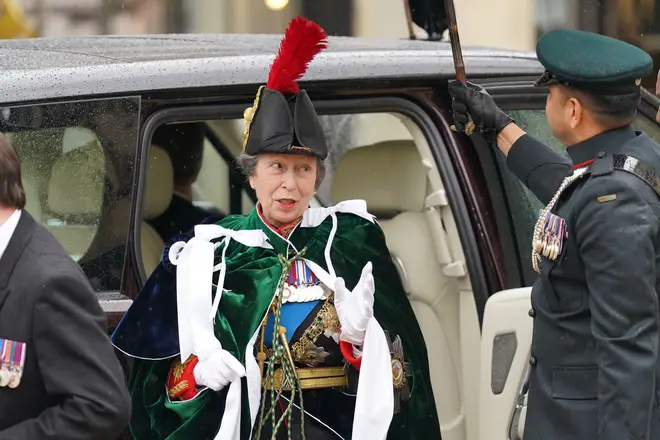 Princess Anne will assume the role of the King's 'protector' during the first state opening of Parliament of his reign today.
King Charles, 74, has asked the Princess Royal to ride in the procession as Gold Stick In Waiting - the person responsible for the safety of the monarch.
She carried out the same role during the King's Coronation in May as she rode from Westminster Abbey to Buckingham Palace.
She will follow behind the King and Queen today as the procession makes its way to the Houses of Parliament.
Read more: Crime crackdown and smoking ban: Charles unveils Rishi Sunak's plans in Monarch's first King's Speech
Read more: Government defends King's speech crackdown on crime as long-planned, not electioneering
Read more: 'Tone deaf' and 'insensitive': Former Met chief blasts pro-Palestinian protests on Armistice Day
The State Opening of Parliament formally marks the start of the parliamentary year while the Monarch's Speech sets out the government's legislative agenda for the coming session.
The King reads out a list of laws to be introduced on behalf of the Prime Minister and Government.
Anne will walk alongside the King into the House of Lords today ahead of his speech.
The position is a great honour and seen as a reward for her loyalty to Charles.
A royal source told The Mirror it "further cements the Princess Royal's role as his most trusted lieutenant."
Anne is reported to have been "incredibly honoured" when her brother revealed he wanted her to be his personal bodyguard at the Coronation on May 6.