'No place for such abhorrent violence': Minister condemns Kurt Zouma cat kicking video
8 February 2022, 05:44 | Updated: 9 February 2022, 08:36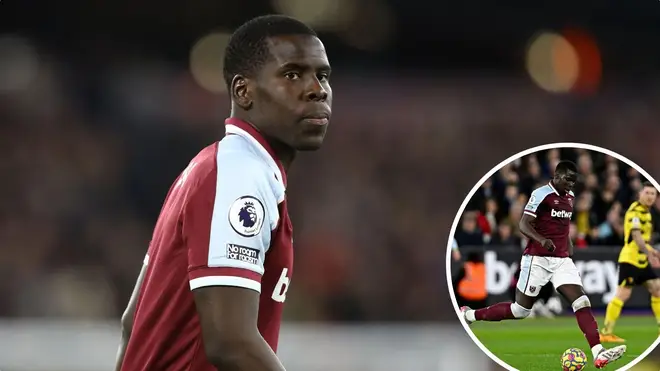 There is no place for "such abhorrent violence" seen in a video of West Ham defender Kurt Zouma kicking his cat, a minister has told LBC.
The French footballer played for his club on Tuesday night despite outrage at a video of him attacking his pet.
His appearance drew a chorus of boos from the crowd while thousands called for him to face action over the clip.
Speaking on LBC's Nick Ferrari at Breakfast, health minister Edward Argar - a former justice minister - said: "I think we've all seen that horrific video. There is no place for such abhorrent violence against animals, for animal cruelty in this country.
"We have some of the strongest welfare standards in this country, and we've been clamping down on animal cruelty. I won't comment on an individual case specifically, that's for the authorities.
"I would expect them to look at this and I would expect the police to look at this."
Pushed by Nick on whether David Moyes, the West Ham manager who defended his choice to play Zouma, should have picked him for the clash against Watford, Mr Argar said: "That's a decision for his manager and his team. I'm not going to get into the details of a specific case but I would expect the authorities to consider that very carefully."
The centre back was booed loudly from all sides during Tuesday's game against Watford, as police continue their "urgent enquiries" into the clip of him striking out at his pet.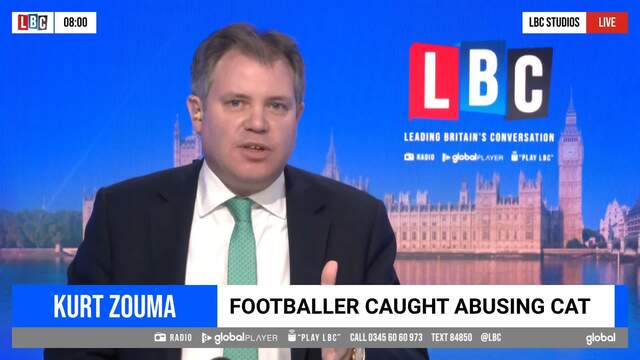 Minister condemns Kurt Zouma for kicking his cat
Zouma is under investigation by Essex Police and the RSPCA but despite the ongoing enquiries, Moyes stuck with the 27-year-old for their game against Watford.
Asked on BT Sport whether the video of Zouma influenced his decision to play the defender, Moyes said: "No, because he's one of our better players.
"But it's certainly ongoing and the club are dealing with it, so that's a separate matter."
Zouma was hit by a chorus of boos as he stepped onto the pitch at London Stadium - from both home and away fans - and this continued whenever he touched the ball.
It comes after Essex Police confirmed they are working alongside the RSPCA to investigate the incident.
"Urgent enquiries are ongoing," a spokesman for the force said earlier.
One fan posted online: "Kurt Zouma starting for West Ham less than 24 hours after the video surfaced. Very poor from the club. No accountability whatsoever."
One fans' group posted: "West Ham starting Zouma after what he did is embarrassing from West Ham!"
Former West Ham midfielder Joe Cole, a pundit for the game with BT Sport, was surprised by Zouma's selection.
He said: "From West Ham's perspective, I can see why they probably want to let it settle, get the game out of the way, and deal with it internally. But I think it's a miscalculation by the club - he could have sat this one out.
"But he's here, he's starting. It's an unusual disciplinary matter, I don't remember seeing animal cruelty within football. I'm surprised he's in tonight."
Former England midfielder Owen Hargreaves agreed, adding: "I'm really surprised.
"He's their best centre-back but I thought he'd be out for at least a couple of games. This won't be the end of this, it puts a lot of pressure on him and the football club."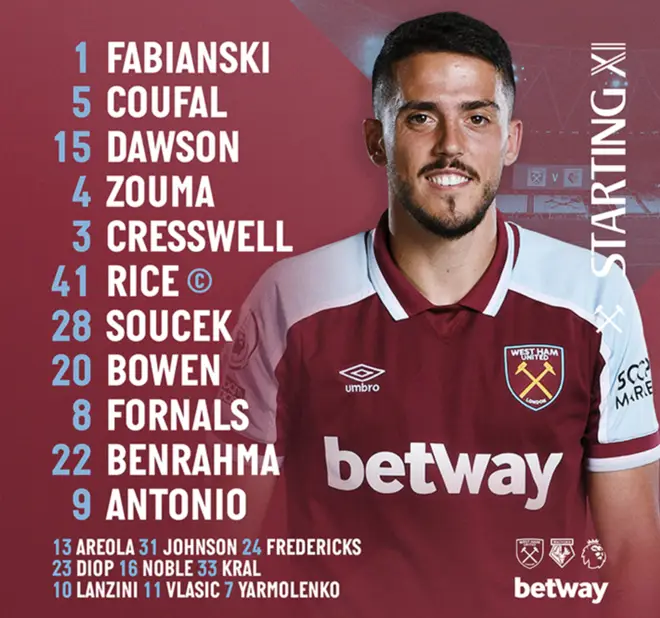 Over 3,000 people signed a petition saying he should face prosecution for his actions.
The person who set up the petition wrote: "This "man" cannot be allowed to get away with abusing this poor cat in this way".
Read more: Tories demand PM apologise after cops rescue Starmer from mob hurling 'Jimmy Savile' abuse
Read more: Boris 'belts out I will Survive' to new communications chief after shake-up at No10
One person who signed it wrote: "I found this so hard to watch. Anyone who can treat a defenceless animal like this should face the full force of the law. The RSPCA must remove the cats and prosecute. No excuses."
French international Zouma, 27, apologised after the footage was published on The Sun's website.
"I want to apologise for my actions. There are no excuses for my behaviour, which I sincerely regret," he said.
"I also want to say how deeply sorry I am to anyone who was upset by the video. I would like to assure everyone that our two cats are perfectly fine and healthy.
🚨🚨|BREAKING: Video obtained by The Sun shows West Ham United star Kurt Zouma repeatedly kicking his cat across the floor like a football 👇👇[GRAPHIC] pic.twitter.com/Bq2oH6Eaiz

— Politics UK  (@PoliticsForUK) February 7, 2022
"They are loved and cherished by our entire family, and this behaviour was an isolated incident that will not happen again."
His club condemned his actions in the clip.
"West Ham United unreservedly condemns the actions of our player, Kurt Zouma, in the video that has circulated," a statement given to the newspaper said.
"We have spoken to Kurt and will be dealing with the matter internally, but we would like to make it clear that we in no way condone cruelty towards animals."
An RSPCA spokesperson said: "This is a very upsetting video and we'd like to reassure the public that we are investigating.
"We cannot comment further at this time but we're grateful to everyone who has brought this to our attention.
"We have received lots of messages on social media and our other channels, so we're urging people to only contact our national cruelty line (0300 1234 999) if they have new or first-hand information."