Labour wins Tamworth by-election from Conservatives, wiping out huge majority in 'phenomenal' result
20 October 2023, 02:45 | Updated: 20 October 2023, 03:14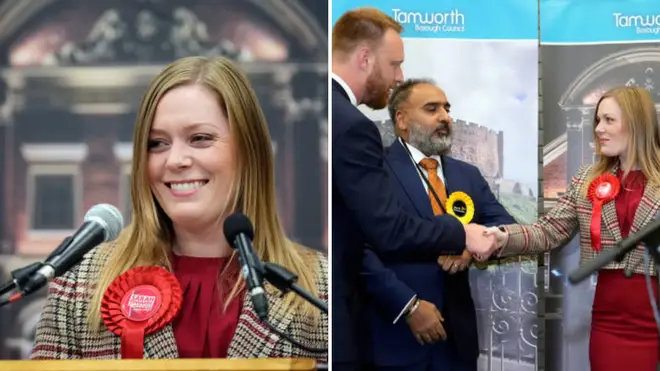 Labour has won the Tamworth by-election, wiping out a Conservative majority of more than 19,000.
Labour's Sarah Edwards defeated Tory Andrew Cooper in the by-election in the early hours of Friday morning.
Ms Edwards won 11,719 votes in the Staffordshire race compared to Mr Cooper's 10,403 - giving her a majority of 1,316. Tamworth saw a turnout of 35.9%, or a total of 25,630 votes.
The vote was a huge 23.9% swing from the Conservatives to Labour. Shadow cabinet member Steve Reed told LBC that Tamworth wasn't even a target seat for his party, as he hailed the "astonishing" result.
The by-election was triggered after then-MP, the Conservative Chris Pincher, stepped down amid a sexual misconduct scandal.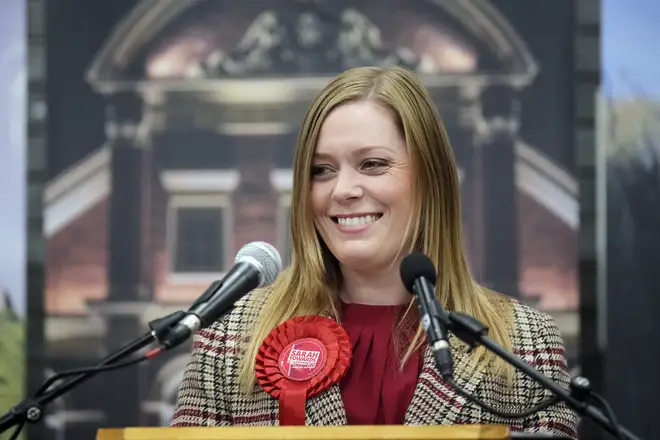 Ms Edwards said after her victory: "The people of Tamworth have made it clear: it's time for change."
"They've sent a clear message to Rishi Sunak and the Conservatives that they have had enough of this failed government which has crashed the economy and destroyed our public services.
Thanking Tamworth voters, she said: "I have made promises to you that I intend to keep. I will be your voice in Westminster and challenge this government to get a better deal for Tamworth. You have my solemn promise.
"I know a lot of you have voted Labour for the first time and I will not let you down."
Ms Edwards said: "In this election we offered a plan for Tamworth that was positive, full of ideas and hope. A hope that should be about creating a better country for us all.
"Only Keir Starmer's Labour Party has the vision and the ideas to make life better for everybody in our country.
"Change is the question at the next election. And the answer is Labour."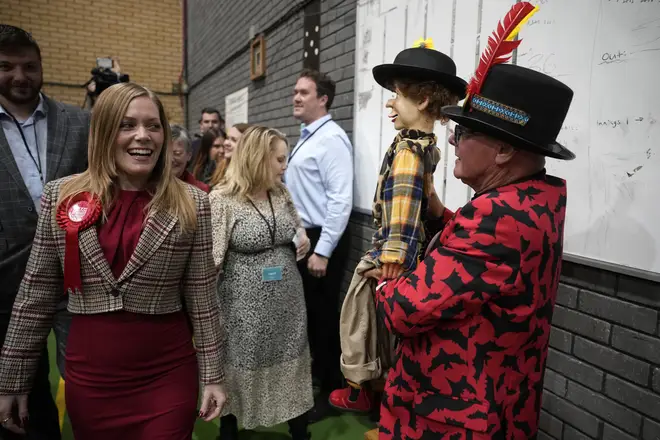 Labour leader Sir Keir Starmer said: "This is a phenomenal result that shows Labour is back in the service of working people and redrawing the political map.
"To those who have given us their trust, and those considering doing so, Labour will spend every day acting in your interests and focused on your priorities. Labour will give Britain its future back."
Steve Reed, the shadow environment secretary, told LBC after the Labour victory: "The opportunity is there for Labour to form a majority government... but we know we have to work every single day to continue earning the trust".
Tamworth has leaned heavily Conservative in recent years, so the result will be by many as a strong sign for Labour ahead of the next general election.
Mr Pincher resigned after he was found to have drunkenly groped two men in an "egregious case of sexual misconduct" at the Carlton Club in London last year.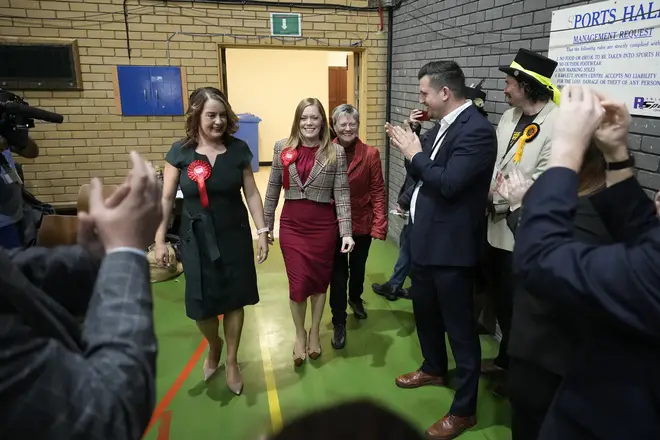 That scandal helped trigger Boris Johnson's departure from Downing Street, as a result of his handling of the situation.
The Tamworth by-election came on the same night as a vote to replace the Conservative Nadine Dorries as the MP for Mid Bedfordshire.
It was the third by-election Labour has won in 2023, after victories in Selby and Ainsty in July, and Rutherglen and Hamilton West earlier this month.