Labour can't commit to reversing HS2 cancellation, Keir Starmer says, after Sunak takes 'wrecking ball' to finances
5 October 2023, 17:50 | Updated: 5 October 2023, 19:36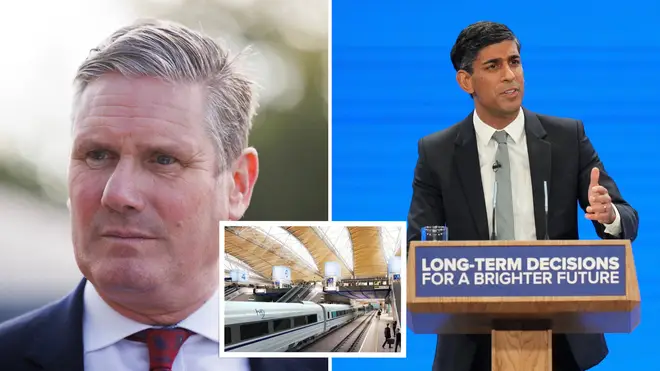 Labour will not commit to reversing HS2's northern leg cancellation after Rishi Sunak "took a wrecking ball" to the project's finances, Sir Keir Starmer has said.
Mr Sunak announced at the Conservative Party Conference that the northern leg of HS2 has been scrapped, meaning it will only run between Birmingham and London.
Instead, Mr Sunak says £36bn saved on the project will be reinvested into other local transport schemes, including by improving links between Manchester and Liverpool.
The move has been met with fury, including among former senior Tories David Cameron, George Osborne and Boris Johnson, as well as Manchester's mayor Andy Burnham.
Starmer's comments come ahead of his party's conference, which will kick off in Liverpool on Sunday.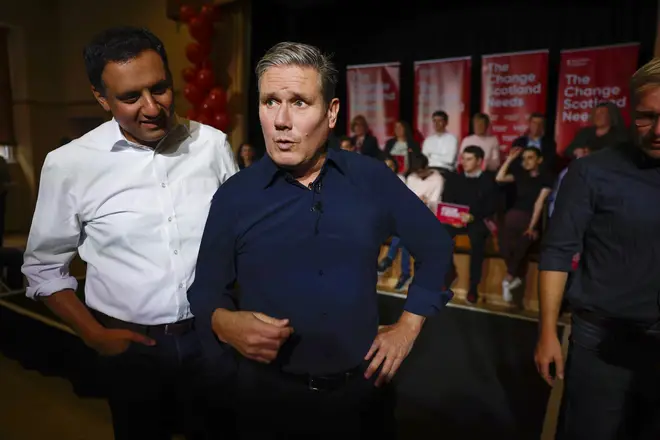 The Labour leader has refused to commit to reviving HS2's northern leg after the Tory government destroyed it with a "wrecking ball".
That is partly, he says, because the government is "already talking about releasing the land that would have been needed" to see HS2 reach Manchester.
Starmer has insisted a Labour government would be "laser-focused on growing our economy in all parts of the country - that means we need better connectivity".
The Labour leader also told the BBC he was talking with local mayors to determine how his government would be able to improve transport links in their areas.
Read More: HS2 might not reach Euston after all: Project will only go to central London with enough private funding
Read More: Rishi Sunak filmed video cancelling HS2 days before Tory conference announcement - despite saying he'd not decided
It comes after it emerged HS2 will not reach Euston unless the project receives enough private investment - despite Mr Sunak guaranteeing the high-speed rail line will reach central London.
HS2 will instead terminate at Old Oak Common in west London, if enough funding is not raised by private investors.
Nonetheless, the HS2 project to Euston has been scaled back, with the government cutting the number of platforms at Euston from 11 to six.
A pedestrian tunnel linking Euston station and Euston Square tube station will also now not go ahead.
It is estimated scaling back the plans at Euston would save more than £6bn, the Department for Transport has said.
The prime minister has been subject to criticism over the timing of the HS2 announcement after he refused to confirm all week whether its northern leg had been scrapped.
Speaking on LBC's Tonight with Andrew Marr, former Levelling Up Secretary Greg Clark said he was "surprised" by the PM's decision.
"I was a little surprised," Mr Clark said. "But I know that the Prime Minister's come in, this was his first speech, every new Prime Minister wants to just stamp their image on the future. And, of course, a party conference speech from a leader is about setting out his or her vision for the future. So that's to be expected.
"But I do think that it is right to acknowledge and to be respectful of some of the achievements.
"Not everything was done correctly, I'm certain, but I do think that during the last 30 years, and certainly during the last 13 years, we did get some things right."
Mr Sunak had insisted on a number of occasions that no official decision had been taken, though footage posted to his official account on Thursday indicates the decision had been made several weeks ago.
The footage was seemingly taken inside Downing Street, but the prime minister had been in Manchester from Sunday for the Conservative Party Conference.