Lib Dems celebrate 'stunning victory' as they win Somerton and Frome by-election
21 July 2023, 04:27 | Updated: 21 July 2023, 04:43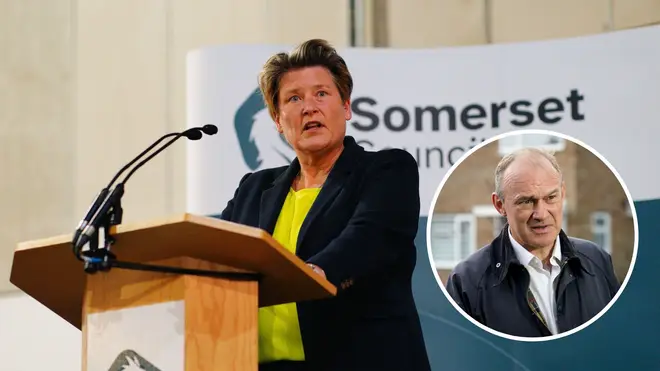 The Liberal Democrats have overturned a Tory majority of more than 19,000 to win the Somerton and Frome by-election.
Sarah Dyke won the Somerset seat by 11,008 in a dramatic swing away from Rishi Sunak's party.
But the Tory leader was spared the prospect of being the first prime minister since 1968 to lose three by-elections on the same day as Labour failed to secure victory in Boris Johnson's former seat.
Opposition leader Keir Starmer had hoped his party would take Uxbridge and South Ruislip but Tory Steve Tuckwell managed to retain it with a majority of just 495.
Labour is now holding out hope to secure Selby and Ainsty, where the Conservatives are defending a 20,137 majority.
Read more: Tories maintain hold on Boris Johnson's former Uxbridge seat in by-election blow to Labour's Keir Starmer
Liberal Democrat Leader Sir Ed Davey said the "stunning victory" for his party showed that it was "firmly back" in its former West Country stronghold.
"Sarah Dyke will be an incredible local champion for the people of Somerset who have been neglected for far too long," he said.
"She will fight for stronger local health services, better access to GPs and a fair deal for rural communities during this cost of living crisis.
"The people of Somerton and Frome have spoken for the rest of the country who are fed up with Rishi Sunak's out-of-touch Conservative Government."
Newly elected MP Sarah Dyke said she was "excited, exhilarated and most of all humbled" at the result.
She said: "Its unbelievable and most of all I am delighted that finally Somerton and Frome have finally got a voice in the constituency but also in Parliament and I can't wait to get started.
"I think the result here shows a very clear message now that the Liberal Democrats are back in the West Country.
"Not only do we have the largest group of Liberal Democrat councillors on Somerset Council we now have an MP in Somerset.
"We have a great legacy of Liberal Democrats MPs in Somerset. David Heath represented this constituency from 1997 to 2015, and the great, late Paddy Ashdown who was a hero to so many.
"I hope we can really start that journey back to that representation and people will get a hard working MP in Somerset."