London Bridge attacker Usman Khan was convicted terrorist
29 November 2019, 23:32 | Updated: 30 November 2019, 00:44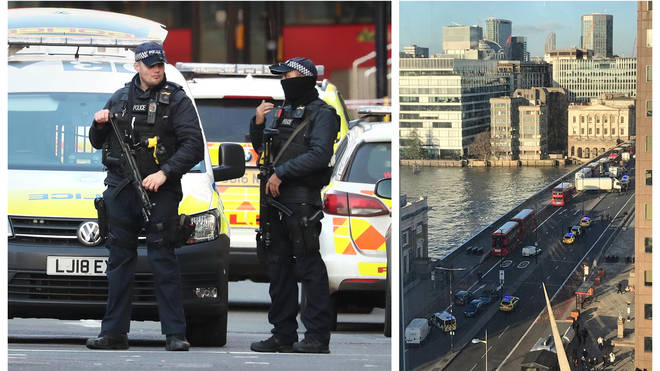 London Bridge attacker Usman Khan was a convicted terrorist and had been released from prison less than a year ago.
The 28-year-old, who lived in Staffordshire, was jailed in 2012 for terrorism offences but was released on licence in December 2018.
He was wearing a fake suicide vest when he was killed on the central London crossing on Friday afternoon in full view of horrified onlookers.
Khan fatally stabbed a man and a woman, and also injured a further three people - two women and a man.
The attack started at nearby Fishmonger's Hall, an events space on the north side of the bridge, where Khan had been attending an event called "Learning Together."
It began inside before he moved onto the bridge, where he was shot dead by officers.
Police are now searching Khan's home.
In a statement late on Friday night, Assistant Commissioner Neil Basu said: "Whilst we are still in the early stages of the investigation, at this time we are not actively seeking anyone else in relation to the attack.
"However, we continue to make fast time enquiries to ensure that no other people were involved in this attack and that there is no outstanding threat to the public.
"As I stated earlier, police were called at 13:58hrs to a stabbing at premises near to London Bridge, EC1.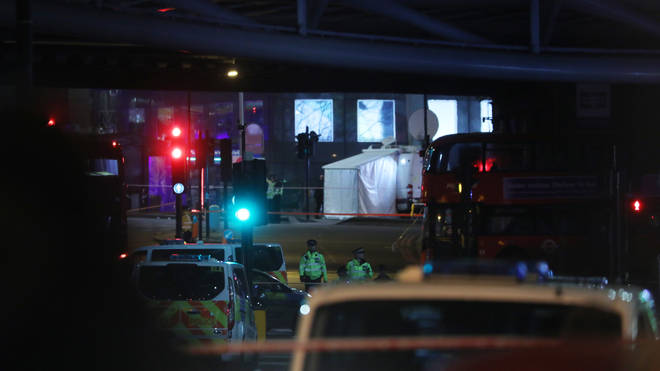 "Emergency services attended, including officers from the City of London Police and the Metropolitan Police.
"A male suspect was shot by specialist armed officers and I can confirm that he died at the scene.
"We are now in a position to confirm the identity of the suspect as 28-year-old Usman Khan, who had been residing in the Staffordshire area.
"As a result, officers are, tonight, carrying out searches at an address in Staffordshire.
"This individual was known to authorities, having been convicted in 2012 for terrorism offences. He was released from prison in December 2018 on licence and clearly, a key line of enquiry now is to establish how he came to carry out this attack."
Mr Basu continued: "Tragically, two people – a man and a woman – were killed during the attack. Three others – a man and two women – were also injured and remain in hospital.
"The circumstances, as we currently understand them, are that the attacker attended an event earlier on Friday afternoon at Fishmonger's Hall called 'Learning Together'. We believe that the attack began inside before he left the building and proceeded onto London Bridge, where he was detained and subsequently confronted and shot by armed officers.
"Extensive cordons are likely to remain in place for some time and I would ask the public to continue to avoid the area.
Prime Minister Boris Johnson said the deaths were heartbreaking.
Speaking before chairing a meeting of the Government's emergency committee Cobra, Mr Johnson said he had "long argued" that it is a "mistake to allow serious and violent criminals to come out of prison early and it is very important that we get out of that habit and that we enforce the appropriate sentences for dangerous criminals, especially for terrorists, that I think the public will want to see".
The Prime Minister also praised members of the public "for their immense bravery" after it emerged bystanders helped tackle the suspect to the ground and disarm him.
Several people were stabbed by the knifeman before he was stopped in his tracks on London Bridge, which was the scene of the bloody massacre in summer 2017 where eight people were killed and 48 seriously injured.
Footage on social media showed one man being urged to move away by armed officers before the suspect was shot at point-blank range, as another bystander - understood to be a plain clothes officer - could be seen carrying a large knife from the scene.
Another video appeared to show a person on a stretcher, surrounded by emergency services staff and vehicles, being given CPR by responders following the attack.
The members of the public who intervened have been widely praised, with mayor of London Sadiq Khan hailing their "breathtaking heroism".
Witnesses said the suspect appeared to be wearing a suicide vest but Neil Basu, the head of UK counter-terrorism policing, said the vest was a fake.
The Independent Office for Police Conduct watchdog said it has launched an investigation into the police shooting of the London Bridge attacker which is standard for such incidents.