Topless man arrested after climbing London's 225m skyscraper the Cheesegrater
22 September 2023, 12:52 | Updated: 22 September 2023, 16:13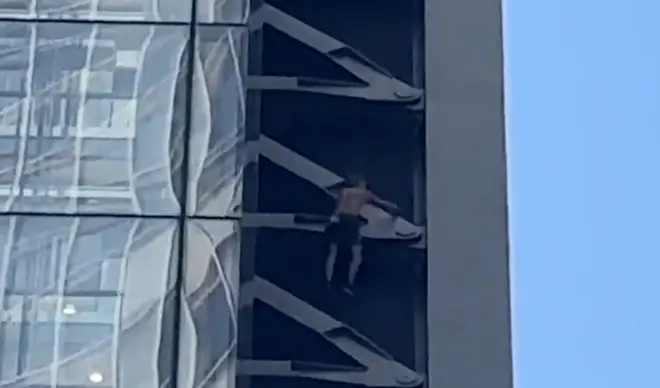 A half naked man scaled London's 225m tall Cheesegrater building as shocked office workers looked on.
The daredevil scaled the straight, vertical side of the distinctive office block in the City early on Friday morning.
But he was caught by police who set up a cordon around the Leadenhall building and waited to detain him on the roof.
He did not climb up the side that slants towards the top, but instead went up the vertical side.
City of London Police said: "A man has been arrested for aggravated trespass after climbing up the Leadenhall building in the City. We were called at 0906 and quickly put a cordon in place.
Read more: Brit arrested while climbing 555-metre skyscraper in just shorts and without safety ropes
"He was met on the roof by police officers and taken into custody."
Photos posted to social media showed how office workers looked on from their own skyscrapers as he scaled the building.
Images showed workers glued to their windows as they watched him scale the structure.
But it is not known yet who the climber is or why he did it. Police did not comment further.