Commander behind Met's drug strategy sacked after refusing drug test following cannabis claims
31 October 2023, 21:15 | Updated: 1 November 2023, 14:36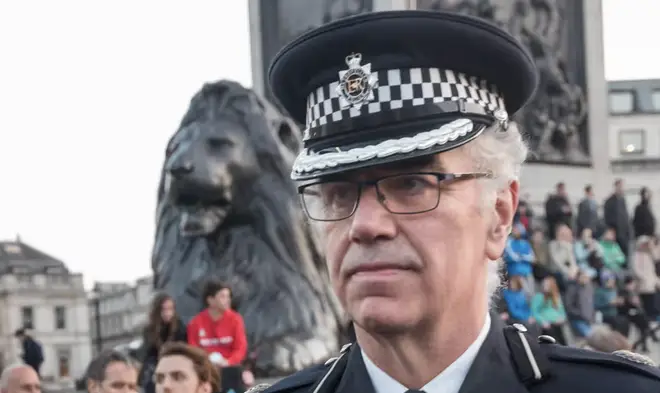 A senior Metropolitan Police Commander accused of smoking cannabis "daily" has been sacked from the force despite the claim being thrown out, because of the way he handled the allegation.
Commander Julian Bennett was found guilty of gross misconduct following a three-year-long investigation, thought to have cost the public at least £1.5m, because he failed to provide a drug sample when the accusation was made.
The Metropolitan Police requested for him to complete the test after receiving a call from his former flatmate who reported Bennett's alleged drug use.
In evidence, she told the panel he was "never sober" at home and smoked cannabis before his shifts, claiming their flat was "like an Amsterdam coffee shop".
But at a hearing on Monday, the accusation that Commander Bennett had smoked cannabis was disproven after the panel said his former flatmate's claims were "fiction, imagination and pure fantasy."
They found she "intensely disliked" Bennett and another housemate, and falsely claimed there had been a raid on their home involving a helicopter.
Read More: Met police slammed after officers caught tearing down Israeli hostage posters in north London
Read More: Anger as police in Manchester pull down posters of Israeli hostages - after Met slammed for removing flyers of children
The panel chair, Akbar Khan, said Metropolitan Police had confirmed that no such raid had taken place.
But despite Bennett himself having written the anti-drugs policy which outlined the need for the sample to be completed, he refused to provide the test when requested in July 2020, and instead requested a meeting with former Commissioner Cressida Dick to ask to resign on the spot.
Mark Ley-Morgan KC, representing the Metropolitan Police, said it would have smacked of "organised corruption at the highest level" if Mr Bennett had been allowed to resign on the spot.
Bennett, who has been suspended on full pay since 2021 and reportedly earns a six-figure salary, had claimed that he believed the test would be positive because he had been taking legal CBD products to treat his facial palsy condition, and he wanted to avoid "embarrassing" the force.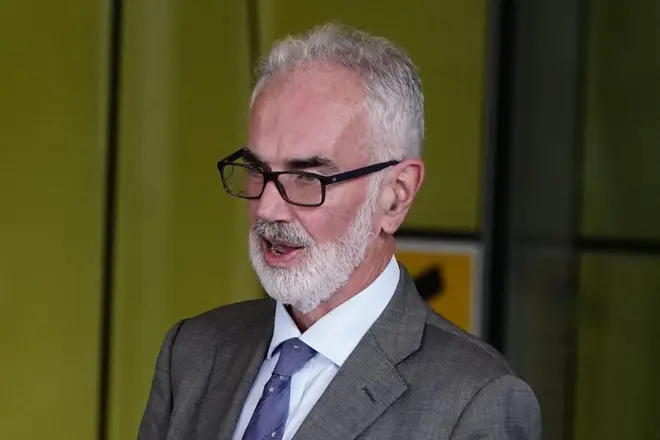 The panel found Bennett then "compromised the integrity of the former Commissioner Dame Cressida Dick" by requesting a meeting with her to offer his resignation The panel said his behaviour "lacked integrity" and brought discredit to the force by seeking to "embroil the Commissioner" in the issue.
They said it was a deliberate attempt to "secure for himself high-level cover to deflect inevitable criticism and embarrassment that would come his way."
The panel concluded that given he had intentionally failed to follow a lawful order to take a drugs test, and had deliberately sought "personal advantage and special treatment" by contacting Dick, he had "failed to live up to the high standards expected of him" and "undermined public confidence" in the Met.
It also noted that during his career he presided over 74 police misconduct hearings – 69 as chair – between June 2010 and February 2012, which led to the dismissal of 56 officers. He earned the nickname of "the Sacker".
The panel also said he should have known better because he dismissed an officer who had refused to take a drug sample after he found him guilty of gross misconduct.
Bennett was found to have breached the force's standards of honesty and integrity by failing to provide the sample.
Assistant Commissioner Barbara Gray said: "Julian Bennett's actions were deplorable. He was a senior officer and showed complete disregard and disrespect for the standards we must all uphold.
"The public will justifiably be outraged that any police officer, but particularly one of such a senior rank, refused a lawful order to take a drugs test.
"Commander Bennett was highly experienced and knew full well what was required of him, yet he made a choice not to cooperate. He could have been in no doubt of the professional standards required as he was responsible for chairing the misconduct hearings of numerous officers between 2010 and 2016.
"His actions have further damaged not only the public's trust in us as an organisation, but also the confidence of our own officers and staff in those who lead them.
"The hearing panel was entirely independent of the Met Police, chaired by a legally qualified chair, a senior member of His Majesty's Inspectorate of Constabulary and Fire and Rescue Services and an independent panel member. Throughout the proceedings no police officer was on the panel.
"It is hard to comprehend that it has taken more than three years for this case to conclude. We welcome the Home Office's recent police dismissals review which aims to address some of the pressing issues that have arisen in this case and many others.
"In the last year the Met has been making greater use of accelerated misconduct hearings to fast track cases where the evidence is irrefutable. This allows us to dismiss officers far more quickly."