High risk contacts of UK monkeypox cases urged to self-isolate for 3 weeks
22 May 2022, 11:14 | Updated: 23 May 2022, 06:17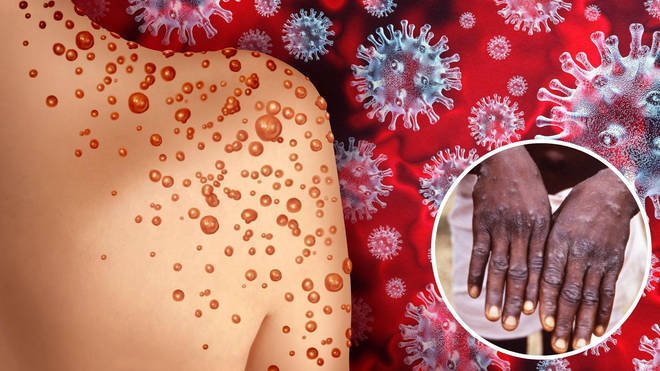 High risk contacts of monkeypox cases will be urged to self-isolate and avoid contact with children for three weeks in the UK, as Belgium becomes the first country to bring in mandatory quarantine.
The number of confirmed cases in the UK is currently 20 but this is expected to rise on Monday with the release of updated figures for the weekend.
The cases include a British child currently in a critical condition at a London hospital, while a further 100 infections have been recorded in Europe.
Dr Susan Hopkins, a chief medical adviser for the UK Health Security Agency (UKHSA), said updated figures for the weekend will be released on Monday as she warned of more cases "on a daily basis".
According to guidance from the UKHSA, people who have had direct unprotected contact with a case will be advised to self-isolate for 21 days, including not going into the workplace.
The guidance also states contacts should "avoid contact with immunosuppressed people, pregnant women, and children aged under 12 where possible".
Individuals considered "high risk contacts" will be offered the smallpox vaccine, which has historically been shown to be protective against monkeypox.
Household contacts, sexual contacts, and those changing a patient's bedding without appropriate PPE are all considered to be high risk under the UKHSA's guidance.

Medium risk contacts will also be offered the vaccine, encouraged to avoid contact with the above groups and receive daily communication from authorities, but they are not asked to self-isolate, the guidance says.
These include passengers seated directly next to a monkeypox case on a flight, and those who shared a car or taxi with a case.
It comes as Belgium became the first country to introduce a compulsory 21-day monkeypox quarantine.
At least 14 countries have now confirmed outbreaks of the disease, and UK doctors are warning more cases are being identified every day.
Those who contract the virus will now have to self-isolate for three weeks, Belgian health authorities have said, after three cases were recorded in the country.
The infections, the first of which was recorded on Friday, are all linked to a festival in the port city of Antwerp.
A senior doctor warned today that monkeypox is spreading through community transmission in the UK, with more cases being detected daily.
The UK Health Security Agency (UKHSA) has confirmed 20 cases of the disease in the UK with nine other countries outside of Central and West Africa also reporting outbreaks.
The disease, which was first found in monkeys, can be transmitted from person to person through close physical contact - including sexual intercourse - and is caused by the monkeypox virus.
Dr Susan Hopkins, warned that doctors are seeing community transmission with cases predominantly being identified in individuals who self-identify as gay or bisexual or men who have sex with other men.
Read more: Monkeypox outbreak: What is the virus and how does it spread?
Dr Hopkins said: "We will be releasing updated numbers tomorrow - over-the-weekend figures.
A notable proportion of early cases detected have been in gay and bisexual men and so we are urging this community in particular to be alert. pic.twitter.com/DSzyIGhPKB

— UK Health Security Agency (@UKHSA) May 22, 2022
"We are detecting more cases on a daily basis and I'd like to thank all of those people who are coming forward for testing to sexual health clinics, to the GPs and emergency department."
Asked if there is community transmission in the UK, she said: "Absolutely, we are finding cases that have no identified contact with an individual from west Africa, which is what we've seen previously in this country.
"The community transmission is largely centred in urban areas and we are predominantly seeing it in individuals who self-identify as gay or bisexual, or other men who have sex with men."
Asked why it is being found in that demographic, she said: "That's because of the frequent close contacts they may have.
"We would recommend to anyone who's having changes in sex partners regularly, or having close contact with individuals that they don't know, to come forward if they develop a rash."
Asked if people will need to get vaccinated for the infection, she said: "There is no direct vaccine for monkeypox but we are using a form of smallpox vaccine - a third-generation, smallpox vaccine that's safe in individuals who are contacts of cases.
"So, we're not using it in the general population.
It comes as US president Joe Biden said that recent cases of monkeypox which have been identified in Europe and the United States are something "to be concerned about".
In his first public comments on the disease, Mr Biden added: "It is a concern in that if it were to spread it would be consequential."