Shocking footage shows families fleeing as historic Marrakech mosque burns, with quake death toll nearing 2,500
11 September 2023, 13:45 | Updated: 11 September 2023, 14:17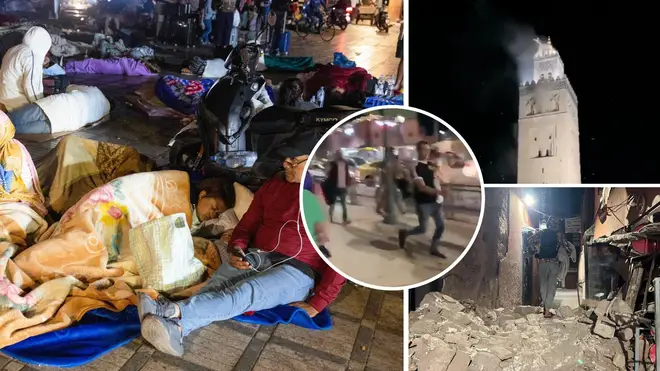 Dramatic footage shows a plume of smoke rising from a historic Marrakech mosque as families flee following Morocco's deadly 6.8-magnitude earthquake, as the country's death toll nears 2,500.
The footage, uploaded to social media platform X following the disaster, shows plumes of smoke rising from the 12th Century Kutubiya Mosque, with terrified screams ringing out.
Locals carrying children can be seen fleeing the scene following the quake, with 2,497 people now said to have died following Friday's earthquake.
Measuring in at 69 meters (226 foot), the mosque's tower - known by many as the "roof of Marrakesh" - suffered structural damage following the quake. Despite concerns, the structure remained standing.
It follows the emergence of footage showing aid trucks rolling into the city of Marrakesh, as relief efforts in the country began.
The extensive damage extended across the Unesco World Heritage site, with the instantly recognisable sections of red wall surrounding Marrakech's Old City reduced to rubble.
Three days of national mourning have since been declared in the country as aid efforts continue.
Footage shared online showed people screaming as they fled from collapsing buildings, with a huge cloud of dust rising above Marrakesh.
The devastating scenes also showed locals coming together to rescue those trapped in rubble while huge crowds gathered in open areas across the city to rest for the night.
On Saturday evening, Morocco's King Mohammed VI declared three days of national mourning.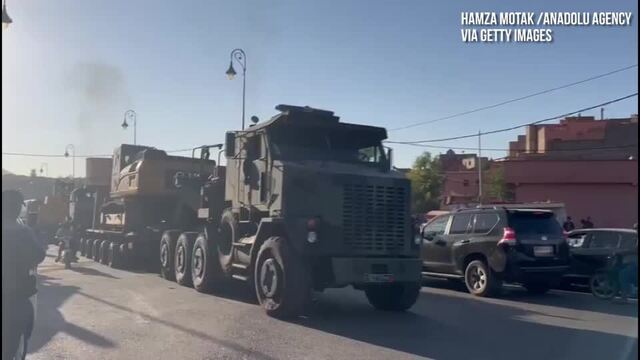 Relief efforts begin in Morocco after earthquake
Flags will fly at half-mast on all public buildings, according to state media.
The King also ordered shelter, food and support for survivors, calling on the armed forces to assist rescue teams.
Read more: 'Give yourself up': Family of escaped prisoner Daniel Khalife's heartfelt plea as huge manhunt continues
Read more: 'Fired up' Rishi Sunak vows to keep cutting inflation, but refuses to commit to cutting taxes
It comes after he US Geological Survey (USGS) said the quake had a preliminary magnitude of 6.8 when it hit at 11.11pm local time, with shaking that lasted several seconds.
Morocco's National Seismic Monitoring and Alert Network measured it at 7 on the Richter scale.
The tremor's epicentre struck near the town of Ighil, roughly 70 kilometres south of Marrakesh.
The full death toll of the most powerful quake to hit Morocco in 120 years will not be known until rescuers complete the challenging journey to the remote mountain villages that were the hardest hit.
The UK said it was ready to assist in any way needed while France, Spain and Israel offered to help with the search and rescue.
Roads near the quake's epicentre were jammed with vehicles and blocked with collapsed rocks, local media reported.
The USGS said the epicentre was 18 kilometres (11 miles) below the Earth's surface, while Morocco's seismic agency put it at 8 kilometres (5 miles) down. In either case, such shallow quakes are more dangerous.
Rishi Sunak said his thoughts are with everyone affected by the "terrible" earthquake.
"The UK stands ready to support our Moroccan friends," the Prime Minister wrote on social media, in a message that echoed that of Foreign Secretary James Cleverly.
Mr Cleverly pledged support in "whatever way we can".
Though earthquakes are relatively rare in North Africa, a magnitude 5.8 tremor struck near Agadir and caused thousands of deaths in 1960.
National Institute of Geophysics' head of the Seismic Monitoring and Warning, Lahcen Mhanni, told 2M TV that the earthquake was "exceptional".
He said: "Mountainous regions in general do not produce earthquakes of this size.
"It is the strongest earthquake recorded in the region."