Musk's Twitter is hanging on by a Thread as Meta launches rival social media platform
6 July 2023, 19:30 | Updated: 7 July 2023, 11:31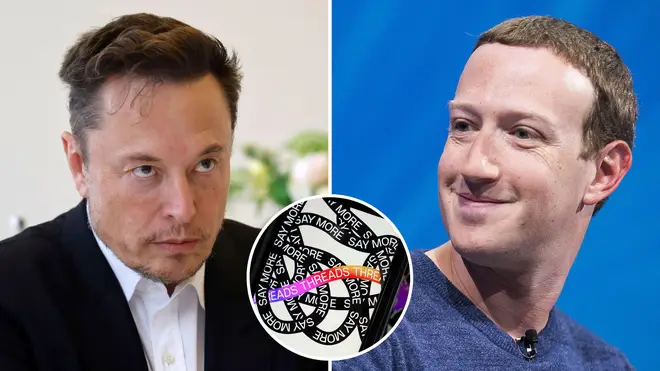 LBC's Will Guyatt burned the midnight oil to see what Zuckerberg's new Twitter rival is like.
For a handful of people like myself, today was a bit like Christmas Day morning.
We don't often get a new social network launching, and none have launched with the rapidly generated hype machine behind Meta (Facebook's parent company's) latest platform – a text-based service known as Threads.
I'd boldly predicted last week that Threads would be the world's fastest-growing social network, and gloriously.
Ultimately, I was right, with an incredible 16m accounts being activated in less than 8 hours, thanks to its symbiotic relationship with Meta's Incredibly popular video and photography social network, Instagram.
Read more: 'Twitter killer' app Threads bags 10m users at launch as Zuckerberg Tweets after 11 years to take swipe at Musk
We've known about Threads for a couple of months – with Meta saying it would be released when it was ready, with things suddenly heating up at the weekend after Twitter's latest misstep, where Musk decided to limit how many tweets users could see, while offering subscribers to its Twitter Blue paid-for service, the chance to see more.  
And suddenly the buzz began to build around Threads. Seemingly, it took the bizarre, disjointed, showman-like behaviour of Elon Musk over on Twitter to push social media fans back into the warm embrace of Mark Zuckerberg – given that millions of us have expressed increasing concerns about the amount of data and information we're giving over to Meta in return for access to their service.  
That doesn't appear to have stopped a record number of people wanting to leap back into bed with the organisation and give them even more of your valuable information – this time pertaining to your everyday thoughts, and general conversations with other followers.
Unexpectedly launching at midnight UK time ticking into the morning of Thursday, 6th July – Threads is for all intents and purposes Twitter started afresh. 
Zuckerberg has made great successful from taking the ideas of others and making them hugely successful – taking features from platforms like TikTok and Snapchat then integrating them into his own with great success.
Given Threads and Instagram are so intrinsically linked, there's already lively debate and conversation just hours into its launch – which is quite unlike any other social network launched until this date, which has typically taken days, maybe weeks to take off. 
Threads will succeed because it's a Twitter competitor with the power of Meta – unlike services like Mastodon and Blue Sky – it won't collapse every time an influx of users want to sign up – and it won't need to heavily restrict sign-ups due to server space.
Threads works like Twitter - you can choose who you follow on the platform, and you can mention other users to bring them into your conversation.
It's also possible to share links and articles to interesting news. as well as photos.  In short, it's essentially Twitter five years ago - but for many, that's much better than Twitter today.
And for this ridiculous Musk chat of a cage fight in Vegas, it was Zuckerberg who came out swinging as Threads launched – taking to his latest platform saying: "I think there should be a public conversations app with 1 billion + people on it. Twitter has had the opportunity to do this but hasn't nailed it."  
And if that wasn't enough of a knock-out blow to Musk's remaining Twitter valuation, Zuck himself logged into his Twitter account for the first time in 12 years to post a well-known Spider-Man meme in which two people in costume are pointing at each other – with one being an evil impersonator.
Mere hours in, it feels like Zuckerberg has successfully played the long-game. 
He may have unsuccessfully attempted to buy Twitter for $500m back in 2013 – but, he's likely to get most of its audience for free a decade later. 
From where I'm sitting right, Elon might be regretting Twitter's rich $43bn purchase price – while Zuckerberg's probably sat there, in the middle of the night watching the number of Threads accounts growing astronomically.
You can follow Will on Threads