Spy balloon or UFO? Authorities baffled after giant metal ball washes up on Japanese beach
22 February 2023, 13:04 | Updated: 22 February 2023, 14:19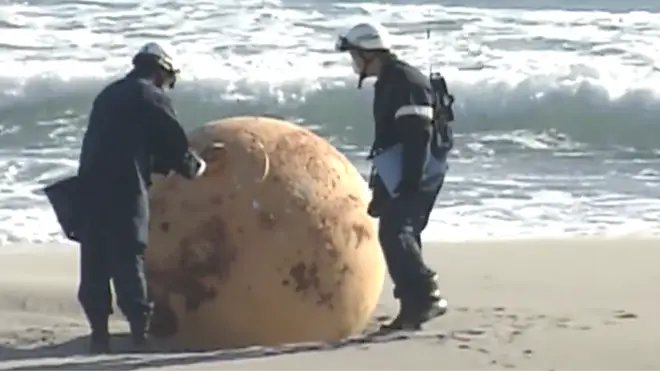 A giant metal ball that mysteriously washed up on a Japanese beach has baffled officials who are trying to identify the object.
The giant metal ball, around 1.5 metres in diameter, appeared on a beach on Japan's south coast, astounding officials, residents and online spectators.
A mysterious metal ball spotted on a beach in Hamamatsu City this week prompted local police to scramble the bomb squad. A careful examination revealed it is not a threat -- but shed no light on what it actually is. pic.twitter.com/ytClWsP0bw

— NHK WORLD News (@NHKWORLD_News) February 21, 2023
After the ball was reported to authorities by a local resident on Tuesday morning, explosive experts quickly dismissed any immediate threat that it could be a mine, but are yet to uncover what the ball could be.
Police closed off the area on Enshu beach in Hamamatsu city while two agents in heavy protective gear appeared to examine the sphere.
X-ray technology revealed the ball to be hollow while the outside has a rusty appearance and two raised handles, raising speculation it is normally hooked onto something.
Restrictions to the beach were then lifted at 4pm after the object, thought to be made of iron, was deemed to be safe. The Japanese armed forces and coastguard officials are continuing to examine photographs of the ball.
The ball sparked a flurry of speculation online as curious onlookers wondered about the origins of the ball.
One user took to Twitter to say: "Please be UFO, please be UFO."
While another suggested that the ball resembled something from manga series Dragon Ball, writing: "This washed up on the shores of Japan yesterday. It's a Dragon Ball, right?"
Another Tweeter theorised: "It's one of those baubles that went flying down Oxford Street at Christmas."
It comes after the US was forced to shoot down three balloon-like objects in the sky, initially thought to be used for Chinese surveillance.
READ MORE: Are they out there? US general refuses to rule out aliens after three bizarre UFOs shot down over North America