'Clearly there's questions that need answering': Sunak orders ethics adviser to investigate Zahawi tax case
23 January 2023, 07:00 | Updated: 23 January 2023, 12:32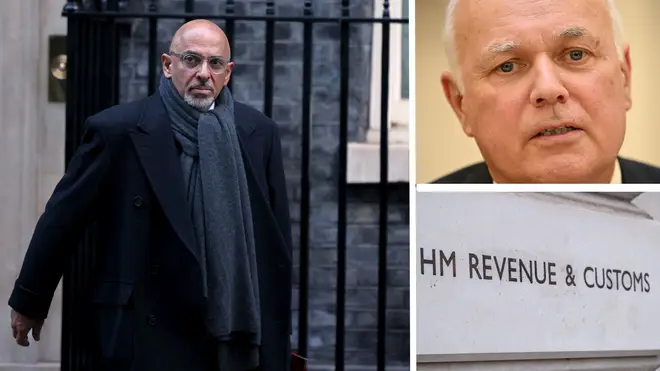 Rishi Sunak has said there are "clearly... questions that need answering" over the Nadhim Zahawi tax case as he asked his ethic adviser to investigate it.
The Prime Minister has asked Sir Laurie Magnus to look into the affair after outrage at the Tory party chairman's paying of a penalty to resolve the dispute with HMRC.
"Clearly in this case there are questions that need answering," Mr Sunak said.
Mr Zahawi is not planning to quit, however and the PM said he has "full confidence" in the embattled chairman.
An ally said on Monday that the former chancellor "absolutely" will not be quitting in the face of growing pressure over his settlement, estimated to be around £5 million.
Rishi Sunak has been urged by Labour to sack Mr Zahawi, who he brought back into a Cabinet-attending role after becoming PM.
Mr Zahawi admitted that "errors" in his tax affairs had been deemed "careless" by HM Revenue & Customs but the mistake was "careless" rather than deliberate.
The beleaguered Tory chairman released a statement on Saturday to "address some of the confusion about my finances", but it raised further questions, including whether Mr Zahawi negotiated the dispute while he was serving as chancellor.
He did not disclose the size of the settlement - reported to be an estimated £4.8 million including a 30% penalty - or confirm whether he paid a fine.
Tax lawyer & former head of HMRC Sir Edward Troup told LBC's Nick Ferrari this morning that Mr Zahawi's errors could amount to "almost anything", but said it was "unlikely to be fraud" due to the size of the penalty.
He said: "Mr Zahawi has said that there was carelessness involved so that's what appears to have happened in this case and that's what I'm afraid happens to to a lot of taxpayers who don't get it right first time."
It is also understood Mr Zahawi settled his tax issue with HMRC while he was serving as chancellor last summer, a government source told Sky News.
Read More: Foreign Secretary James Cleverly defends 'successful entrepreneur' Nadhim Zahawi amid tax bill row
Read More: Labour calls for probe into claim Johnson recommended friend for top BBC job soon after he helped ex-PM secure loan
Critics said on Sunday Mr Zahawi's political survival is "difficult" after he admitted paying a settlement to HMRC following a tax error related to a shareholding in YouGov.
But the cabinet minister now appears to be facing his first Tory calls to resign from his post, with former cabinet minister and Tory leader Sir Iain Duncan Smith saying his position has become "untenable".
According to the Telegraph, Sir Iain said he believed Mr Zahawi's position was "untenable, frankly". He continued: "I really do, because he said he'd been careless.
"That's a heck of a big sum of money to be careless about.
"Given that the chairman has overall responsibility for the Conservative Party, and the treasurer of the Conservative Party is answerable to him, I honestly don't think it's easy to see how he can continue in that role.
"Because it was an awful lot of money to be careless about I just think it's impossible for him to continue, and I'm pretty sure a lot of other people feel the same way."
The former chancellor has already faced a barrage of criticism from those on the opposition bench, including from Labour's shadow chief secretary to the Treasury Pat McFadden, who said: "It's difficult for Mr Zahawi because the problem with this is what we're being asked to believe.
"We're being asked to believe that he had this asset worth £27 million that he didn't really know was his, and therefore didn't really know tax was due on it.
"He was using pretty heavy legal letters to get people to keep quiet about this... threatening legal action, and then we're asked to believe that it's all just carelessness. That doesn't quite fit."
The current Foreign Secretary James Cleverly tried to defend his colleague in an appearance on LBC yesterday, labelling him a "successful entrepreneur".
Mr Cleverly told LBC's Andrew Castle on Sunday: "The fact is that Nadhim had a tax bill because he was a successful entrepreneur who built a business from nothing and employed people.
"The business paid tax, he paid tax, the people he employed paid taxes, that's why we're having this conversation.
"Now look, he said in the statement that he put out that he made mistakes… that he'd been careless, but that he'd brought his tax affairs up to date."