No10 denies millions of pensioners at risk of losing winter fuel allowance in trade-off to keep triple lock
29 September 2023, 17:57 | Updated: 29 September 2023, 19:01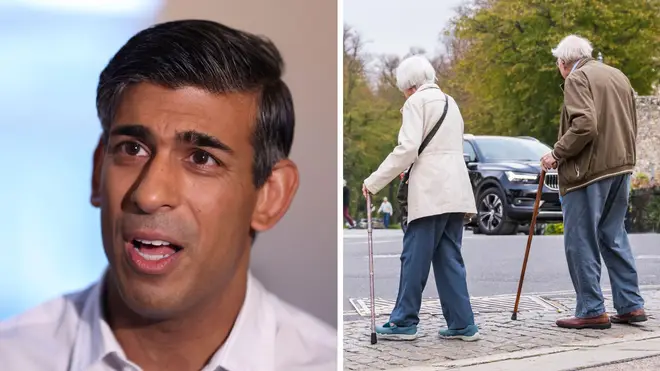 The government has denied claims that millions of pensioners are at risk of losing their winter fuel allowance as a trade-off to keep the triple lock.
The PM will fight the next general election on a promise to keep the triple lock - which guarantees the state pension will increase by the highest of inflation, average earnings or 2.5% - despite concerns about its cost, it is understood.
One way to fund the pledge would be to remove the annual winter fuel allowance for most pensioners, with the exception of those poorest on pension credit support, it was claimed.
A government insider told Sky: "Rishi understands the politics of the triple lock, although he thinks it's far from fair from an intergenerational point of view, so he's trying to redress that a little bit."
Another source said the public would "understand" if Mr Sunak kept the triple lock over the winter fuel allowance.
But a government spokesperson denied that any such proposal was being considered.
"That is not something we are going to do," they said.
Read more: Energy price cap to fall from Sunday, but campaigners call for more support for vulnerable people
Read more: UK on track for biggest tax rises since the Second World War, and 'Covid is not to blame'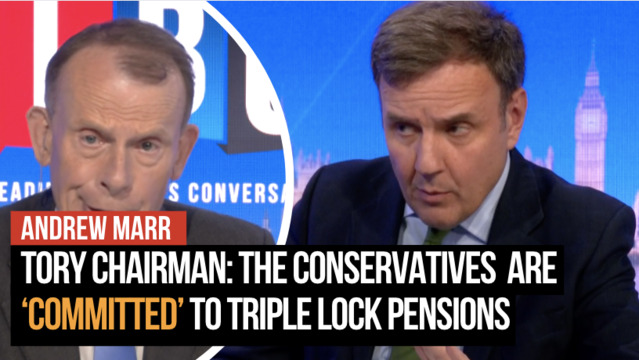 Tory Chairman Greg Hands responds to questions on the triple-lock
It comes after Work and Pensions Secretary Mel Stride admitted that the triple lock policy is not sustainable in the long term.
The Lib Dems warned the Prime Minister against any move to scrap the winter fuel allowance.
The party's work and pensions spokesperson Wendy Chamberlain said it would be a "slap in the face for pensioners facing soaring energy bills this winter".
"Rishi Sunak must be living on another planet if he thinks this is the answer to the country's problems. Pensioners have worked hard and paid their taxes all their lives, they shouldn't be made to pay the price for the Conservative Party crashing the economy," she said.
A Government spokesman said: "We have protected pensioners with the biggest State Pension increase in history this year as well as boosting Pension Credit - worth around £3,500-a-year for those on the lowest incomes.
"On top of Winter Fuel Payments, pensioners will get another £300 this winter to help with essential costs, and we are bearing down on inflation to make everyone's money go further."