No10 urged to explain amber list rule change for people who aren't 'UK vaccinated'
19 July 2021, 06:43 | Updated: 19 July 2021, 19:00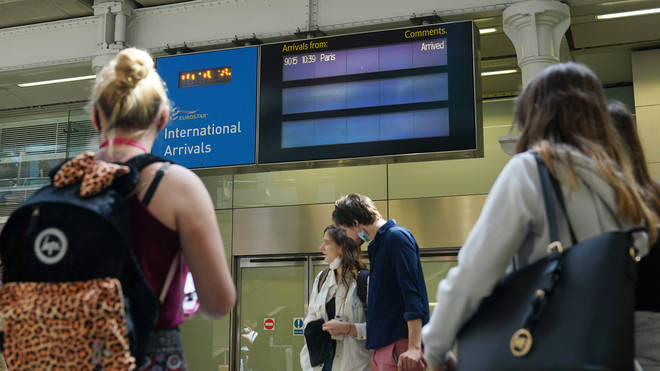 There was mounting frustration today after it emerged that the UK does not recognise identical jabs administered by other countries as part of its travel 'traffic light system.'
The rule which allows vaccinated people returning to Britain from most amber list countries without quarantine from Monday has changed and now only applies to those who have received their jabs "under the UK vaccination programme".
For example, double-jabbed travellers arriving from countries such as the USA will still need to quarantine even though they have received vaccinations that are approved and in use by the NHS.
It comes after a last-minute announcement that fully vaccinated travellers returning to England from France will continue to have to quarantine.
Speaking at the Downing Street press conference, Professor Jonathan Van-Tam said there is "a lot of work going on to sort this out".
He said: "If you've had a good vaccine in another country, then that vaccine is going to be just as good for you and give you just as much protection as the vaccines we are giving people here in the UK.
"There is a great deal of awareness amongst my policy colleagues in government about this and there's a lot of work going on to sort this out.
"But it has to be done in a rational, careful way and it has to be fair for all, and we're working as hard as we can to get there."
However, Business Secretary Kwasi Kwarteng today stood by the policy that means businessmen and women who are vaccinated abroad will have to quarantine
Appearing on Call the Cabinet on LBC, he said the government wants to be "extra safe so that people can be protected here".
What do the rules say if you are double jabbed outside of the UK programme?
The government rules state that 'fully vaccinated' means you've had your final dose of an approved vaccine under the UK vaccination programme at least 14 whole days before you arrive in England.
This means people who are double jabbed with vaccines approved by the NHS must still quarantine if they received their identical jabs in another country.
If you've been in an amber list country (and have not been in or passed through a red list country) in the 10 days before you arrive in England, and you have not been fully vaccinated under the UK vaccination programme, you must take a COVID-19 travel test on or before day 2 and on or after day 8 after you arrive.
READ MORE: Freedom Day: Most lockdown restrictions lift in England
READ MORE: PM admits he 'briefly' considered not self-isolating but now will until 26 July
You also must quarantine at home or in the place you're staying for 10 days after you arrive. The day you arrive in England counts as day 0.
There has been no official comment from No10 yet as to why the UK does not recognise identical jabs administered by other countries.
Fully vaccinated adults returning from France to the UK from today will still have to quarantine after a U-turn by the British government on Friday evening.
Adults coming back from amber list countries will no longer have to self-isolate for 10 days under the changes to the amber list system, but France is excluded from that relaxation even though it is still on the amber list.