Ten arrested as police and protesters clash at 'Kill the Bill' protest in Bristol
26 March 2021, 20:35 | Updated: 27 March 2021, 08:42
Around 1,000 people marched in the centre of Bristol this evening
Police have confirmed ten arrests have been made
A large group of protesters gathered outside Bridewell police station, amid a large police presence
Violence later erupted as police used riot shields to push back demonstrators
Senior police chief earlier warned violent protesters will "face the full weight of the law"
Avon and Somerset police urge people to stay away saying they will "take enforcement action if necessary"
On Sunday around 3,000 protesters took part in similar action before violence erupted
Ten protesters have been arrested after police in riot gear moved in on a group of "Kill the Bill" demonstrators who gathered in the city centre to demonstrate against controversial new protest laws.
The force said some protesters used unacceptable "violent conduct" at the third demonstration and said glass bottles, bricks and eggs were thrown at officers and fireworks were launched at its mounted division, with one horse being daubed with paint.
Some 300 people initially joined a protest march through the city centre against the Government's new Police, Crime, Sentencing and Courts Bill on Friday night, before the crowd swelled to more than 1,000 as tempers flared.
Officers wearing helmets and holding shields moved towards the crowd after 10pm, after calling for people to disperse, using riot shields against a group who were chanting "we are peaceful, what are you?" at officers.
Demonstrators could be heard calling for the crowd to sit down in the street in front of the police.
I am disgusted by the disorder in Bristol and the violence being directed towards the police.

I'm in no doubt the silent, law-abiding majority will be appalled by the actions of this criminal minority.

(1/2)

— Priti Patel (@pritipatel) March 27, 2021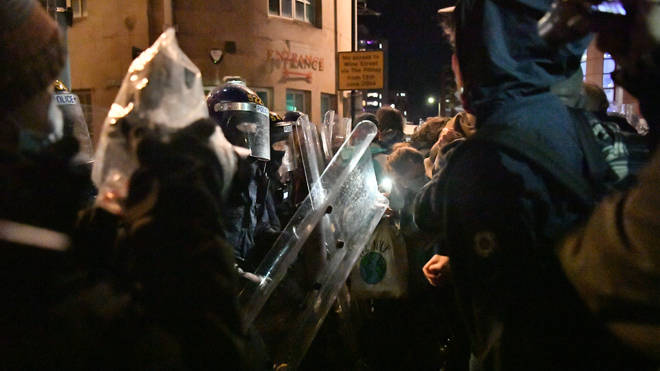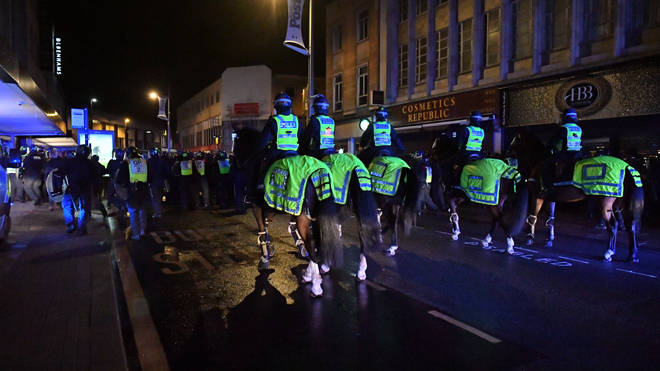 Other protesters were moved on away from the scene, with some small objects apparently thrown towards the advancing officers.
Police tweeted: "Projectiles, including eggs and glass bottles, are being thrown at officers.
"Protestors are also pulling at officers' shields while lasers are being shone in their faces. We will not tolerate violent disorder. Arrests have been made."
Protesters had also shone laser lights into officers' faces, the force said.
"The majority of people acted peacefully however there was a minority who showed hostility to officers," Superintendent Mark Runacres said in a statement.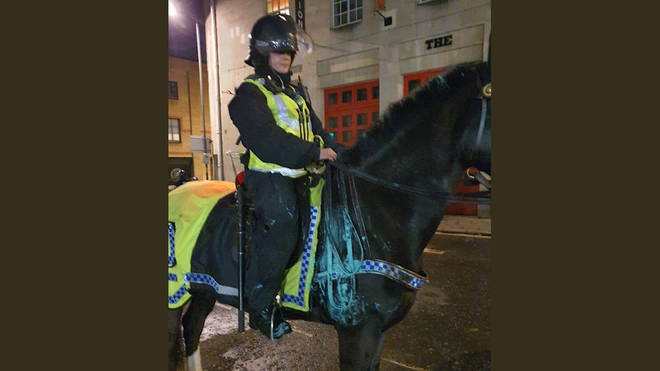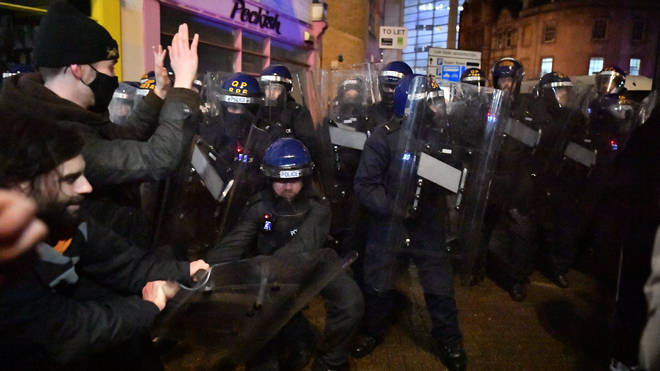 "This violent conduct is not acceptable.
"Officers repeatedly encouraged people to disperse but once the atmosphere changed and people became physical it was necessary to take action."
Three of those arrested were also detained in connection with last Sunday's first march, which was followed by another violent demonstration on Tuesday night.
Supt Runacres added: "All the officers policing the incident are specially trained and accredited in public order and showed exceptional patience in the face of a significant disorder.
"At times reasonable force had to be used - this is not something we ever want to do but we have a duty to uphold the law, prevent crime, and protect people and property."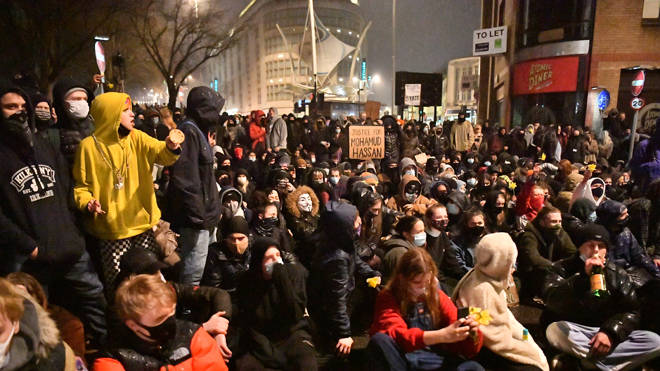 Shortly after 1130pm, police posted online: "A large number of people remain in Bristol. Officers dispersing the crowd are highly trained & accredited in public order.
"They have the ability to use reasonable force to prevent crime, protect people & property.We don't want to use force but we have a duty to enforce the law."
Earlier in the evening, hundreds of protesters had gathered outside Bridewell police station in Bristol with officers forming a ring of steel to protect it from a repeat of violent scenes that took place last Sunday during similar action over controversial protest laws.
A large number of people remain in #Bristol.Officers dispersing the crowd are highly trained & accredited in public order. They have the ability to use reasonable force to prevent crime, protect people & property.We don't want to use force but we have a duty to enforce the law.

— Avon and Somerset Police (@ASPolice) March 26, 2021
Around 1,000 people gathered earlier in the centre of Bristol in the latest protest against the Government Police and Crime Bill, which criminalises protests that are deemed a "public nuisance."
In the third protest this week against the controversial legislation that is proposed by the Government, a huge crowd gathered at College Green in Bristol where they could be heard chanting "our streets" and "who do you protect?" before around 300 people began marching towards the city centre.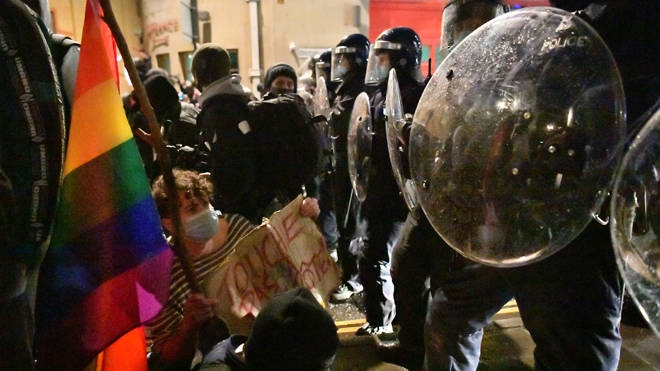 They later gathered in a peaceful sit-down protest outside Bridewell Police Station, with officers in riot gear deployed to protect it. However clashes erupted later in the evening when police made efforts to move the protesters on.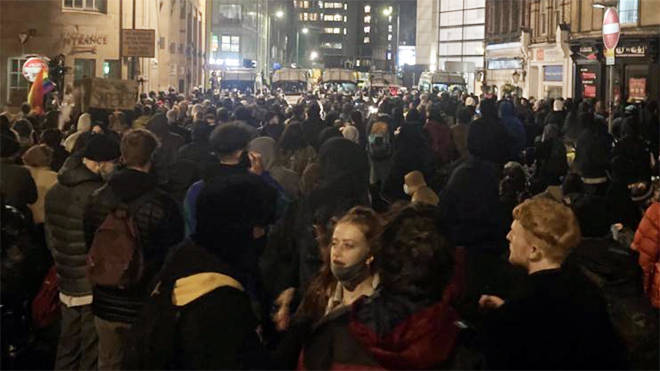 Last Sunday around 3,000 protesters took part in similar action, with around 1,000 people staying to demonstrate outside the same police station in a protest that descended into serious violence.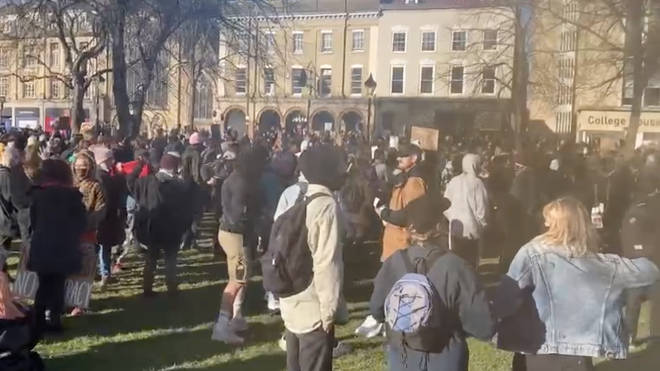 Protesters headed in the same direction this afternoon, towards Bridewell Police Station, the scene of Sunday's riot.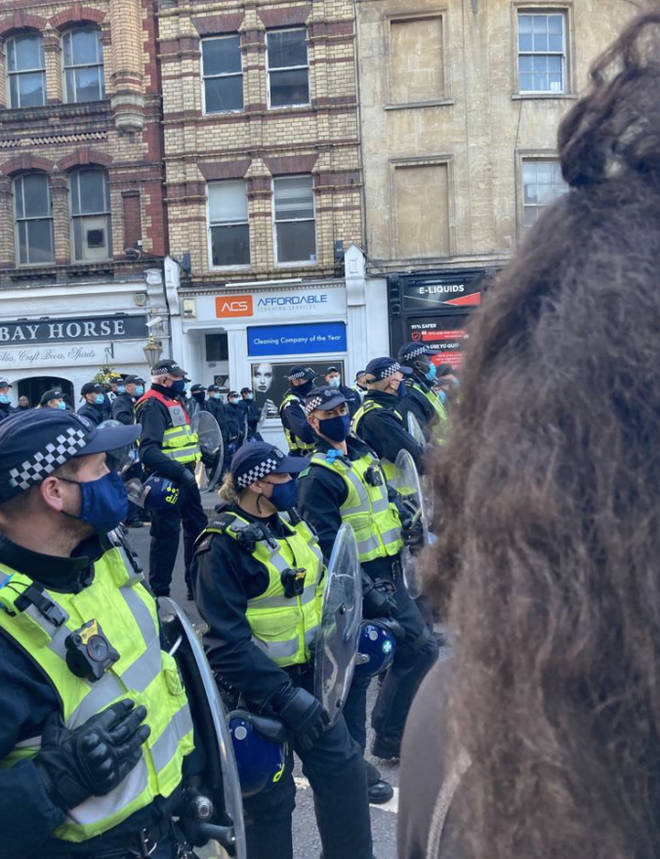 Avon and Somerset police tweeted urging people to stay away saying they will "take enforcement action if necessary."
A significant number of people have gathered in Castle Park in #Bristol.

Officers are engaging with them and asking them to disperse.

All gatherings remain a breach of COVID restrictions.

We continue to urge people not to attend.

We will take enforcement action if necessary. pic.twitter.com/i0e56RXhkZ

— Avon and Somerset Police (@ASPolice) March 26, 2021
Nine people have been arrested in connection with the disorder on Sunday, which saw police officers injured, police vehicles set on fire and the windows of the police station smashed.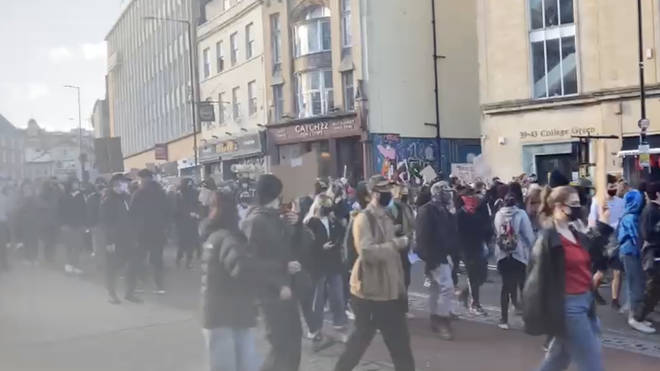 A senior police chief today warned violent protesters they will "face the full weight of the law" ahead of further expected demonstrations this evening and into the weekend.
National Police Chiefs' Council chairman Martin Hewitt said large gatherings are still illegal under current coronavirus regulations and warned of groups wanting to "hijack" legitimate protests.
Mr Hewitt said people came to the demonstration "intent on causing violence and causing damage", with those arrested coming from "literally all over the United Kingdom".
"I would ask people planning to protest this weekend to think carefully and consider whether joining a large gathering outside, in the midst of a pandemic, and potentially being near the scene of violence like we saw last weekend, is something that is safe for them as individuals to do," he told reporters.
"And let me really be clear that any person who is identified committing such acts of violence as we saw can expect to face the full weight of the law.
"You will have seen the number of images that Avon and Somerset Police have been putting out already, and they are working really hard with the Crown Prosecution Service as well.
"And these people will be brought to justice, and already some of those have been taken through the courts and brought to justice, and indeed one of those that has been imprisoned was someone that was already on bail for assaulting police officers."
The Government's Police, Crime, Sentencing and Courts Bill will see the police handed new powers to tackle demonstrations.