'We won't concrete over countryside': PM and Gove's new housing vow to build in cities in bid to end housing shortage
23 July 2023, 22:33 | Updated: 24 July 2023, 06:59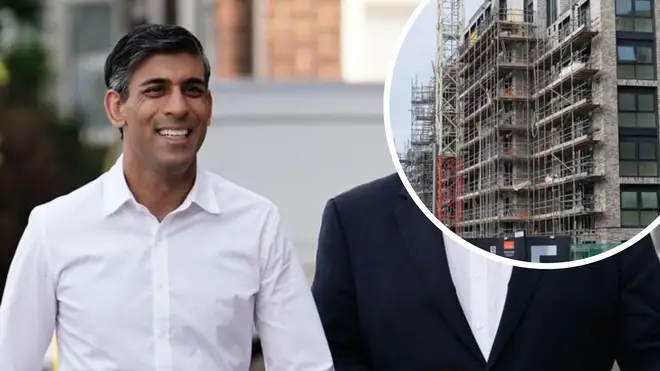 Rishi Sunak has vowed not to "concrete over the countryside" as he prepares to announce new plan to fix housing crisis causing misery for millions.
The Prime Minister made the vow in an apparent bid to appease rural Conservative voters while trying to emphasise his party's commitment to tackling the UK's chronic housing shortage.
The plans will be fully announced on Monday as the PM and Housing Secretary Michael Gove laud their Government for being on course to hit a target of building one millions homes during the five years of the current Parliament.
Read More: Mick Lynch accuses Government of prolonging rail strikes 'for political reasons'
Read More: M&S plans to demolish Oxford St store refused by Michael Gove
Mr Sunak, who is due to visit the West Midlands, and Mr Gove are expected to provide more details on Monday about plans to prioritise house building in inner city areas.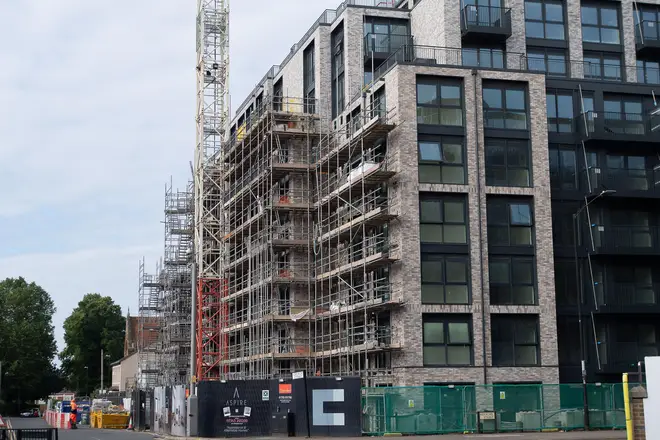 The proposals include developing a new urban quarter in Cambridge with space for homes, art facilities, laboratories and green areas.
Mr Sunak said: "Today I can confirm that we will meet our manifesto commitment to build one million homes over this Parliament.
"That's a beautiful new home for a million individual families in every corner of our country.
"We need to keep going because we want more people to realise the dream of owning their own home.
"We won't do that by concreting over the countryside - our plan is to build the right homes where there is the most need and where there is local support, in the heart of Britain's great cities.
"Our reforms today will help make that a reality by regenerating disused brownfield land, streamlining the planning process and helping homeowners to renovate and extend their houses outwards and upwards."
The announcement comes only two weeks after a cross-party panel of MPs warned that Tory ministers are unlikely to deliver 300,000 new homes per year after the Prime Minister made the target advisory rather than mandatory as he looked to see off a potential backbench rebellion.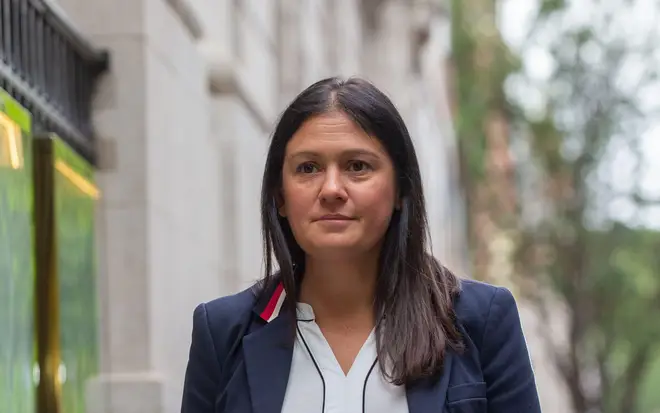 The Levelling Up, Housing and Communities Committee, in a report published earlier this month, said that, while the Government was on track to deliver one million new homes over the course of the current Parliament, it was not forecast to deliver 300,000 net new homes per year by the mid-2020s.
Clive Betts, the Labour committee chairman, said Mr Sunak's decision was "already having a damaging impact on efforts to increase the building of new homes".
Mr Gove, in a speech in London, will announce plans to slash red tape to pave the way for more conversions of shops and takeaways into houses in efforts to address the housing crisis.
A review into the extension of permitted development rights is expected to make it simpler to extend homes and convert lofts so buildings can be expanded upwards and outwards.
The Department for Levelling Up, Housing and Communities said ministers will also take steps to unblock bottlenecks in the planning system to speed up development approvals.
Mr Gove will unveil intentions to invest £24 million into a planning skills delivery fund to help clear backlogs.
In a statement ahead of his speech, the Housing Secretary said: "Most people agree that we need to build more homes - the question is how we go about it.
"Rather than concreting over the countryside, we have set out a plan today to build the right homes in the right places where there is community support - and we're putting the resources behind it to help make this vision a reality.
"At the heart of this is making sure that we build beautiful and empower communities to have a say in the development in their area."
Other plans included in Mr Gove's reforms package involve setting up the Office for Place, a body charged with ensuring a high standard of housing design and that communities have a say in the look of new developments.
The plans have been welcomed by construction firm Mace and the Royal Institute of British Architects.
But the Local Government Association (LGA) has flagged concerns about the prospect of loosening the rules around permitted development rights, arguing it can lead to substandard housing.
Councillor Shaun Davies, chairman of the LGA, said: "Premises such as offices, barns and shops are not always suitable for housing.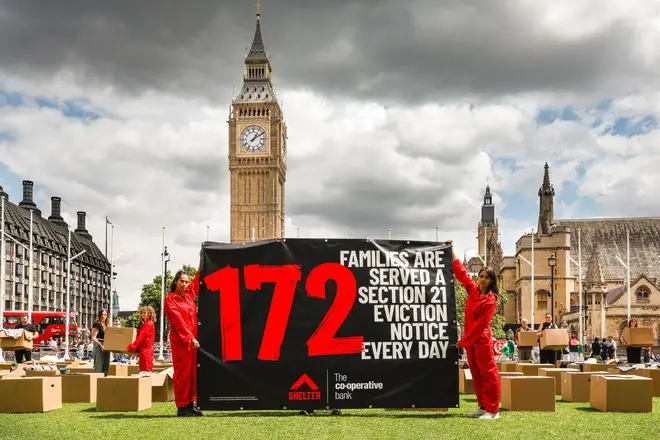 "Further expanding permitted development rights risks creating poor quality residential environments that negatively impact people's health and wellbeing, as well as a lack of affordable housing or suitable infrastructure.
"It is disappointing that the Government have ignored their own commissioned research that concluded that homes converted through a planning application process deliver higher quality homes than those converted via permitted development rights."
Lisa Nandy, Labour's shadow housing secretary, said: "It takes some serious brass neck for the Tories to make yet more promises when the housing crisis has gone from bad to worse on their watch, and when housebuilding is on course to hit its lowest rate since the Second World War because Rishi Sunak rolled over to his own MPs.
"We don't need more reviews, press releases or empty promises, we need bold action to get Britain building."
The new housing plans from the Conservatives come as the Scottish wing of the party goes to war with the SNP-led Holyrood over planning appeals.
According to statistics obtained by the Scottish Conservatives under the Freedom of Information Act, out of 151 planning appeal decisions in 2022/23, 80 were allowed and 71 were rejected.
The Conservatives also suggested the Scottish Government spent £4 million deciding on the 2022/23 appeals, adding that they have spent £22 million on planning decisions since 2017, though this claim was rejected by the Scottish Government.
Liz Smith, Conservative MSP for Mid Scotland and Fife and shadow cabinet secretary for finance and the economy, said the Scottish Government has "rode roughshod" over local communities for "far too long".
Ms Smith said: "Overruling local authorities in over half of planning decisions sums up the arrogance at the heart of this SNP-Green Government.