Police Release CCTV Of Getaway Car In Murder Investigation Appeal
2 August 2019, 08:05
The Met Police have released CCTV video of a getaway car believed to have been driven by the murderers of Calvin Bungisa to flee the scene in Kentish Town.
Officers investigating the murder of Calvin Bungisa have released CCTV video of a dark coloured VW Bora in a fresh appeal for information.
The 22-year-old died of stab injuries on Monday 1st April on Grafton Road in Kentish Town.
Detectives believe that several male suspects ran out of Vicar's Road and got into the car to escape, which drove in the direction of Weedington Road.
The car was then discovered by offers burnt out in Court Gardens.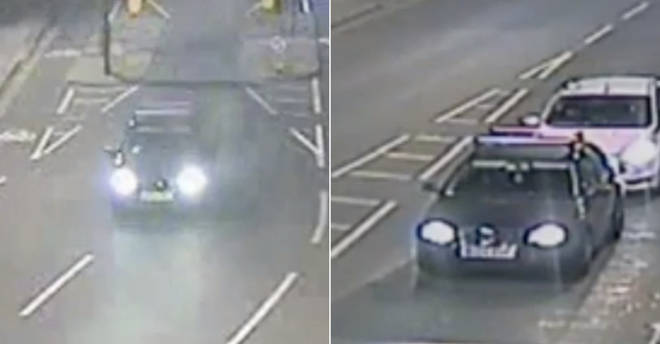 Detective Chief Inspector Mark Cranwell said: "Irrespective of the time lapse we are no less committed to establishing the facts and finding those callous killers who deprived him of his life and took him away from his loving family.
"At the start of this investigation the community were excellent in helping us to pull together the events that led to the murder. However, naturally, with time, the flow of information is dwindling and we still have much work to do.
"We hope the CCTV clips may remind someone of the events that evening and encourage them to come forward, if not direct to police, then anonymously through Crimestoppers.
"No matter how insignificant you may think the information is, it could help us bring these killers to justice, give some peace to a grieving family and make a community safer.
"There is a current Crimestoppers reward of up to £10,000 for information leading to the conviction of Calvin's murderers."
A 23-year-old man who was arrested on suspicion of murder has since been released under investigation.
Enquiries are ongoing.
Anyone with information is asked to call the Incident Room on 020 8721 4054 or call police on 101 quoting CAD7273/1Apr.
Alternatively, to remain anonymous call the independent charity Crimestoppers anonymously on 0800 555 111 - they will not ask your name or trace your call.