Poplar fire: Two hospitalised and firefighter injured in blaze at East London flats
7 May 2021, 10:13 | Updated: 7 May 2021, 15:54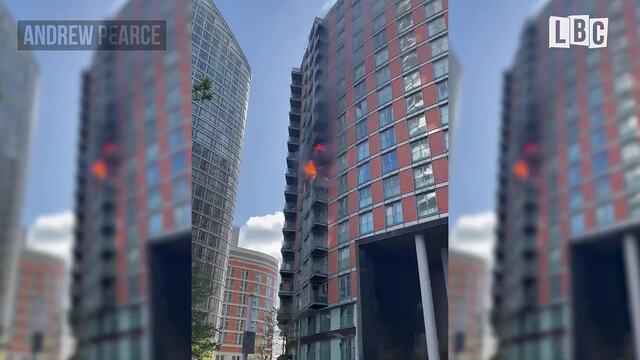 Hundreds of firefighters attend blaze at flats in East London
More than a hundred firefighters are tackling a blaze at a block of flats in Poplar, East London.
Two residents have been rushed to hospital and one firefighter injured as hundreds continue to tackle a blaze at a block of flats in Poplar, East London.
London Fire Brigade said 20 fire engines and about 120 firefighters were at the scene of the 19-storey building New Providence Wharf, where parts of the eighth, ninth and 10th floors were seen alight.
All crews arrived on the scene in under 30 minutes, Deputy Commissioner Richard Mills told reporters as he confirmed that injuries to a member of his team were "thankfully not life threatening".
READ MORE: Pensioner must find £7,000 for fire wardens for next 6 months
READ MORE: Flat owners 'exploring bankruptcy and facing bills of over £100,000'
He said: "The fire was on the eight, ninth and 10th floor, resulting in us carrying out 35 rescues - 22 using our fire escape routes and a further 18 who self-evacuated.
"This was a very dynamic and challenging incident, and clearly there will be some people that were looking at this and linking it to the tragic events of the Grenfell inquiry.
"Our thoughts remain with the families and residents of the Grenfell community and there will be some very challenging memories that maybe be brought back by this incident."
See LBC's full coverage of the Cladding crisis
🚨 20 fire engines on the scene of a fire at New Providence Wharf in East London this morning.

The building's still covered in ACM cladding - the same type as was on Grenfell. Awaiting updates. @LBC pic.twitter.com/vvKaNzxTUW

— Rachael Venables (@rachaelvenables) May 7, 2021
Work to replace the cladding was "under way" and the main contractor had been due to take possession of the site on Monday, according to building developer Ballymore.
LBC reporter Rachael Venables has been told by a resident that the alarm went off for more than 30 minutes after the fire and they woke up to the smell of smoke in their flat.
She has been told the fire started in a flat's fuse box and a man has been taken to hospital with burns.
The fire comes just days after the introduction of the Government's post-Grenfell fire safety regulations, which campaigners argue could leave leaseholders paying tens of thousands of pounds to remove cladding on their buildings.
READ MORE: Residents fearing bankruptcy and fire 'bitterly betrayed' by government
READ MORE: Cancer research scientist at risk of job loss due to unsellable home
Tower block resident details fight to remove unsafe cladding
Mayor of London Sadiq Khan said: "The spectre of the tragedy at Grenfell still hangs over our city. Today we have seen again why residents in buildings with flammable cladding are living in fear.
"It is vital that Government, developers, building owners and regional authorities work together to urgently remove the cladding from every affected building."
READ MORE: We've had a quote of £160,000 just to get an EWS1 form
The fire appears to be under control and the flat where it blaze started has been destroyed with its windows and balcony doors blown out, with damage visible a few floors up.