Stranded passengers at Dover angry as they're fed with crisps in hours-long delays and children sleep in service station
1 April 2023, 07:52 | Updated: 1 April 2023, 13:11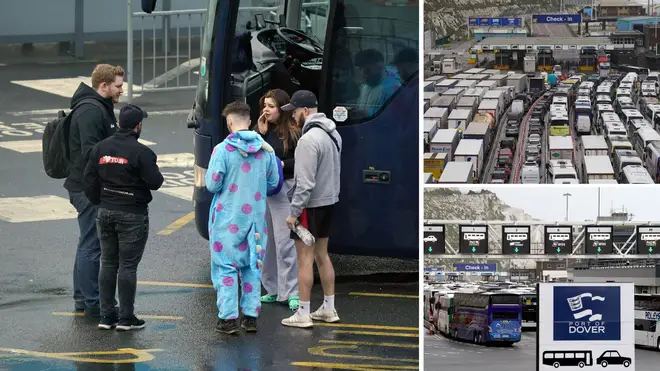 Furious passengers stuck at the Port of Dover are furious at queues lasting longer than 12 hours and say they have been fed with crisps and given no information.
A critical incident was declared at the port on Friday night due to bad traffic and long delays at French border control, but delays continued into Saturday.
Strong winds also affected ferry services over the Channel.
The port has taken aim at French border processing as it apologised for hours-long queues as the Easter break began.
One frustrated traveller told LBC said she heard some children ended up having to sleep in a service station when they school trip got held up.
She had been fed just crisps and chocolate in her 13-hour delay and was not being given any information.
One parent, Rosie, told LBC she had been waiting for 13 hours, and had to sleep on a packed coach of 60 people with her children overnight.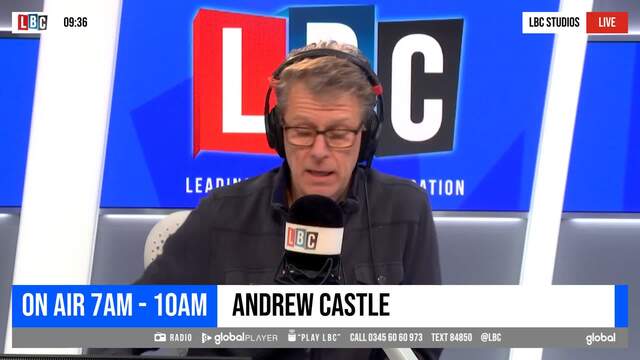 Environmental campaigner stuck in Dover for 13 hours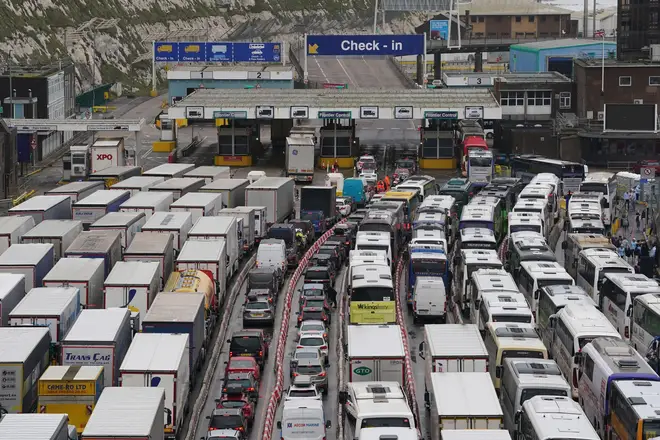 "We were given a packet of crisps, a chocolate bar and a bottle of water at about 9 o'clock," she said.
"And then again this morning, about an hour ago, so they have sort of kept us a bit fed but no, there's nothing we can go and buy."
Speaking as they waited to clear French customs, with "loads of buses" ahead of them, she said "no-one's come to see us... it's shocking actually".
She said her children's fellow pupils at their school were on a trip to France that same day and had to sleep in a service station.
Her own sleep proved to be a nightmare.
"There was a fight at the back of the bus about the recline of the seats into them," she said.
"People drinking at the back were throwing up. So it's all been very exciting."
Rosie said she had made her family take the coach because she is an environmental campaigner and wanted to reduce their carbon footprint, so she did not want to fly.
A spokesman for the port said: "The Port of Dover is deeply frustrated by last night's and this morning's situation and particularly so on behalf of all the ferry operators' coach passengers who have had to endure such a long wait at the port.
Read more: Heavy traffic and hold-ups at French border control spark travel chaos as Port of Dover warns passengers of long delays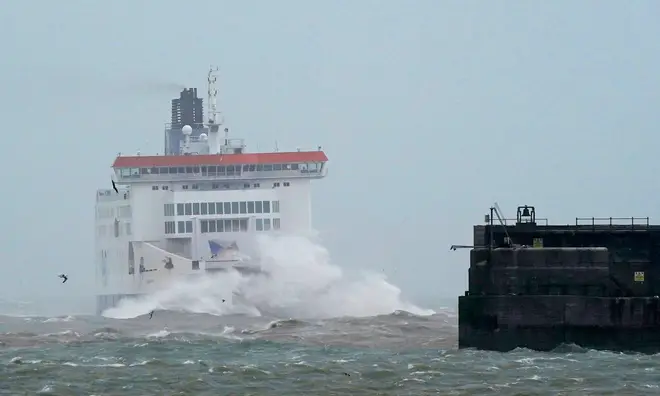 "Whilst freight and car traffic was processed steadily regardless of the additional challenging weather conditions and high seasonal volumes, coach traffic suffered significant delays due to lengthy French border processes and sheer volume.
"Despite considerable pre-planning with our ferry operators, border agency partners and the Kent Resilience Forum and the success of similar plans for processing substantial numbers of coaches during the most recent half term period, the additional coach bookings taken by ferry operators for Easter, has impacted operations for the port.
"Through the ferry operators and the port, food and drink has been provided to those coach passengers caught up in the border queues. We offer our sincere apologies for the prolonged delays that people have endured and continue to work with all of our partners to get all passengers on their way as quickly as possible."
Late on Friday, the port declared a critical incident over "high volumes of coach traffic due to the Easter holidays".
It comes as thousands prepare to travel through the port during the Easter holiday period.
Operators P&O Ferries and DFDS Seaways have reported delays to ferry and coach services, blaming bad weather and hold-ups at French border control.
The latter announced on Twitter that it had been handing out drinks to coach passengers stuck waiting to get on their cruise.
DFDS UK Updates tweeted at 7.07pm, that services to France were running with delays of "up to 2 hours due to the winds in the channel".
On Friday morning, at 11.18am, the company tweeted that coach traffic was "very busy" with "120 minutes wait" at border controls.
DFDS said on Friday: "The queues at Dover today have been as a result of bad weather causing delays to sailings, combined with high volumes of traffic, and particularly coach groups.
"DFDS is working to keep passengers up to date via its website and social media channels, and is transporting passengers on the next available sailing once they have checked in.
"It has also been working with coach operators to speed up the check in process for coach passengers."