Wagner mercenary leader Prigozhin confirmed dead after genetic analysis, Russian investigators claim
27 August 2023, 12:04 | Updated: 27 August 2023, 14:40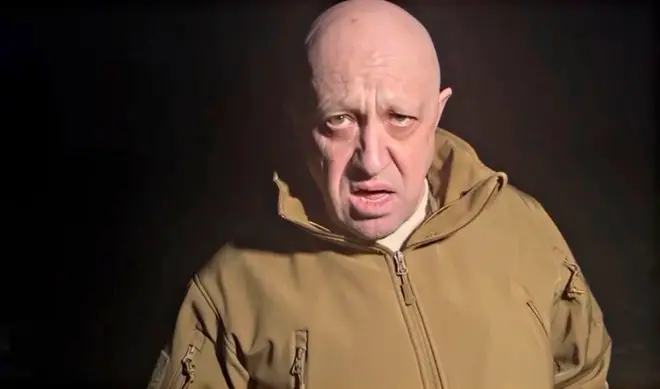 The leader of the Wagner group has been confirmed dead after the remains in a plane crash were genetically tested, Russian investigators claimed.
Yevgeny Prigozhin's private jet crashed between Moscow and St Petersburg on Thursday, killing all those on board.
He was widely thought to have been onboard alongside some of his key lieutenants and Wagner group founder Dmitry Utkin.
The Kremlin's Investigative Committee now says it can confirm his death after genetic testing.
Prigozhin's probable death came exactly two months after he launched a short-lived military coup on Moscow that forced President Putin to appear on TV and reassure the public.
The Kremlin has denied responsibility for his death and described speculation as an "absolute lie".
Read more: 'Complicated fate': Putin issues chilling message after Prigozhin plane crash - as US says bomb likely cause of death
Read more: Prigozhin plane crash 'was no accident' as Russian authorities claim Wagner boss among 10 passengers killed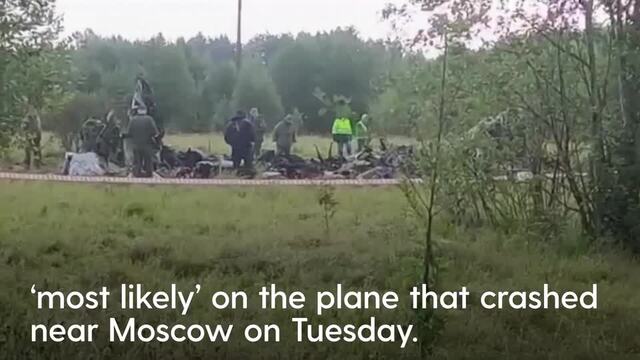 Sunak - UK intelligence suggests Russia's Prigozhin 'most likely' on crashed plane
Intelligence services are believed to be working on the basis that a bomb was planted on the plane - with experts suggesting it may have been hidden in a wine crate.
Putin issued a chilling message as he finally acknowledged the plane crash.
Speaking at a summit on Thursday, he did not reference the suspected death of the Wagner chief, though later issued his condolences to Prigozhin's family.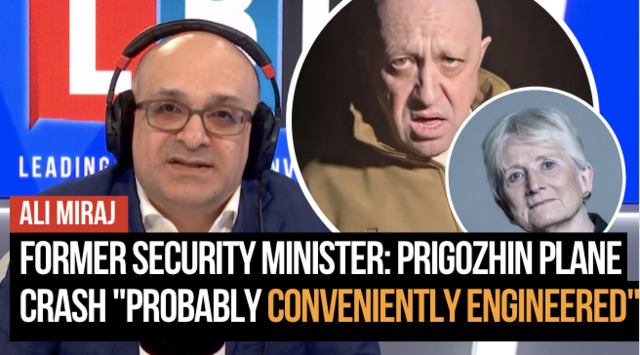 Former Security Minister: Prigozhin plane crash 'probably conveniently engineered'
The Russian leader said Prigozhin, who used to be Putin's chef, had a "complicated fate".
"I have known Prigozhin for a long time, since the beginning of the 1990s," Putin said in a televised address.
Appearing to reference Prigozhin's failed mutiny, Putin added: "This was a person with a complicated fate, and he made serious mistakes in life, but also sought to achieve the necessary results - both for himself and at time when I asked him to, for the common cause, such as in these recent months."
All 10 people on the plane - three crew and seven passengers - died, according to officials cited by Russia's state news agency Tass.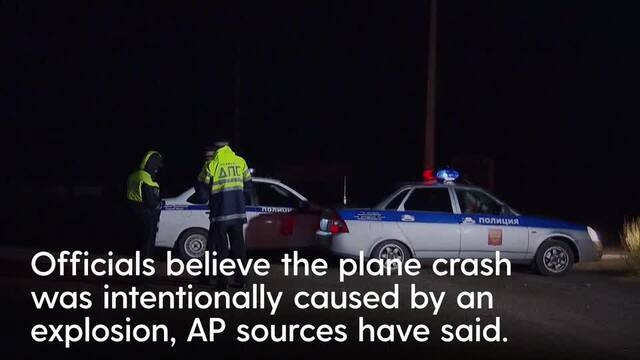 Putin breaks silence following plane crash involving Wagner chief Prigozhin