Blue Light Together: Prince William unveils landmark mental health support for 999 heroes
25 November 2021, 11:20 | Updated: 25 November 2021, 13:26
Prince William has unveiled a landmark package of mental health support for emergency services workers.
He unveiled the Blue Light Together initiative to key figures from the UK's first responder services at an event in London today.
It is an issue close to the Royal's heart, with the duke having worked as an Air Ambulance and RAF Search and Rescue pilot.
He announced the package of mental health support, bringing together leaders from emergency services across the UK to discuss the issue for the first time.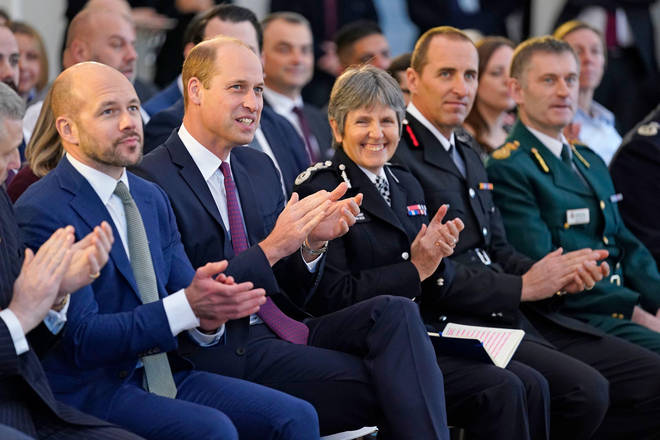 He said: "Supporting the mental health of our emergency services is extremely personal to me. I often think about my time working for RAF Search and Rescue and the East Anglia Air Ambulance.
"I remember the pressure of attending calls in the most stressful conditions, sometimes with tragic conclusions.
"I remember the sense of solidarity with my team, pulling together to do the best we could and sharing the weight of responsibility."
William called for emergency responders to be given mandatory 'decompression' breaks as part of their mental health support network.
And he hailed the agreement which "sends a powerful message to all emergency responders that mental health is, and will remain, a firm priority for the UK's emergency services.
"It means that, for the first time, a uniform set of standards for supporting the mental health of emergency responders will be adopted and integrated into their workplaces," he said.
Read more: Prince William personally thanks Britain's life-savers on Emergency Services Day
Read more: 999 Day: Heroic emergency services honoured for life-changing work
In a UK first, The Chief Officers of the National Police Chiefs' Council, National Fire Chiefs Council and Association of Ambulance Chief Executives made a public pledge on behalf of their organisations at The Royal Foundation's Emergency Services Mental Health Symposium.
The Royal Foundation has been working with emergency service leaders and partner charities to change workplace culture on mental health and provide specialist support to emergency responders and their families.
As a result of the initiative, every emergency service organisation in the UK will:
Prioritise mental health in the workplace by developing and delivering a systematic programme of activity
Proactively ensure work design and organisational culture drive positive mental health outcomes
Promote an open culture around mental health
Increase organisational confidence and capability
Provide mental health tools and support
Increase transparency and accountability through internal and external reporting
A new website and a network of counsellors will also form part of the scheme.
Health Secretary Sajid Javid said at the launch event: "Our emergency services, they represent the very best of us, running towards danger when most of us run away.
"I'm honoured to have had the privilege of working closely with three of our emergency services: the ambulance service in my current role as Health Secretary and also the police and fire service when I served as Home Secretary.
"I have always found it humbling to see the extraordinary lengths that they go to to keep us safe."
He went on to say: "There's so much good work that's taking place already – right across our emergency services - and today's event provides a valuable opportunity to learn from one another and from what's been successful in our different emergency services."
"Our emergency services have been there for us all throughout this crisis and, as we recover, I and the government are determined to be there for them too and to put mental and physical health on an equal footing at last."
Martin Hewitt, Chair of the National Police Chiefs' Council, said: "The wellbeing of our officers is a priority for all police chiefs, as we know that policing is by its nature a stressful job, and that officers are exposed to some of life's most challenging situations on a daily basis.
"The work being done by The Royal Foundation, led by the Duke of Cambridge, is of the utmost importance and we are proud to contribute to it. Such partnerships allow us to make great strides in changing attitudes towards mental health in society, and provide faster and more effective support for those who need it the most."
It follows the damage wreaked by the coronavirus pandemic, which brought to the public's attention the stress and strain experienced by emergency workers.
Images of medics whose personal protective equipment left harsh red marks on their tired faces were interspersed with communities uniting to applaud key workers throughout lockdown.
Blue Light Together has been developed by The Royal Foundation and partner organisations.
The duke has worked closely with the Emergency Responder Senior Leaders Board and charities to find solutions and best practice that will allow emergency workers access to support and advice for the unique challenges they face.
In September, the duke hosted an event to thank 999 workers for their efforts and heard from members of the public who were helped by them on Emergency Services Day.
Martin Blunden, the chief officer of the Scottish Fire and Rescue, will speak about his attempt to take his own life.
He told LBC said he wanted to show you "can get out of these problems" and wanted to show it is OK to not be OK.
He wants to create a culture where staff can express their mental health issues.
"I know he's committed to supporting us," he said of the duke's initiative.
"He's a fantastic figure to be at the head of this, he's a brilliant person in himself anyway and then to see this being launched for the emergency services is extremely encouraging and it does mean that we are moving in the right direction so that all of our staff are supported."