Prince William says he talks to his children 'every day' about NHS staff 'sacrifices'
8 January 2021, 22:00 | Updated: 9 January 2021, 16:09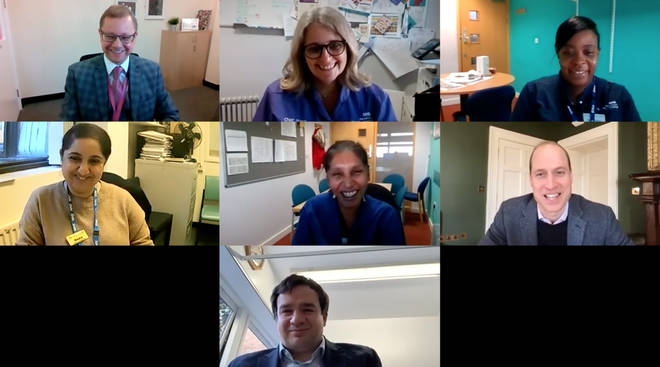 The Duke of Cambridge has revealed he talks to his children "every day" about NHS staff so they understand the "sacrifices" medical workers make treating coronavirus patients.
William's comments were made during a video call with staff from Homerton University Hospital in East London when he was told events now were "worse than the first wave".
One senior nurse said queues of people waiting to be vaccinated at the hospital offered hope but the way out of the health crisis was for the public to "stay at home" during the lockdown.
Speaking on Thursday, the duke who is joint patron of NHS Charities Together, said: "A huge thank you for all the hard work, the sleepless nights, the lack of sleep, the anxiety, the exhaustion and everything that you are doing, we are so grateful. You are all in my thoughts.
"Catherine and I and all the children talk about all of you guys every day, so we're making sure the children understand all of the sacrifices that all of you are making so thank you so, so much.
"Good luck, we are all thinking of you."
Read more: London's Nightingale to open in 'coming days', Sadiq Khan tells LBC
Read more: NHS staff at London hospital speak of exhaustion in rare ward footage
We are so thankful for the work of our incredible NHS staff, at such a challenging time 💙

Prince William spoke to staff from Homerton University Hospital in London to hear about their experiences in recent weeks, and to offer his thanks for their continued efforts. pic.twitter.com/eljy5hAkG4

— The Duke and Duchess of Cambridge (@KensingtonRoyal) January 8, 2021
In the past week, Homerton University Hospital has seen its highest number of admissions since the pandemic began, with more than 200 Covid patients being cared for and staff being moved to new roles within the hospital to cope with the ongoing pressure on frontline workers.
During the call, William heard from staff about the challenges they face and Dr Carlo Prina, consultant physician and clinical lead for acute ambulatory care, told him: "So this is worse than the first wave. I think that's the first thing we want to say."
Dr Prina talked in detail about spikes in patient admissions during 2020 and how medical staff - from experienced consultants to junior doctors - were now helping out.
The consultant physician added: "That sounds quite bleak and I don't want it to sound so bleak, but the horror of the situation has been met by an incredible effort of people coming together."
He went on to say: "Our medical and nursing workforces have never been more stretched but never been more together as a group, so the cohesiveness, the commitment to patient care is a wonder to behold and it's a wonderful thing to see.
"I think that people are tired. People knew this was going to happen but we are still tired and between the two waves there was so much work to prepare for this wave, but also to try and get everything going again to get back to the levels they were."
Chief nurse Catherine Pelley told William they had tried to support staff with various initiatives including a "Wobble Room", where workers can relax, set up using funds from NHS Charities Together.
She added: "For us this week, starting vaccinating has been one of the single most significant impacts on people feeling that there is a future out of this, and the queues out the door here where they have been vaccinating have been really kind of hopeful for people.
"But the support we need is stay at home, help us - because that will get us all out of this whatever our role is and we will get society out of this."
After hearing how staff are supported William said: "It's good that you and your team are keeping your spirits high and I always find that having some sort of sense of humour through everything is very important, otherwise we all go mad."
Read more: Moderna vaccine becomes third Covid jab approved for use in UK
Explained: London 'major incident' - what does it mean, do I have to wear a mask outside?
It comes as Mayor of London Sadiq Khan has declared a "major incident" in the capital due to the rapid spread of Covid-19 that is threatening to overwhelm hospitals.
Speaking to LBC's Shelagh Fogarty, the mayor listed the stark and troubling problems facing the city as its coronavirus outbreak spirals "out of control".
In some parts of the capital, Covid-19 infection rates are so high that one in 20 people have the virus, while London's average rate is one in 30, Mr Khan said.
The mayor revealed that the London Ambulance Service (LAS) is now receiving between 3,000 and 4,000 more calls every day than it would on a normal busy day.
He also confirmed the city's Nightingale hospital will be opened in the "coming days", but he said it will not be used for Covid patients.
Mr Khan told LBC: "Across London, we face a situation where this virus is out of control and we're at real risk over the next few days and weeks of the NHS hospitals running out of beds if the virus continues to increase and people continue to need to be hospitalised."