PM's plans for vaccine passports in clubs branded 'absolute shambles'
19 July 2021, 17:30 | Updated: 20 July 2021, 09:45
The Prime Minister is facing a backlash over his plans to make coronavirus vaccination compulsory for nightclubs and other crowded venues from the autumn.
Clubs, backbench Tories and opposition MPs criticised Boris Johnson's announcement on Monday - the day that clubs in England were allowed to open for the first time since March last year.
Speaking from self-isolation on so-called "freedom day", Mr Johnson warned venues with large crowds that they must make full vaccination a requirement of entry from the end of September.
Chief scientific adviser Sir Patrick Vallance said during the Downing Street press conference clubs had the potential to cause "super spreading events".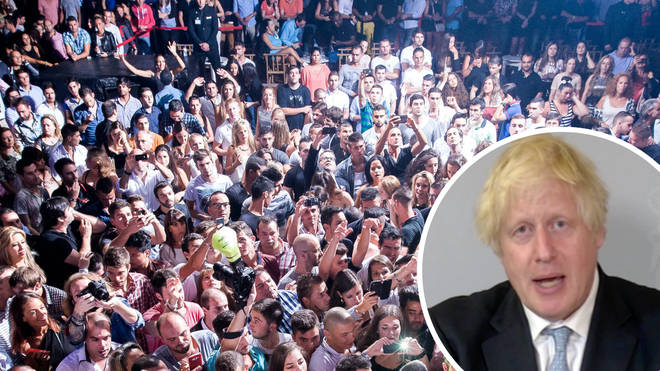 Mr Johnson declined to rule out extending vaccination passports to pubs as he attended the briefing virtually from his country residence of Chequers.
Night Time Industries Association chief executive Michael Kill accused the Government of "an absolute shambles".
He said: "So, 'freedom day' for nightclubs lasted around 17 hours then.
"80% of nightclubs have said they do not want to implement Covid passports, worrying about difficulties with enforcing the system and a reduction in spontaneous consumers, as well as being put at a competitive disadvantage with pubs and bars that aren't subject to the same restrictions and yet provide similar environments."
Mark Harper, the Conservative former chief whip who chairs the Covid Recovery Group of Tory lockdown-sceptics, criticised the plans as "effectively moving to compulsory vaccination".
Labour's shadow health minister Justin Madders said: "How can it be safe to go to nightclubs now, with no protective measures, if in September it will require double jab status? It makes no sense.
"This proposal is more confusion and incompetence from the heart of Government at the expense of public health. They need to get a grip."
Vaccines Minister Nadhim Zahawi said yesterday: "By the end of September, everyone aged 18 and over will have the chance to receive full vaccination and the additional two weeks for that protection to really take hold.
"So at that point, we plan to make full vaccination a condition of entry to nightclubs and other venues where large crowds gather.
"Proof of a negative test will no longer be sufficient."
Read more: Party-goers celebrate end of lockdown as nightclubs reopen
Read more: Clubs say they won't ask for Covid passports, despite PM urging use
Mr Johnson warned that "some of life's most important pleasures and opportunities are likely to be increasingly dependent on vaccination" relayed news of the plans at a Downing Street press conference yesterday evening.
He added: "I don't want to have to close nightclubs again as they have elsewhere, but it does mean nightclubs need to do the socially responsible thing and make use of the NHS Covid pass.
"I should serve notice now that by the end of September, when all over-18s will have had their chance to be double jabbed, we are planning to make full vaccination the condition of entry to nightclubs and other venues where large crowds gather."
Mr Zahawi promised that the plans would be subject to parliamentary scrutiny and that there would be "appropriate" exemptions for people with a medical condition that means they cannot be vaccinated.
"We will always look at the evidence available and do all we can to ensure people can continue to do the things they love," he added.
Read more: 'If not now, when?': PM defends 'Freedom Day'
Read more: Sadiq Khan urges public to keep wearing masks after 'Freedom Day'
Jeremy Hunt, Conservative chairman of the Health and Social Care Committee, questioned why the government was waiting until the end of September to implement the plans.
"If we're going to introduce Covid vaccine passports for nightclubs by the end of September, which I support, why are we waiting until then, giving more weight to the concerns of people who want to go to nightclubs, than the additional extra cases waiting two months is likely to cause at a time when that growth in new cases is of such a concern?" he asked.
Mr Zahawi replied: "By the end of September, 18-year-olds would have received their second dose and we will work with the industry to make sure we get this right now in terms of working with them with the Covid pass and of course in September while we collate the evidence."