Remembrance Day protest violence as it happened: More than 100 arrested after violent clashes with police
11 November 2023, 10:10 | Updated: 11 November 2023, 19:06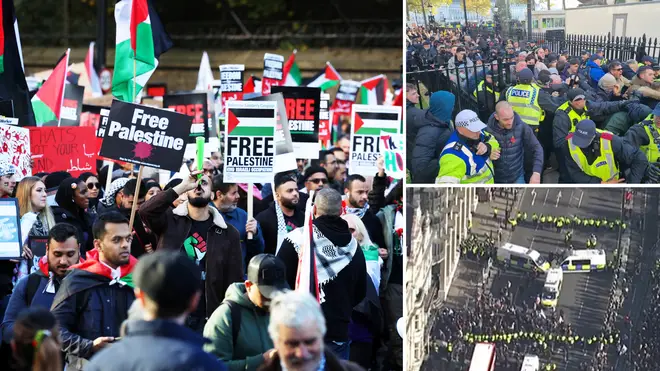 More than 100 counter-protesters were arrested as a pro-Palestinian march moved through London, the Metropolitan Police has said.
Around 300,000 pro-Palestinian activists took part in a march, which ran from Hyde Park to the US embassy in Battersea.
An exclusion zone has been put in place covering Whitehall, Horse Guards Parade, the Westminster Abbey Field of Remembrance and other relevant areas, in effect banning those on the pro-Palestine march from these locations.
Anyone in these areas believed to be part of the pro-Palestinian demonstration can be arrested.
Police also said that the Cenotaph will be under 24-hour guard for the whole weekend.
Follow all the key developments from today's protest in our live blog
Key updates
More than 100 counter-protesters were arrested as a pro-Palestinian march made its way through central London
Some 300,000 pro-Palestinian activists marched through the capital to call for a ceasefire in the war between Israel and Hamas
Clashes broke out between counter-protesters and police, with fights taking place near the Cenotaph, in Chinatown and Westminster Bridge
Around 2,000 officers from the Met and other police forces in the UK will be on guard this weekend
The Cenotaph will be under 24-hour police guard for the whole weekend, though the protest is not expected to go near Whitehall
Protesters gathered at Hyde Park from around midday, with the march ending from around 5pm
Thank you for following
As the Met Police issue a dispersal order in London, the atmosphere between the two groups of protesters has calmed.
Thank you for following along with the Armistice Day protests with LBC.
Have a good evening.
PM condemns Armistice Day violence as more than 100 arrested near the Cenotaph
The Prime Minister said in a statement: "I condemn the violent, wholly unacceptable scenes we have seen today from the EDL and associated groups and Hamas sympathisers attending the National March for Palestine. The despicable actions of a minority of people undermine those who have chosen to express their views peacefully."
The intervention comes after violent clashes erupted between far-right counter-protesters and police today as 300,000 pro-Palestinian activists marched through central London.
Counter-protesters sing offensive chants in Parliament Square
Chants referring to the Muslim prophet Muhammad as a paedophile have been heard being sung by counter-protesters in Parliament Square.
"Allah is a paedo" was heard being sung repeatedly over the course of the last hours.
More than 100 counter-protesters arrested
Around 105 arrests have been made today, the Metropolitan Police has said, the "vast majority" of which are counter-protesters.
Gove 'mobbed at Victoria Station' leading to scuffles between police and protesters
Levelling Up Secretary Michael Gove was met with cries of "shame on you" after appearing at London's Victoria station.
After he was seen, violence broke out between police and Pro-Palestine protestors who were reportedly doing a sit-in protest at the rail hub.
Pro-Palestine supporters caught with 'box of fireworks' as two set off
Police have detained a number of pro-Palestine protesters after a box of 'fireworks' was found.
Protesters in London have been twice asked to not set off fireworks by an organiser of the event.
"Please stop throwing fireworks", the pro-Palestinian crowd congregating at the end of the march in Nine Elms was told after one went off.
A second was set off soon after, and a man then said: "We just made the announcement about fireworks, it's genuinely about safety, please consider the people around you."
Met hunting individuals 'wearing Hamas headbands'
The Metropolitan Police are hunting two individuals who are wearing what appear to be Hamas headbands
A spokesperson for the Met said: "Officers are actively looking for these individuals and will take proactive action when they are identified."
The pro-Palestine march through central London appears to have been largely peaceful, with far-right counter-protesters clashing with the police as they neared the protest.
At least 92 arrests have been made, with the Met confirming them to be counter-protesters.
Clashes 'calming down' as police re-open Whitehall
Clashes between police and counter-protesters have calmed down, LBC's EJ Ward reports.
Bottles had been thrown at officers as large groups of counter-protesters clashed with police.
They are now starting to disperse from the area.
Bottles thrown at officers as counter-protesters clash with police
Police have been pushed back around 50ft as clashes with counter-protesters erupt, LBC's EJ Ward reports from the scene.
Bottles have been thrown towards police, who are hitting the protesters back with their batons.
Met makes 10 more arrests
Police have arrested 10 more people in addition to the 82 made earlier.
Arrests have been made for possession of offensive weapons, affray and possession of drugs, police said.