Sunak vows to tackle hateful extremism, as he says those who call for 'jihad' will feel 'full force of the law'
24 October 2023, 00:41 | Updated: 24 October 2023, 08:30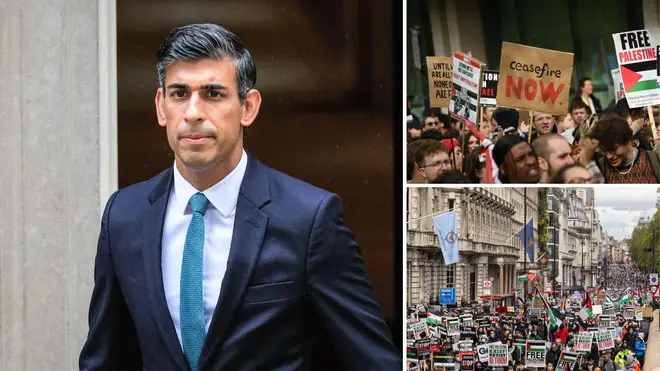 Rishi Sunak has said the Government will 'clarify' guidance on policing 'extremism' after the Met faced criticism for allowing a 'jihad' chant at a pro-Palestine march on the weekend.
Rishi Sunak has said protesters who repeat the "hateful extremism" heard at the rally on Saturday would "feel the full force of the law".
Speaking in the Commons on Monday, Mr Sunak said the government would "clarify" the guidance given to "officers on the ground", adding that the Government was working with police and prosecutors.
He said: "We will never tolerate antisemitism in our country. Calls for jihad on our streets are not only a threat to the Jewish community, but to our democratic values and we expect the police to take all necessary action to tackle extremism head on."
Metropolitan Police Commissioner Sir Mark Rowley said his officers cannot "enforce taste and decency" on Monday after concerns were raised over why officers allowed the chants over the weekend.
Around 100,000 people attended the pro-Palestine rally in central London on Saturday, which started in Marble Arch and moved on to Whitehall and Parliament Square.
Police said specialist officers had reviewed clips of a man chanting "jihad, jihad" and signs and banners that referred to Muslim armies but said it did not identify any offences.
Speaking on Monday, Rishi Sunak's spokesperson said there are currently no plans to change the law, but the Foreign Secretary James Cleverly said the Government will go further if it has to.
Read more: Two more hostages released by Hamas, Red Cross confirms, bringing total number freed to four
Read more: 'We will go further if we need to': Foreign Secretary suggests law may change after Met allows 'jihad' chants at protest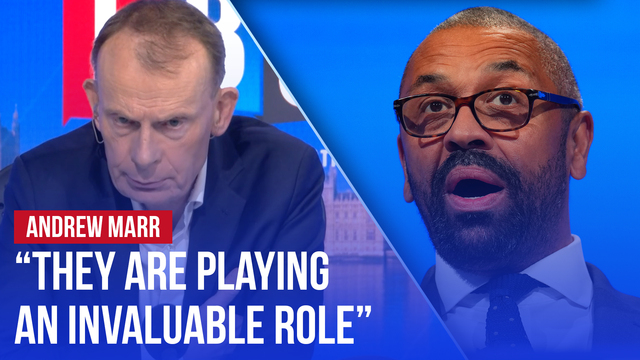 James Cleverly stresses to Andrew Marr that Qatar are 'facilitating' direct communication with UK
Speaking to LBC's Andrew Marr on Monday evening, Mr Cleverly said: "As I say, we have passed legislation which enables us to designate Hamas as a terrorist organisation and ban the glorification and promotion of Hamas.
"If we need to go further, of course, we will go further. And the Prime Minister of Home Secretary are both absolutely unequivocal on this - communities in the UK have the right to live without fear or intimidation."
Home Secretary Suella Braverman met with Met Commissioner Sir Mark Rowley on Monday to question why the chants were allowed.
Ms Braverman is understood to have told Mr Rowley that "there can be no place for incitement to hatred or violence" and police "must crack down on anyone breaking the law".
But the Commissioner shrugged off criticism from the Home Secretary, insisting his officers cannot "enforce taste and decency".
Speaking after his meeting with Ms Braverman, the Commissioner said the law needed to be strengthened, particularly in relation to social media.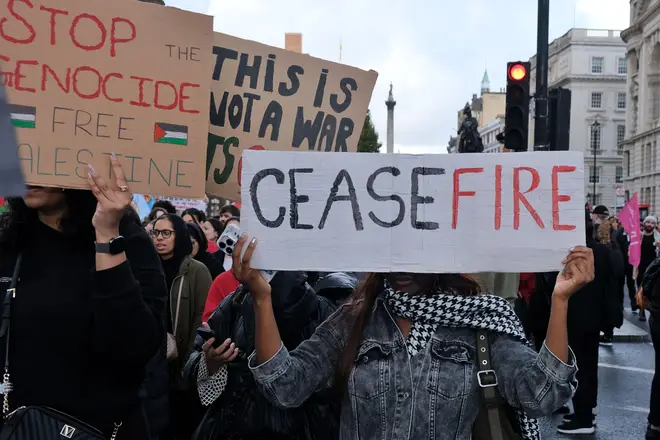 "I think the law we have designed around hate crime and terrorism in recent decades hasn't taken full account of the ability extremist groups to steer around those laws and propagate some pretty toxic messages through social media," Mr Rowley told Sky News.
"Those lines probably need redrawing. It's a really difficult thing to do. if you look at the counter extremism Commissioner report."
Former communities sec Lord Eric Pickles told LBC that "the police have lost the plot" over protests and the Met's stance was "compliant and wokey".
He said: "Having experts on flags telling us it's jihad but not as we understand it. If you feel people's collar early on it will discourage them."
Labour leader, Sir Keir Starmer, also called on the government to look at the "gaps in the law" to ensure a stronger police response in future instances.
Despite concerns, officers will not be given new powers to police protests, Downing Street has insisted.
There are no plans to change the law because the Metropolitan Police already has "extensive powers" to deal with protests, No. 10's spokesperson said.
"We do believe the police have extensive powers in this space and we will continue to discuss with them so there is clarity and agreement about how they can be deployed on the ground."