Rishi Sunak has 'absolutely not' betrayed nation over Rwanda plan, insists minister after Braverman's attack on PM
14 November 2023, 18:11 | Updated: 14 November 2023, 18:22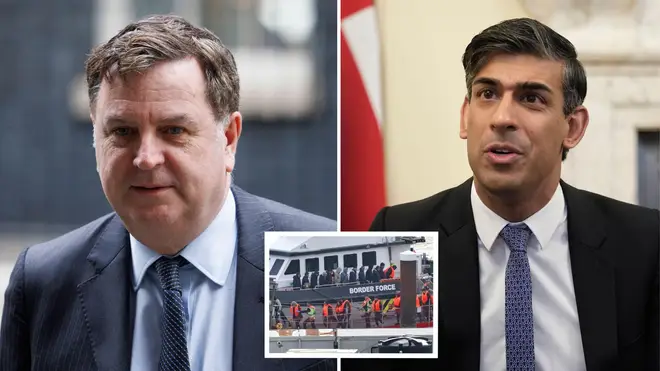 Rishi Sunak is "a man of huge integrity and principle" and has "absolutely not" betrayed the nation over the Rwanda plan, Work and Pensions Secretary Mel Stride has said.
Speaking to LBC's Tom Swarbrick, Mr Stride said Rishi Sunak had "absolutely not" betrayed anyone over delivering the Rwanda plan.
"I have always found the Prime Minister to be a man of huge integrity and principle," he said.
"I saw that when I worked closely with him during his leadership campaign and the way he conducted himself then.
"He was somebody actually who didn't bend to what he thought people wanted to hear him say."
Read more: Suella Braverman accuses Rishi Sunak of 'betraying the nation' in scathing resignation letter
Read more: Suella Braverman's stinging resignation letter: Read the text in full
Axed Home Secretary Suella Braverman told Mr Sunak in her resignation letter that he had broken a series of promises on migration, the Rwanda policy, gender laws, and Brexit - adding that he was simply "occupying" the office of Prime Minister.
She said it was "clear from day one" that Mr Sunak did not want to leave the ECHR and accused him of betraying both her and his promise to the nation to do "whatever it takes" to stop the boats.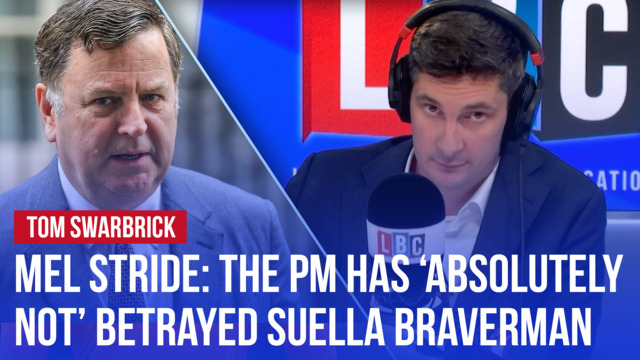 Tory Minister Mel Stride reacts to sacked Suella Braverman's scathing 'resignation' letter
Mr Stride went on to say: "[The PM] set out his five-point plan to be very clear with the British people exactly what his priorities are.
"One of those is to put a stop to the boats and he has taken considerable action."
He continued: "There are a number of things the government is doing to clamp down on this dreadful situation… at the heart of it is to smash those gangs, to take away the incentive that makes that route work.
"That's involved a deal with Albania, it's involved a much closer working relationship with the French, it's involved legislation that we've passed through in recent weeks and months and yes, part of the plan is Rwanda.
"And we will find out tomorrow whether the government has been successful in having that passed through the Supreme Court and then we will move forward accordingly but we're already getting results."