Rishi Sunak 'to overturn ban on onshore wind farms' amid concerns over Tory rebellion
4 September 2023, 06:46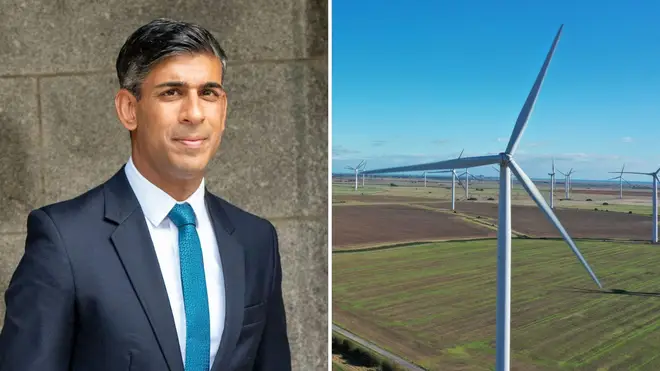 Rishi Sunak is believed to be u-turning over a ban on building new onshore wind farms amid concerns of a Tory rebellion.
Ministers are set to unveil changes to planning rules that will allow councils to give the green light to turbines where there is backing from the public.
It comes ahead of the government's vote on the Energy Bill on Tuesday, with a group of Tory MPs backing an amendment to scrap the ban on new onshore wind, according to the Telegraph.
Labour is in favour of the proposal, meaning only six more Tory backbenchers would need to back it to overturn the government majority.
Talks are understood to have been ongoing for weeks in a bid to find a compromise, the paper said.
But plans are now being drawn up for a minister to provide a written statement in the Commons confirming that it will make the changes to the planning rules - meaning the amendment will be dropped.
Read more: Schools remain in dark over concrete crisis as fears grow that 'thousands' more could be at risk of collapse
Read more: Channel migrant crossings hit new daily record for 2023 as 872 people cross on 15 small vessels
One Tory MP in favour of the amendment told the paper that No10 had little choice but to act, due to its backing from "senior people from all wings of the party".
Another MP said: "It's great to see ministers listening to concerns and, providing local communities are happy, it will make net zero easier and cheaper too."
Current rules state that councils can only approve new sites if they can show that local concerns have been "fully addressed".
It means even one objection could halt a project until it is resolved.
The changes would mean requirements are loosened so sites can be built "when it has been demonstrated that the planning impacts have been satisfactorily addressed".
The guidance is also set to say that councils can only approve them where "there is community support".