Sunak says 14-year-olds will 'never be sold a cigarette' under plans to raise smoking age by one year, every year
4 October 2023, 12:43 | Updated: 4 October 2023, 13:30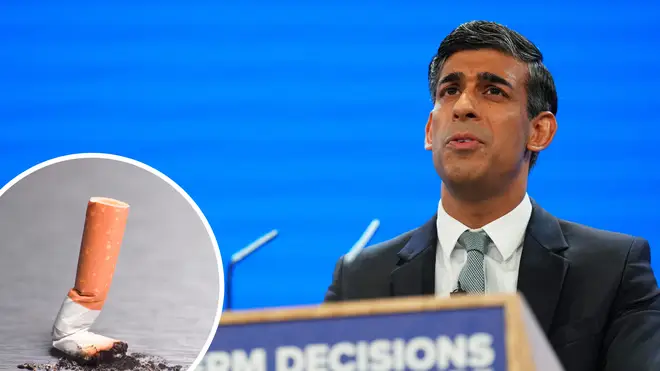 Rishi Sunak has said 14-year-olds will "never legally be sold a cigarette" under plans to raise the smoking age by one year, every year.
"When we raised the smoking age to 18, smoking prevalence dropped by 30% in that age group," Mr Sunak said.
"When the United States raised the age to 21, the smoking rate dropped by 39% in that age group.
"Smoking places huge pressures on the NHS and costs our country £17bn a year.
"We have a chance to cut cancer deaths by a quarter, significantly ease those pressures and protect our children, and we should take it."
Read More: Cannabis-smoking parents guilty of Christmas Day murder of their baby - days after he was placed back in their care
Read More: Vaping has become an uncontrollable 'epidemic' in schools, reveals this teacher
The prime minister said the proposal is 'not a values judgement on people who smoke' and said there is no ban on people who already smoke.
Tory MPs will not be forced into voting for the changes, he added.
"The vote on this in parliament will be a free vote, as the ban on smoking in public places was and raising the smoking age to 18 was," he said.
"There will be no government whip. It is a matter of conscience."