Curfew extended to counter Russian 'saboteurs' as Kyiv braces for incoming missile attacks
26 February 2022, 16:51 | Updated: 26 February 2022, 23:58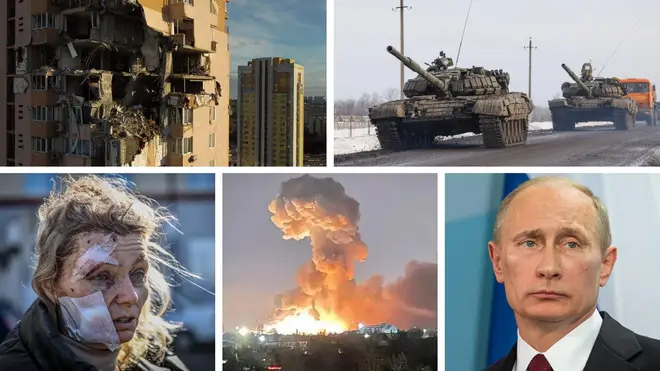 A curfew has been extended in Kyiv as invading Russian troops close in on Ukraine's capital, with officials warning of street fighting and urging residents to stay inside and take cover.
Kyiv's mayor Vitaly Klitschko has extended a curfew until early on Monday amid fighting with Russian troops.
He said on Telegram that the curfew will extend from 5pm until 8am and "all civilians on the street during the curfew will be considered members of the enemy's sabotage and reconnaissance groups".
The previous curfew imposed two days ago was from 10pm until 7am.
It comes as Ukraine's President Volodymyr Zelenskyy says his forces are still in control of the capital, as the UK Ministry of Defence warned the capture of Kyiv remains Putin's "primary objective".
Russian troops were approaching the outskirts of Kyiv on Saturday evening, with soldiers and volunteers taking up defensive positions to guard the capital.
It's been reported that two large explosions were heard to the southwest of the capital - one appeared to be around 12 miles from the city centre, and the other was heard in the direction of the city's second major airport, according to reports.
❗️New video from Vasilkova

Thick pillars of smoke in the sky and intense fire

❗️Mayor Vasilkova confirmed that an oil depot is on fire as a result of an enemy missile hit pic.twitter.com/qax74X5MNm

— NEXTA (@nexta_tv) February 26, 2022
Mr Zelensky spoke by telephone with Boris Johnson on Saturday and expressed gratitude for Britain's support.
He tweeted: "Grateful to the British Prime Minister for his position, new decisions to enhance the combat capabilities of the Ukrainian army. Agreed on further joint steps to counter the aggressor."
Downing Street said Boris Johnson and President Zelensky "agreed on the need for the international community to isolate Russia completely diplomatically and financially".
Read more: Ukraine: Mum forced to give birth in metro bomb shelter as Russians besiege Kyiv
Read more: Russian casualties 'heavy' and worse than Putin feared as Ukraine fights back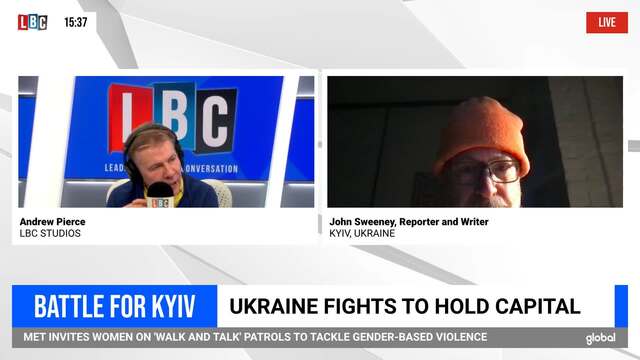 John Sweeney shares situation after Kyiv placed on curfew
Speaking at RAF Brize Norton, Boris Johnson said: "Let's be in no doubt, things are not going all the way of President Putin, very far from it.
"The Ukrainians are fighting heroically, and in some places with great success, as many of us thought they would because they're a great country and a very brave country.
"But as you rightly point out, there are some terrible atrocities being committed and there will be some very grim days ahead for Ukraine."
He added that President Putin's engagement in diplomacy was a "charade" and that he has a "weird, semi-mystical view of Ukraine as part of Russia".
Speaking on Saturday night, the Prime Minister said: "I think we have to face the hideous reality that the diplomacy, as far as President Putin was concerned, was a charade.
"He never really intended to alter his course. You read the article that he wrote many months ago - it was clear that he's attached to a weird, semi-mystical view of Ukraine as part of Russia.
"And that is a view that the Ukrainian people fervently, passionately reject and they're showing that they will fight to reject it.
"Our job now is to help them, to help change the very heavy odds they face and that's why we're sending the support their way."
In an intelligence update on Saturday afternoon, the Ministry of Defence (MoD) said the advance of troops on Ukraine soil had temporarily slowed.
However, it warned the capture of Kyiv remains Vladimir Putin's "primary objective", with tanks, infantry and heavy artillery now understood to be just a few miles from the centre.
In a statement the MoD said: "The speed of the Russian advance has temporarily slowed likely as a result of acute logistical difficulties and strong Ukrainian resistance.
"Russian forces are bypassing major Ukrainian population centres while leaving forces to encircle and isolate them.
"Overnight clashes in Kyiv are likely to have involved limited numbers of pre-positioned Russian sabotage groups.
"The capture of Kyiv remains Russia's primary military objective."
The bulk of Russia's forces are still advancing on the capital Kyiv, where street fighting has been reported, but are not yet in the city centre.
The Kremlin said Putin had ordered troops to stop advancing on Friday but they were moving forwards again on Saturday after Kyiv refused to negotiate.
An adviser to Zelenskyy denied that Kyiv had refused negotiations but said Russia had attached unacceptable conditions.
He also said it was untrue that Russia had paused troop movements on Friday.
It's estimated almost 200 people have been killed during the invasion so far, including children with 120,000 refugees having left Ukraine.
Read more: 'Putin go home': Thousands unite in London against Russia's invasion
Read more: 'We won't lay down our guns': Ukraine vows to defend Kyiv as street fighting breaks out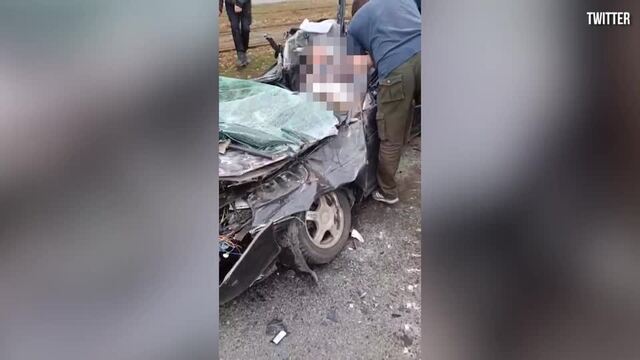 Footage shows people working to extract man from ruined car after a tank deliberately ran him over
The President of Ukraine, Volodymyr Zelenskyy, said they are "successfully holding back the enemy's attack".
"We know that we are defending our land and the future of our children," Mr Zelenskyy said.
"Kyiv and the key areas are controlled by our army.
"Occupiers wanted to set up their puppets in our capital. They didn't succeed."
It comes after Putin appealed directly to the Ukrainian armed forces to overthrow the democratically elected government.
Mr Zelenskyy has refused to leave Kyiv despite Russia attempting to close in on it, with some observers fearing Putin wants to remove him and replace him with a regime friendlier to Moscow.
Nearly 120,000 Ukrainians have fled the Russian invasion into Poland and other neighbouring countries, the UN refugee agency said.
Read more: Ukraine's foreign minister says Russian troops attacked kindergarten and orphanage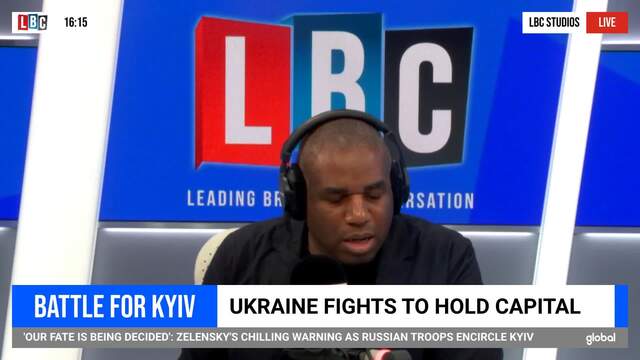 David Lammy calls on the PM to expel the Russian ambassador to the UK
Many fled their homes on foot, while those who stayed in Kyiv have taken shelter in metro stations as explosions hit the capital.
Putin launched what he called a special military operation on Thursday, ignoring Western warnings and saying the "neo-Nazis" ruling Ukraine threatened Russia's security.
The assault threatens to upend Europe's post-Cold War order.
Top Russian security official and ex-president Dmitry Medvedev said the US has observed more than 250 launches of Russian missiles, mostly short-range, at Ukrainian targets.
"We know that (Russian forces) have not made the progress that they wanted to make, particularly in the north. They have been frustrated by what they have seen is a very determined resistance," the official said.
Read more: British Airways cancellations: How to claim refunds after technical glitch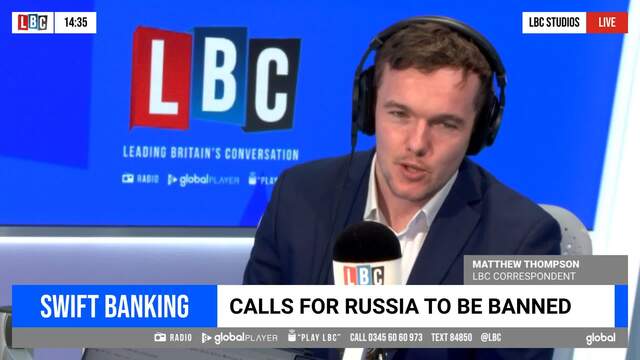 Matthew Thompson breaks down the impact of a SWIFT ban on Russia
In a significant policy shift, Germany's chancellery announced it will send 1,000 anti-tank weapons and 500 "Stinger" surface-to-air missiles to Ukraine "as quickly as possible".
Chancellor Olaf Scholz said in a statement: "The Russian invasion of Ukraine marks a turning point. It threatens our entire post-war order.
"In this situation, it is our duty to help Ukraine, to the best of our ability, to defend itself against Vladimir Putin's invading army."
In addition, the German economy and climate ministry said Germany is allowing the Netherlands to ship 400 German-made anti-tank weapons to Ukraine. Germany will also send 14 armoured vehicles and up to 10,000 tonnes of fuel to Ukraine.
Germany had long stuck to a policy of not exporting deadly weapons to conflict zones, including Ukraine. As recently as Friday, government officials said it would abide by that policy.
The country has faced criticism from Ukrainian officials and other allies that it has not acted decisively enough to help Ukraine fend off the Russian invasion. Previously, Germany contributed 5,000 helmets to Ukraine's defence.
The Duke and Duchess of Cambridge have expressed their solidarity with the people of Ukraine.
William and Kate tweeted their support for Mr Zelensky and "all of Ukraine's people" in a tweet personally signed off with their initials.
The couple included the flag of Ukraine in their tweet, which was retweeted by Prime Minister Boris Johnson.
They wrote: "In October 2020 we had the privilege to meet President Zelenskyy and the First Lady to learn of their hope and optimism for Ukraine's future.
"Today we stand with the President and all of Ukraine's people as they bravely fight for that future W & C."
Meanwhile, YouTube has announced it is taking action against a number of channels in response to Russia's assault on Ukraine, including restricting access to Russian state-controlled broadcaster RT.
In a statement on Saturday, a spokesperson said: "In light of extraordinary circumstances in Ukraine, we're taking a number of actions.
"We're pausing a number of channels' ability to monetise on YouTube, including several Russian channels affiliated with recent sanctions.
"We will be significantly limiting recommendations to these channels.
"And in response to a government request, we've restricted access to RT and a number of other channels in Ukraine.
"We will continue to monitor new developments and may take further actions."
Ukraine says it is ready to negotiate an end to hostilities while Vladimir Putin is reportedly saying he his willing to open talks.
A UN resolution calling on Russia to withdraw and condemning the invasion failed after Russia used its veto power at the Security Council.
Notably, however, China abstained, instead of throwing its full support behind Russia.