Israel 'has the right' to withhold power and water from Gaza, says Sir Keir Starmer
11 October 2023, 09:16 | Updated: 11 October 2023, 12:47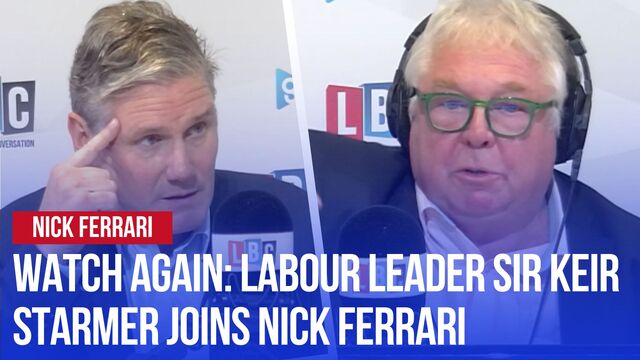 Keir Starmer joins Nick Ferrari at Breakfast | Watch Again
Labour leader Sir Keir Starmer has decried the actions of Hamas as 'terrorism' and said Israel has the "right to defend herself."
Speaking to Nick Ferrari from the Labour Party conference, Sir Keir told LBC: "Hamas' actions are terrorism and Israel has the right to defend herself.
"Israel has the right to do everything it can to get those hostages back safe and sound. Hamas bears responsibility," he added.
He said the world has "obviously" witnessed terrorist acts carried out by Hamas.
He also said "Israel has the right" to withhold power and water from Palestinian civilians. "Obviously, everything should be done within international law," he added.
"I'd call on all responsible states to call this out for what it is in utterly condemning these actions from Hamas," he added.
Read more: Slaughter of the innocents: Israel vows to 'wipe out' Hamas after '40 babies and children massacred' in Kfar Aza
Read more: Israeli woman Inbar Lieberman, 25, hailed a hero for leading defence of Nir Am kibbutz against advancing Hamas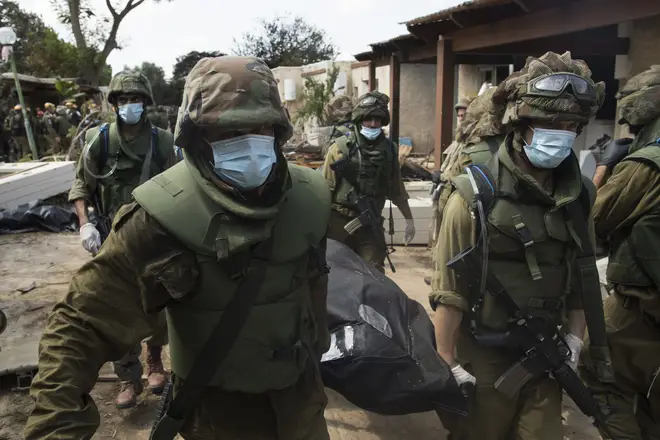 He said that long term a peaceful solution must be found, and talks around a two-state solution need to resume.
"What Hamas has done is push that further away, and deliberately so," Sir Keir added.
Sir Keir also said waving a Palestinian flag on the streets could be an issue depending on the circumstances.
He told LBC: "It's very important that at times like this we don't conflate peaceful discussion of Palestinian issues with Hamas.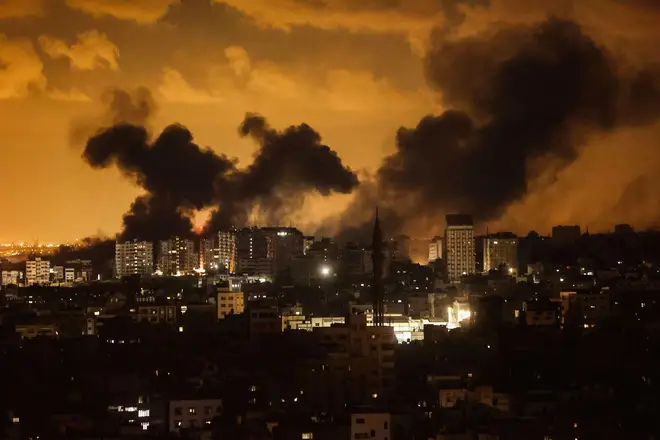 "Now, the flags is a different situation. It really depends on the circumstances. If it's provoking or encouraging attacks that might be one thing, there might be other situations."
He added: "What we have seen is attacks on Jewish communities in north London and I know first hand that's having a huge impact on Jewish communities, and not for the first time."
His comments come as Israeli warplanes targeted neighbourhood after neighbourhood in Gaza overnight in retaliation for the deadly attack by Hamas on the weekend.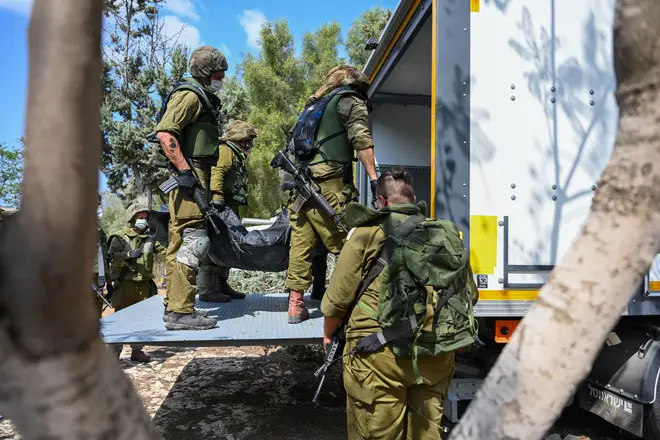 Israel has stopped entry of food, fuel and medicine into Gaza, and the sole remaining access from Egypt shut down on Tuesday after airstrikes hit the border crossing.
The war, which has claimed at least 2,100 lives on both sides, is expected to escalate.
Hamas and other terrorist groups in Gaza are still holding about 150 soldiers and civilians hostage, according to Israel. Israel could launch a ground assault into Gaza.
360,000 military reservists have been called up by Israel.
New exchanges of fire over Israel's northern borders with attackers in Lebanon and Syria on Tuesday pointed to the risk of an expanded regional conflict.
Rescue officials in Gaza said "large numbers" of people were still trapped under the remnants of flattened buildings, with rescue equipment and ambulances unable to reach the area.
On Tuesday afternoon, Hamas fired barrages of rockets toward the southern Israeli city of Ashkelon and Tel Aviv. There were no immediate reports of casualties.
On Tuesday night, a group of attackers entered an industrial zone in Ashkelon, sparking a gun fight with Israeli troops, the military said. Three Hamas were killed, and troops were searching the area for others.