Storm Babet claims third victim after man in his 60s swept away in flood water in Shropshire
20 October 2023, 16:52 | Updated: 20 October 2023, 17:01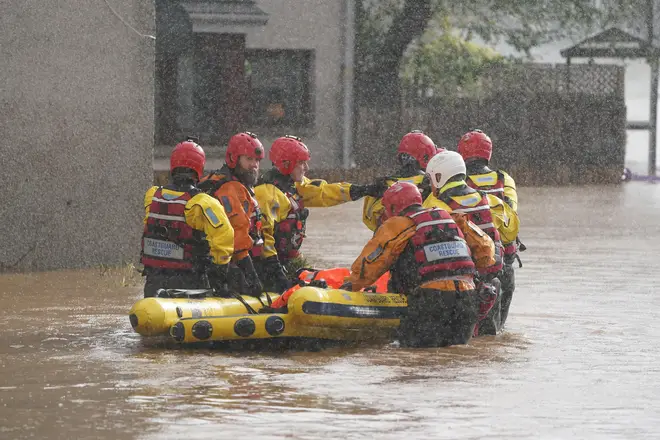 A man has died after getting caught in fast-flowing flood water in a Shropshire town, the third life claimed by Storm Babet in the UK.
West Mercia police said in a statement: "A man has died after getting caught in fast-flowing flood water from a brook that breached a road in Cleobury Mortimer in Shropshire today.
"Members of the public reported that the man had gone under the water shortly before 10:40 this morning.
"Officers from West Mercia Police and Shropshire Fire and Rescue quickly attended but sadly he was found deceased at around 12:35.
"Whilst formal identification hasn't yet taken place the family of a local man in his 60s have been informed and are being supported by officers."
Earlier a plane skidded off the runway at Leeds Bradford Airport, causing terror for passengers on board.
TUI Airways 737 from Corfu overruns the runway at Leeds Bradford Airport in the UK. Emergency equipment is with the aircraft. Flight operations are currently suspended.

📷 pipsqueek01/cat_cutmore/BantamDxn pic.twitter.com/sdh6zVdqW4

— Breaking Aviation News & Videos (@aviationbrk) October 20, 2023
The storm has so far killed three people, caused major flooding and widespread transport disruption and power outages.
Hundreds of homes have been flooded in Scotland during Storm Babet.
More than 75 people are in rescue centres in Angus, east Scotland, after being forced to leave their flooded homes.
Angus Council said people in more than 60 homes in Brechin, who refused previous evacuation attempts, required rescue.
The Scottish Fire and Rescue Service (SFRS) confirmed they had attended about 70 weather related incidents since Thursday morning and received about 750 emergency 999 calls, which a spokesperson confirmed was an "unusually high" number of calls.
ScotRail said disruption on trains may last into Sunday and lines currently closed may not be reopened until it is safe to do so.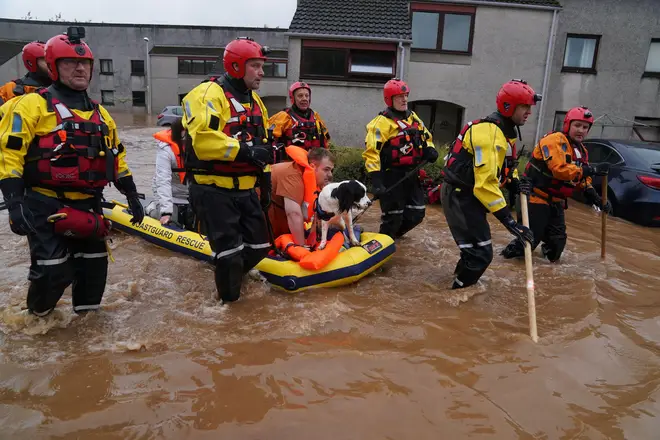 The local authority confirmed some homes in Monifieth, near Dundee, will also be evacuated, while others have been rescued in Marykirk, on the border with Aberdeenshire.
One Angus village, Edzell, is completely cut off by floodwater, with the emergency services unable to get through and the only emergency medical access via air ambulance.
Officials warned that more flooding is expected as rain continues to fall ahead of high tide.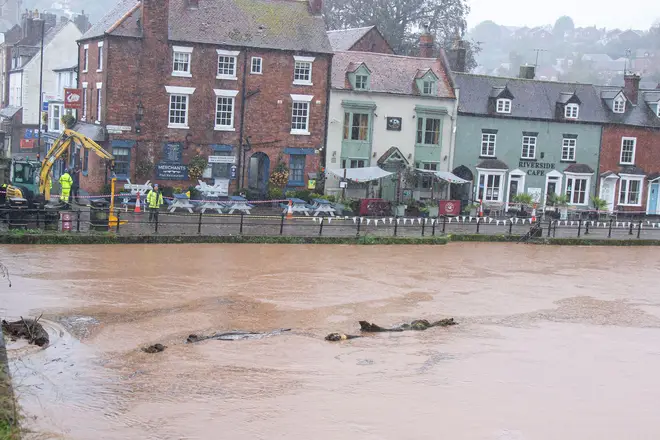 The Met Office has issued a new red warning for rain, meaning there is a risk to life, covering parts of eastern Scotland all day on Saturday.
Police Scotland said a falling tree hit a van near Forfar in Angus on Thursday evening, killing the 56-year-old driver.
A 57-year-old woman also died on Thursday after being swept into a river in the region.
A Police Scotland spokesperson said: "(At) around 5.05pm on Thursday October 19, police received a report of a one-vehicle crash in which a tree struck a van on the B9127 at Whigstreet, near Forfar.
"Emergency services attended, however, the 56-year-old driver was pronounced dead at the scene.
"Next of kin have been informed and a report will be sent to the procurator fiscal."
Rescue operations were under way in Brechin after flood defences were breached in the early hours of Friday morning, leading to hundreds of homes being surrounded by water.
Jacqui Semple, head of risk, resilience and safety for Angus Council, said homes across the area were being flooded, saying it is "right across Angus".
She said the council and partners are looking ahead to the weekend, warning it is "not an improving picture as yet".
She said more than 50 people were in the rest centre in Brechin, with 17 in the one in Montrose and nine in the one in Forfar.
"People are devastated. This is awful," she said.
"It would be awful. Your house flooded, your belongings, the impact emotionally and physically and everything that goes with that.
"They've got all of those people who have been affected arriving at our rest centres in such a state - wet, cold, upset and just so unbelievably upset."
The council has appealed for donations of warm clothes after 40 people turned up to rest centres while "soaked".
There is also an ongoing helicopter search in Aberdeenshire following a report of a man trapped in a vehicle in floodwater.
Lloyd Melville, SNP local councillor for Monifieth and Sidlaw, could not confirm numbers affected by the evacuations there but urged residents to leave if they are asked to.
He said: "It will be hard for some people to leave their homes but they absolutely need to do so if asked."
He also thanked council staff, he said: "They have been absolutely knocking their pan in (to keep people safe)."
Scotland's First Minister, Humza Yousaf, warned that the further red warning issued by the Met Office would "intensify" the disruption caused by torrential rain from Storm Babet.
Mr Yousaf posted on X, formerly Twitter, regarding the "further red weather warning issued by @metoffice for Saturday".
He told people this would "intensify the disruption already being experienced".
Mr Yousaf said the Scottish Government would continue to liaise with local organisations and the emergency services.
"People's safety is our number one priority," he stressed.
Further south, the weather was starting to have an impact in the north-east of England.
A lighthouse at the mouth of the river Tyne had been damaged in Storm Babet, officials said.
With the ongoing dangerous sea conditions, it was not safe to assess the damage to the lighthouse at South Shields, the Port of Tyne authority said.
No traffic was going in and out of the river with six metres of sea swell, it said.
The public have been urged to keep away from the area, particularly the piers, by the port authority, due to the unsafe weather conditions.
On Friday, an amber weather warning for rain is in place for some parts of northern England including Yorkshire and Manchester, as well as some of the Midlands, including Nottingham.
A yellow weather warning for much of the east coast of the UK was also put in place for wind and rain.
A further yellow weather warning is in place across much of eastern Scotland, northern England and the Midlands for wind and rain.
On Saturday, another red weather warning is in place for parts of Angus and Aberdeenshire and an amber warning for rain in the Scottish borders.