Jubilant Brits gather for street parties across UK to celebrate Queen's 70-year reign
5 June 2022, 11:51 | Updated: 5 June 2022, 19:06
Jubilee parties are being thrown up and down the UK as Brits take to the streets to celebrate the Queen's historic 70-year reign.
Whilst some have had to move inside, the rain has not dampened spirits.
County Durham
Revellers have gathered inside in Country Durham, where union flags adorn the ceiling.
Guests are enjoying food and drink sheltered from the rain.
Guests have also been treated to live music.
London
People have gathered for food, drink and music at a street party in Fulham, west London.
They later participated in tug of war with adults pitted against children - and the children won.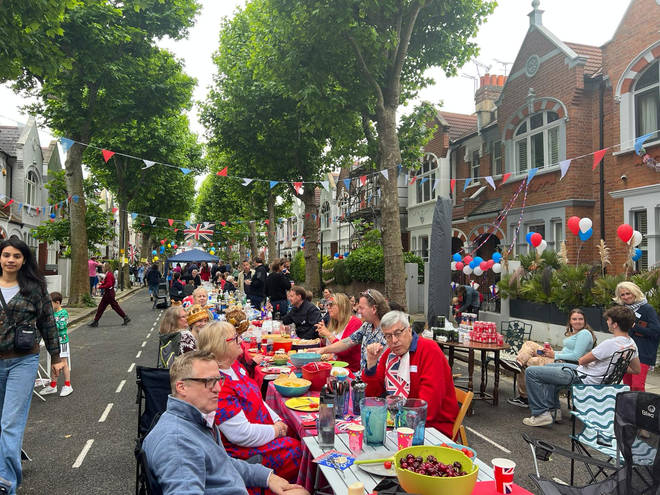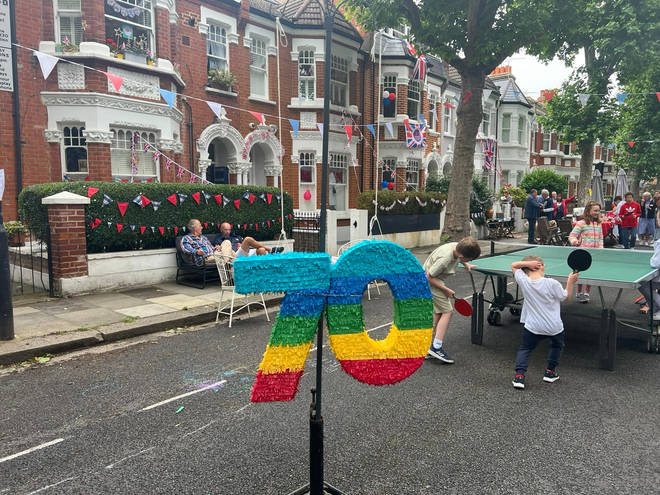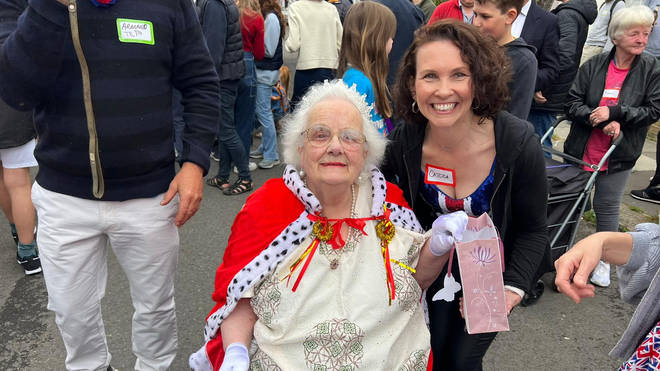 Bristol
In Bristol, revellers are enjoying live music outside the cathedral.
Birmingham
In Birmingham, the main street party was rained off - but that didn't stop a Jubilee party for the homeless from going ahead.
One of the trustees of Let's Feed Brum, Alan Strang, told LBC he was "delighted" to be hosting the jubilee street party for the street community of Birmingham.
"We do this every Tuesday and Thursday and consistency is absolutely key," he said.
"People have travelled a long way – some of them with great hardship to get here – so whatever the weather we will be here in some shape or form."
He went on to say: "Everybody is welcome. Whatever your circumstances, today should be a celebration and if it's to do with the jubilee, the more the better, but if it's just being with friends and enjoying a hot drink and something nice to eat then we're also very happy they've come along to join us."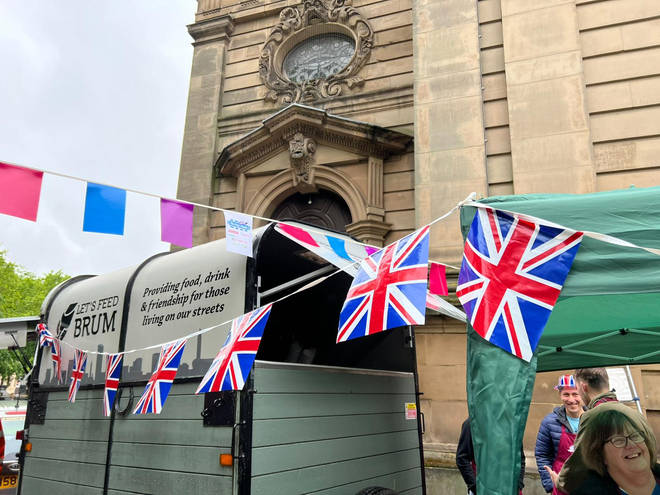 St Albans
Partygoers in St Albans were not put off by the rain either, with people enjoying food and drink under the cover of gazebos.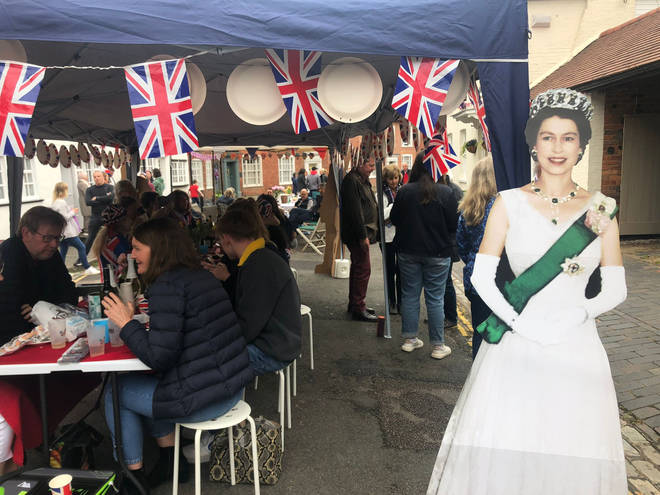 Dorset
A Jubilee street party is being held in the square in Beaminster, Dorset.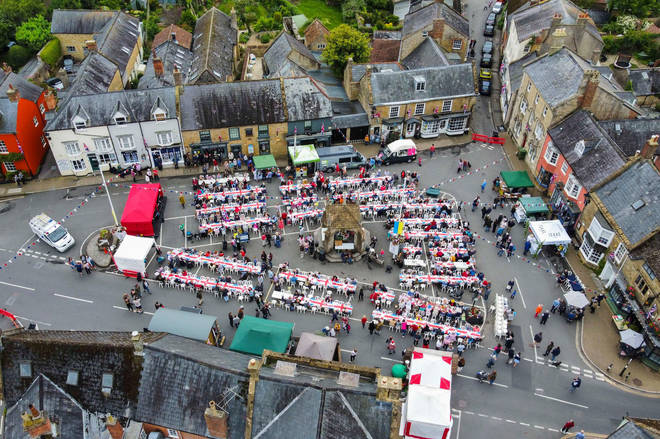 There is a particularly special party being held at the Oval - attended by Prince Charles and Camilla.
Prince Charles was overheard telling people how much he was enjoying the sense of community the Jubilee weekend has brought, saying it was "great" that everyone had 'come together'.
Read more: Charlotte, Louis and George bake cakes as UK prepares for day of street parties
Read more: How to watch the Platinum Jubilee Pageant
"When it comes to Monday, are we going to go back to all the bickering again?" He was heard joking.
"Let's hope we don't."
Camilla is wearing an emerald green embroidered coat dress by Fiona Clare.
Prince Charles shared a joke about marmalade sandwiches with a guest, referencing the Queen's sketch with Paddington Bear on Saturday night.
He told local resident Sonia Wilson, 43, he was "sorry to keep you from your lunch".
Ms Wilson replied: "No worries, I had my marmalade sandwich."
She said Charles had laughed in response, and said: "That's a good joke, isn't it?"
Read more: Giggling Charlotte steals show as she dances to Encanto and conducts band on Wales visit
Read more: Queen delights millions in Paddington Bear sketch to open Platinum Party at the Palace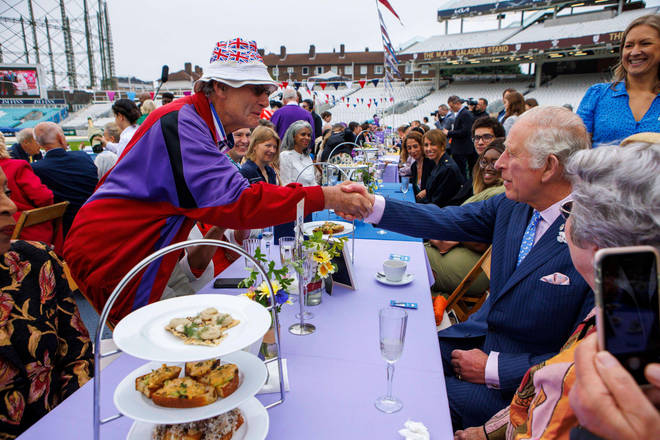 Chef and winner of the Great British Bake Off Giuseppe Dell'Anno, who met Prince Charles at the party, told LBC the Jubilee celebrations were "a concentration of positivity".
"It's a very British thing, it's difficult to translate actually," he said.
"It's a concentration of positivity and good impressions.
"You do it simply because you want to bring people together, you want to share food with others."
About meeting Prince Charles, he said: "I was certainly not expecting that.
"He came across as a lovely person and he made us feel very much at ease, and what I found out is that his favourite cuisine is Italian so I'm chuffed."
Warwickshire
Locals gathered in Alcester, Warwickshire for a street party too, with hundreds lining the streets under tents and gazebos to shelter from the rain.