Sycamore Gap Tree being stored in 'secret location' to protect it from 'souvenir hunters' looking for keepsakes
22 October 2023, 21:11 | Updated: 22 October 2023, 21:20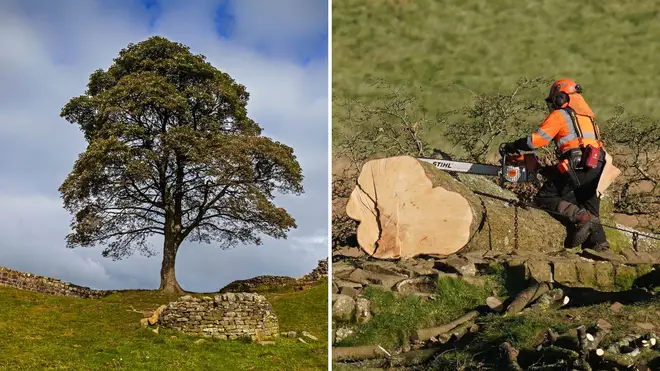 The iconic Sycamore gap tree is being held at a secret location by the National Trust amid fears 'trophy hunters' would attempt to dismember it for keepsakes.
The famous 300-year-old tree, situated by Hadrian's Hall in Northumberland, was found chopped down in September.
Police caught several members of the public trying to take pieces and branches from the much-loved tree after it was felled, leading to concerns about how to protect it, according to reports.
The tree was later removed from the site by a crane amid growing fears about 'souvenir hunters' and is now being kept at a secure location by the National Trust.
"The wood from the tree has been taken away and stored for safekeeping at a secure location," Lady Jane Gibson, chairwoman of the Hadrian's Wall Partnership, told the Sunday Times.
"There were concerns people were taking pieces of it for mementos, like what happened with the Berlin Wall, when people would take a piece as a keepsake.
"It is now being safely stored as we work on potential future uses for the timber."
Read more: Concerned resident sets up £10,000 GoFundMe for 'full size bronze replica' after vandals cut down Sycamore Gap tree
Read more: Was the Sycamore Gap Tree felled as a social media prank? Theory emerges as landmark 'could become a giant totem pole'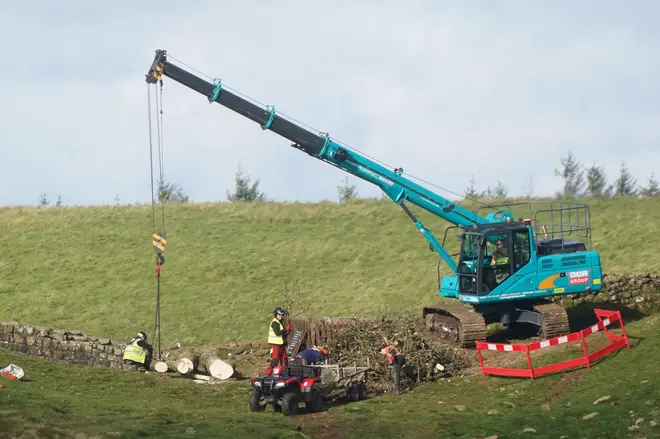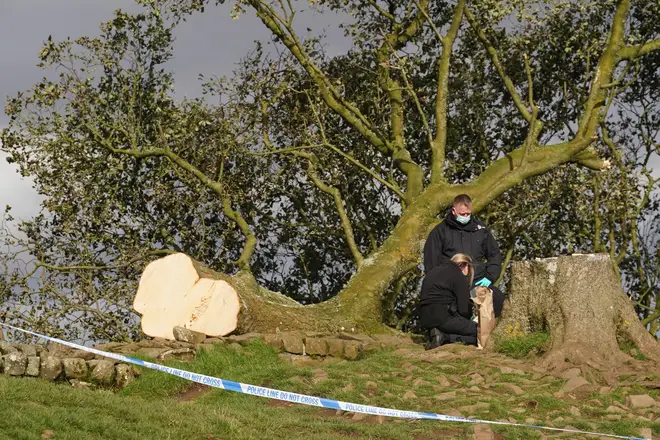 The National Trust has since asked the public for suggestions on how to use the wood to pay tribute to the iconic tree.
Turning the timber into a bench or sculpture at the site of where it used to sit has been suggested.
"It's clear that this tree captured the imaginations of so many people who visited and that it held a special, and often poignant, place in many people's hearts," Andrew Poad, the site's general manager for the trust, said.
The sycamore, which stood in a dramatic dip in Hadrian's Wall which could be seen from the nearby road, was looked after by both Northumberland National Park Authority and the National Trust.
Thousands of visitors would visit the destination every year to see the lone sycamore, often regarded by many as a symbol for the northeast England region.
The National Trust said it was "shocked and saddened" to confirm that the "iconic" tree had been cut down overnight after pictures emerged of it lying on its side near the ancient Roman wall, which is a Unesco World Heritage site.