Texas synagogue hostage taker shot dead as elite FBI team stormed building was British
16 January 2022, 08:08 | Updated: 16 January 2022, 14:03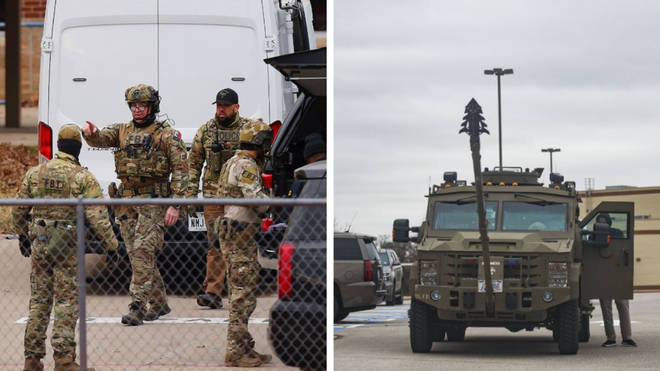 A hostage-taker who was shot dead in an FBI raid after he held people at a Texas synagogue was British.
The unnamed man had demanded the release of Pakistani scientist jailed for trying to kill US soldiers in Afghanistan. The Foreign Office said to LBC it was aware of the death of a British national in Texas.
All four of the hostages he held in Colleyville – about 30 miles north-west of Dallas – were safe and not harmed. Among them was a rabbi.
One person was released during the ten-hour stand off and three others got out when the FBI went in.
A loud bang and possible gunfire was heard coming from the building as the bureau's elite hostage rescue team stormed it.
A Foreign Office spokesperson said: "We are aware of the death of a British man in Texas and are in contact with the local authorities."
The White House said Joe Biden was briefed on the situation.
The man was heard demanding the release of Aafia Siddiqui, a neuroscientist from Pakistan who is suspected of having ties to Al Qaida.
Siddiqui was convicted of trying to kill US military officers while in custody in Afghanistan. She is in federal prison in Texas, having been sentenced in 2010 to 86 years behind bars for assaulting and shooting at the officers in 2008.
Her sentencing caused outrage in Pakistan. The Associated Press said officials there have said they would be interested in a deal that would release her, and in 2018 a man from Ohio was jailed for planning to attack the prison she is serving her sentence in to free her.
The hostage-taker said he wanted to speak with Siddiqui, officials said.
Matt DeSarno, the FBI special agent in charge, said there was no immediate sign that the hostage-taker had links to a wider plan, but the investigation will have a "global reach".
Texas governor Greg Abbott said tweeted: "Prayers answered. All hostages are out alive and safe."
About 200 police swooped on the scene after being called to the synagogue at about 11am on Saturday. The FBI went in at about 9pm, with the bureau saying it was investigating "the shooting incident".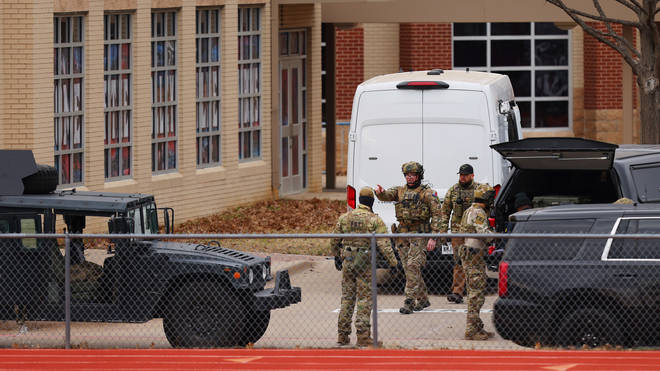 A live stream of the synagogue's service was sent out on Facebook, and local media reported an angry man was heard ranting, sometimes talking about religion.
The Fort Worth Star-Telegram reported he claimed to have explosives but authorities did not confirm if he had any weapons.
The stream did not show what was happening inside the synagogue but a man said he didn't want to hurt anyone, mentioned his children and claimed he thought he was going to die.
Reports say a live feed of the synagogue service showed the suspect speaking with an English accent, at one point saying: "What the f*** is wrong with America?"
He also said "you got to do something... I don't want to see this guy dead" and "don't cry for me, I'm going to die" just before the feed cut. Meta, the company that owns Facebook, said it stopped the broadcast.
A Texas resident, Victoria Francis, told the Associated Press news agency that she watched the livestream for about an hour before it was taken down.
"He was just all over the map. He was pretty irritated and the more irritated he got, he'd make more threats, like 'I'm the guy with the bomb. If you make a mistake, this is all on you.' And he'd laugh at that," she said.
"He was clearly in extreme distress."
This story is being updated