Humza Yousaf's wife Nadia El-Nakla reveals her family trapped in Gaza were 'hit by a drone'
17 October 2023, 14:42 | Updated: 17 October 2023, 15:04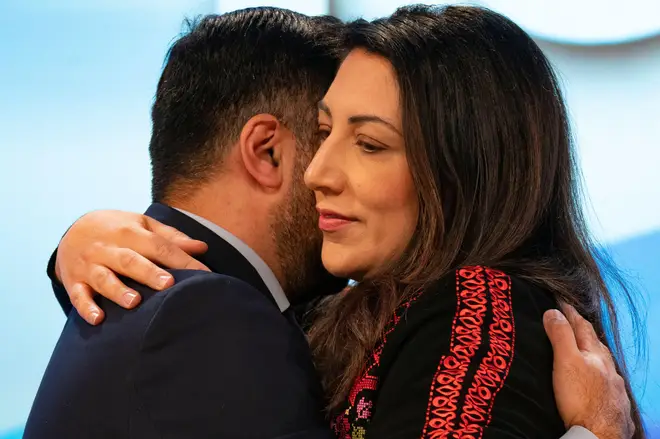 The wife of First Minister Humza Yousaf, Nadia El-Nakla, has told LBC her two-year-old cousin in Gaza has been hit by shrapnel from a drone explosive as she warned time was running out to get humanitarian aid to Palestinians.
She said her mother Elizabeth, a retired nurse, is picking the metal from her young cousin's skin as hospitals are too dangerous to attend and are also very low on supplies.
Humza Yousaf revealed last weekend, after the Hamas attack on the music festival in Israel, that his parents-in-law were trapped in Gaza after they had travelled to visit Nadia's elderly grandmother, her brother, who is an emergency doctor, and his young family.
Today Nadia said after the Israeli government had told Gazans to leave the north of the country ahead of a possible ground offensive, there were now around 100 people in the family home, including her young cousin who was hit.
Speaking to Shelagh Fogarty she said: "Two minutes before I came on my mother called me. My uncle, aunt and their three children were just sitting outside and they just got hit by a drone. Thankfully, the drone hit off a metal fire extinguisher and now my two year old cousin is covered in shrapnel.
"This is affecting everyone in Gaza. My mum's crying and she's a retired nurse so is removing the shrapnel. She said don't worry, they're okay. It's just in their skin. But she can't go to hospital as there's absolutely no way to get that kind of treatment."
She said her brother, an emergency doctor had told her he had not been able to get home from hospital for six days as it was not safe to travel.
"But he also can't bring himself to leave because they're having to choose now between who to treat. They don't have any supplies left. He's telling me there's just death and devastation all around him. That was his words from last night.
"I can't imagine having to... you know he's a father of four, seeing small children missing limbs and the deaths... for him, he will psychologically never be the same."
She added: "My mum has not slept in days. My parents are getting older and they've never experienced anything like this. My brother wants to get them out to safety but there's no way to do it. We are having very difficult conversations. They're feeling helpless and desperate and I'm struggling to find the words to comfort them."
Asked if she felt reassured by diplomatic statements from the US President, Prime Minister Rishi Sunak and Labour leader Keir Starmer she said she did not.
"I feel I've heard very little about peace. We don't have time. Hospitals are running out of fuel as we speak. People, a massive number of people are dying. And we don't have the time for a slow approach to humanitarian aid. There needs to be humanitarian aid. Yesterday.
"The numbers that we're seeing dying are just incredible, and most of them 50% are children and there's more under the rubble.
"I want an urgent ceasefire, humanitarian aid getting into Gaza, and I want the foreign nationals to be able to get out. I want to see our governments have discussions about long lasting peace. I believe that the people of Israel the people of Palestine, want to live in peace and deserve to live in peace.
"A long term solution to this conflict has to be made. And that can only be made with countries taking an approach that takes into consideration the actions of both Palestinians and Israel and do not put the lives of any Palestinian or Israeli above each other. These are children on both sides. These are families on both sides, and the only way to get to a place is through peace."
She criticised the UK government's initial response to the Hamas attack. "You're sending spy planes, naval boats, America's sending weapons, you cannot send military armour and then state that you're on the side of peace and that you represent both sides equally."
On Hamas' responsibility towards the lives of Gazans, she said: "I have no idea what power they hold in Gaza or the number of people Hamas includes.
"Israel is the occupying state... it left Gaza physically but when you control everything that comes in and comes out, then you're controlling that area. People there do not have any quality of life, or an independent state, that's not because of Palestinians but because of the Israeli government and along with international peace-keeping efforts which have stalled greatly. But I am not versed... the responsibility is on both sides.
"Hamas, what they did, should be condemned but also the Israeli government for collective punishment must also be condemnded. That's why the way forward is to talk with compassion and love and have that mutual underlining of the importance of life on both sides."