Two boys, both 14, found guilty of murdering 13-year-old boy in Reading
26 July 2021, 16:50 | Updated: 26 July 2021, 18:42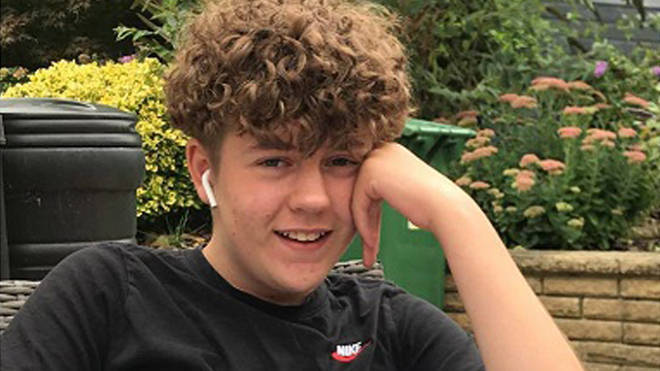 Two boys, both 14, have been found guilty of murdering 13-year-old Oliver Stephens who was "lured" to a park in Reading and fatally stabbed.
Oliver, who was also known as Olly, was killed at Bugs Bottom field in Emmer Green, Berkshire, on 3 January.
In response to the guilty verdicts, Oliver's family said in a statement: "Today is a sad day, so many young lives and the lives of their families have been devastated by this callous and cold-hearted act.
"Knife crime needs to stop. Now."
They added: "Our boy Olly was born to us at 21.21 on the 1/11/2007, he was taken officially from us at 5.00pm on 3/01/2021.
"He left our home on that fateful afternoon with love and laughter in his heart, with the hope of a bright fun-filled future ahead of him.
"Within 13 minutes of leaving the safety of his loving home Olly had left us forever.
"Two minutes was all it took to end him and cause us and our family catastrophic heartbreak.
"When I reached where Olly fell, I gently held his hand, willing him to respond, with the same love and devotion as I had on the day we met, the day he was born."
Read more: Coronavirus cases fall for sixth day in row for first time since February
Read more: Flooding forces Whipps Cross Hospital to cancel surgeries - with more rain on way
Reading Crown Court previously heard that he was convinced to go to the park by a 14-year-old girl, where he was then "ambushed" by the two boys and stabbed to death.
The girl and the older of the teenage boys had both previously admitted manslaughter.
None of the three can be named for legal reasons.
The court heard both of the male attackers had "grievances" with Olly, while the girl is said to have described any violence against him as "karma" in the run-up to his death.
The statement from Olly's family went on: "The memories and stories we have of Olly's short life have now become priceless treasures locked away in our hearts and minds forever.
"We are sad for the life not yet lived, for the friends he will never meet, for the travel he will never undertake and the journey he will never fulfil."