Two killed after bus carrying dozens of school band members crashes off highway and plunges into ravine
22 September 2023, 09:32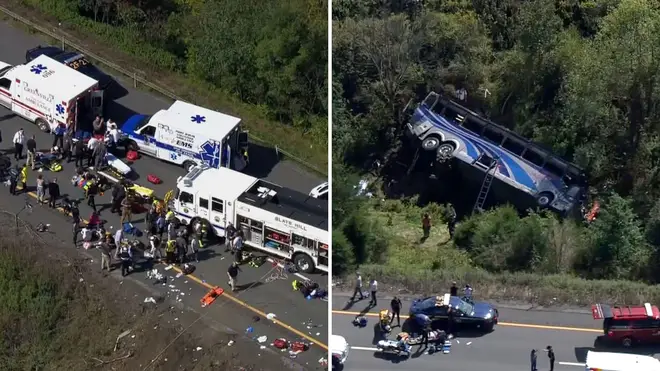 Two women have been killed as a bus carrying a high school band tumbled off a highway and into a ravine in the US.
Dozens of others were injured, up to six critically, after the coach suffered a problem with a faulty front tyre as it travelled on a highway in New York state on Thursday.
Two adult women were killed after the bus crashed.
It was carrying four adults and 40 students - most aged 14 or 15 - who were on their way from Farmington High School in Long Island to Pennsylvania. They were travelling to a band camp in Greeley, Pennsylvania.
Read more: Jeremy Hunt warns Keir Starmer's EU stance could 'unpick Brexit' and worry Leave voters
The crash happened on the Interstate 84 near Wawayanda, north west of New York City.
Photos showed the blue bus on its side, caught on trees at the bottom of an embankment.
A ladder has been raised to the vehicle to help those onboard get off.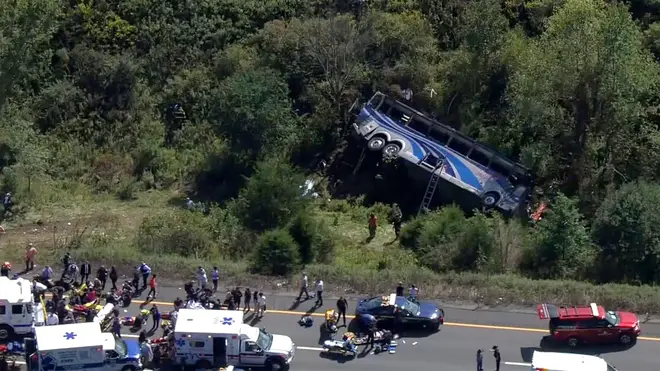 One of the victims was Gina Pellettiere, 43, of Massapequa in Long Island. She was a faculty adviser who worked on Farmington's school band programme.
The other was Beatrice Ferrari, 77, of Farmingdale.
Kathy Hochul, the governor of New York, said a "faulty front tyre" was at least partly to blame but the exact cause was still being investigated.
"Imagine the fear, the screams in the aftermath. These high school students, many of them freshmen, were surrounded by this chaos," she said.
"A bus that literally tumbled down a 50ft ravine within minutes. It's extraordinary."
"While it's preliminary, it's likely that a faulty front tyre contributed to the accident. Although, again, this is still under investigation," she added.
"That's a preliminary determination."
The bus was one of six taking about 300 pupils to Greeley.