Jeremy Hunt warns Keir Starmer's EU stance could 'unpick Brexit' and worry Leave voters
21 September 2023, 19:39 | Updated: 22 September 2023, 08:49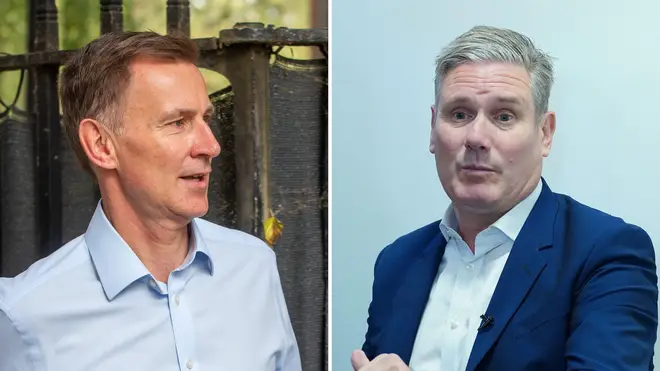 Leave voters will worry that Sir Keir Starmer will "unpick Brexit", the Chancellor has warned.
Jeremy Hunt told LBC's Nick Ferrari that Britain is already making a "tremendous success" out of leaving the EU and would continue to do so.
The Labour leader was revealed yesterday to have said "we don't want to diverge" from the EU if he becomes Prime Minister, suggesting he would cosy up to EU leaders again if he gets to No10.
And he insisted there was "a lot more common ground than you might think" between Britain and Brussels, despite our exit from the bloc.
Listen to the full interview LIVE tomorrow from 7am or in full on Global Player
Sir Keir was speaking at a conference for progressive leaders in Montreal on Saturday.
He said in comments revealed by Sky News: "Most of the conflict with the UK being outside of the UK [sic] arises in so far as the UK wants to diverge and do different things to the rest of our EU partners," the Labour leader said.
"Obviously the more we share values, the more we share a future together, the less the conflict. And actually different ways of solving problems become available.
"Actually we don't want to diverge, we don't want to lower standards, we don't want to rip up environmental standards, working standards for people that work, food standards and all the rest of it.
"So suddenly, you're in a space where, notwithstanding the obvious fact that we're outside the EU and not in the [European Economic Area], there's a lot more common ground than you might think."
Nick Ferrari discusses Brexit with Jeremy Hunt
But Mr Hunt hit back at Sir Keir's admission, telling LBC: "Those kinds of comments about not wanting to diverge will worry a lot of people, that what he really wants to do is unpick Brexit."
He went on: "We are going to make a tremendous success of Brexit, we have already started to do so, and there is lots more to come.
"We want to be good friends with our neighbours across the channel.
"Any suggestion you want to align our laws with the EU will worry a lot of the people who voted for Brexit."
Earlier this week the Labour chief admitted he wants to strike a new deal with Brussels – in a bid to try and improve our agreement.
But he was forced to shut down speculation that he could join an EU-wide agreement to take more migrants from the bloc after his comments sparked a backlash.