London Fire Brigade 'prepared' for heatwaves with new specialist training after UK wildfire destroyed 16 homes last year
18 July 2023, 16:49
London Fire Brigade has received specialist training for tackling wildfires as concerns over rising temperatures throughout Europe mount.
London Fire Brigade is "far better prepared" for any future heatwaves after a wildfire in Essex last year pushed the service into action.
With 100 new recruits, expert wildfire training and new kit, the fire brigade is far more ready to tackle incidents caused by the heat, the deputy commissioner of the service has said.
It comes after the fire services buckled under record-breaking 40C temperatures last year, including a wildfire in Wennington, Essex on July 19 which left 16 homes destroyed.
It was described as one of the brigades's busiest days since the Second World War, and the forces have reportedly been "working all year round" since to ensure they're better equipped for higher temperatures in future.
"We're bringing forward additional training to get additional recruits through the door so that we can have all of our, or as many of our appliances, on the run as possible," Dom Ellis the London Fire Brigade's Assistant Commissioner said.
LFB has recruited some 100 firefighters since last July, but Mr Ellis said staff shortages still remain an issue. Firefighters will be brought in on recall and pre-arranged overtime.
"We hope in the next year to 18 months we'll be as near to full establishment as we can get," he added.
A major review into the Essex wildfire last year revealed that 39 engineers were not available due to firefighter shortages.
Read more: Another month of rain: New Met Office forecast dampens hope of better weather in August - while Europe bakes in 45C
Read more: Fears over holiday flights as expert warns planes can struggle to take off in searing heat
Read more: Met Office gives verdict on whether UK will hit 40C this summer as Europe bakes in Charon heatwave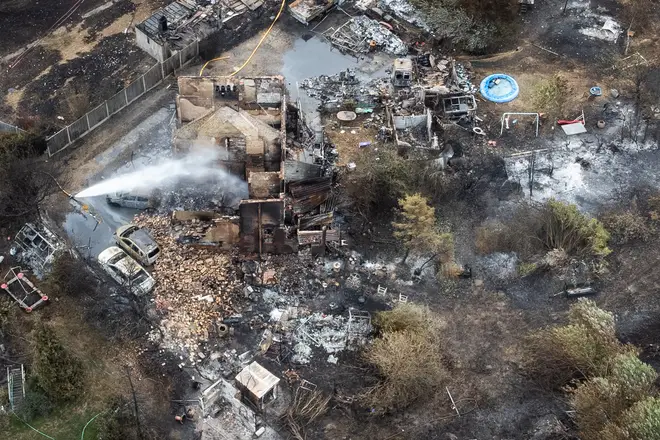 The fire service staff have been learning from services in Europe, Australia and Canada, Mr Ellis said.
"It's more about looking at the geography, the weather, the wind pattern and seeing where the fire is going and how you best stop it," he said.
New "holey" hoses introduced by the force can target up to two metres into the air, and are lined with holes along the hose, to create a "curtain of water" designed to tackle wildfires.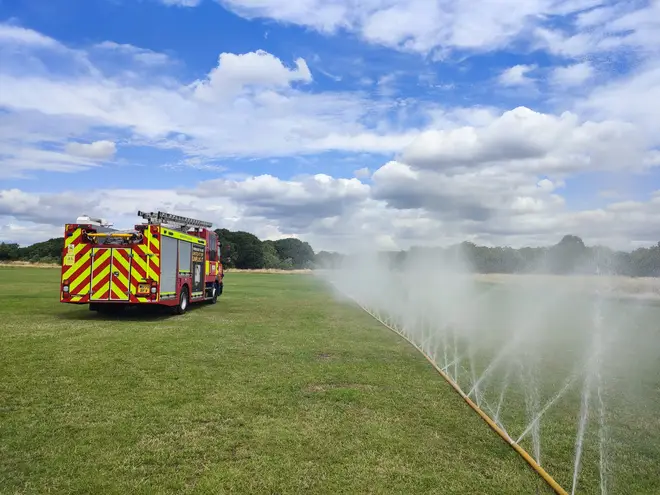 It comes as Europe continues to grapple with a deadly heatwave, with temperatures expect to hit 46C today.
Temperatures in Greece have remained high over the last week and are expected to peak at around 41C between July 18 and 23.
But there have also been warnings extreme temperatures in Europe could remain until August.
The World Meteorological Organization said on Monday: "The heat is forecast to intensify by the middle of the week (19 July) in parts of the Mediterranean, including Greece and Turkey.
"A further continuation into August is likely."
More grass fires and wildfires are anticipated in London due to the growing climate emergency.
Mr Ellis went on to add that ten wildfire offices and 30 wildfire tactical advisors have been trained to assist incident commanders when there's wildfires or large grass fires.
They consider the slope of land, vegetation and where is best "to make an attack" when tackling such fires.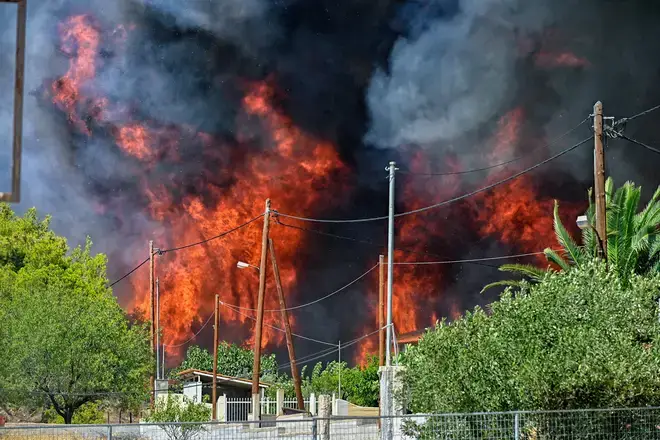 "We need to be far more proactive and on the front foot in responding to this challenge for London if this is the way the climate's evolved and we're going to be having hotter summers," Mr Ellis told the Evening Standard.
"This isn't just a fire brigade issue. This is a societal issue. Landowners and local authorities need to manage their open spaces."
It is not just Europe that experiencing extreme heat, but the United States and China too.
A provisional new record for a midnight temperature (49C) in Death Valley, Arizona, was recorded in the US last night.
Meanwhile, China reported hitting temperatures of 52.2C on Sunday, soaring past its previous record of 50.3C.
In the UK, however, temperatures have been comparatively cooler, with less sunshine and more rain - which may continue until mid-August.
According to the Met Office, high temperatures in Europe are being driven by settled conditions under an upper ridge sat across the continent - pushing temperatures up.